How to Get Better Galaxy S5 Battery Life With Ultra Power Saving Mode
These days smartphones like the Samsung Galaxy S5 have huge screens, faster processors for apps and gaming, and continue to be packed full of features. One thing we constantly hear concerns about though, is how that all affects battery life.
The brand new Samsung Galaxy S5 has been available for less than a month, but we're already getting a flood of questions from users and prospective buyers regarding some of the highly touted features on the new phone.
Read: 5 Best Wallet Cases for the Samsung Galaxy S5
When announced back in February on stage Samsung was happy to introduce a new feature called Ultra Power Saving mode, with the promise that it would make your smartphone last for days. Of course you won't have a fully functioning device, but the feature could come in handy, not to mention save a life in case of an emergency. For those who do or don't know about Ultra Power Saving mode on the Galaxy S5, read on to learn more, and how to activate it yourself.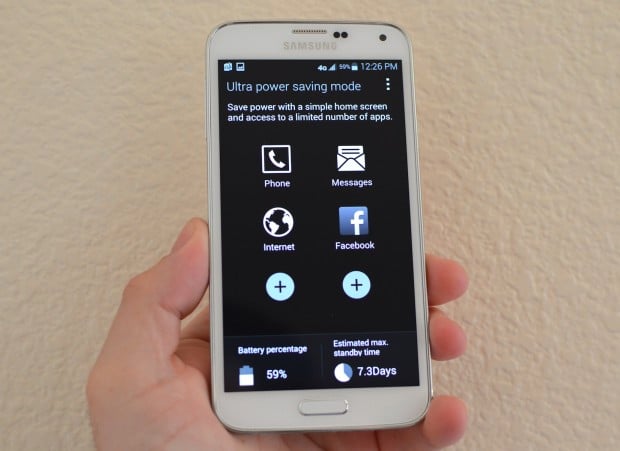 Essentially what Ultra Power Saving mode offers is an experience that limits your smartphone to only offer the basics, but will leave you with a device that can potentially last for over 10 days with a single charge. The standby time and usage time will differ, but this could come in handy while camping, or many other scenarios.
Ultra Power Saving mode puts the phone into a grey-scale black and white mode, and disables most features. However, users will still be able to use the device as a "smart" phone and along with calls, texts, and emails, you can also browse the web, and even Facebook for those social butterflies.
Samsung claims even 5% battery life will last nearly 8 hours (or overnight) in standby if you're using Ultra Power Saving mode. This is extremely useful for those nights you don't have a charger, while camping, and especially in case of emergencies. Here's a quick video for a visual explanation on what it offers, and how to enable it.
As you can see the phone becomes a basic phone, but will still offer web browsing and a few other important aspects. Location, GPS, colors, and tons of other sensors and features are all disabled. Many users love everything the Galaxy S5 has to offer but if you don't need them, or are in a bind, this Ultra Power Saving mode could really come in handy.
So while the phone isn't very useful, Samsung does provide a few important features to still be accessible, even though they'll affect battery life. WiFi can still be enabled and accessed for a faster connection, Bluetooth is in options, and users can still control the brightness, volume, and ringtones. That's about it though, as everything else gets disabled to keep your device powered on for days and days, rather than hours.
Read: How to Take a Screenshot on the Samsung Galaxy S5
While the video above should have explained everything perfectly clear, we'll also run down exactly how to enable this yourself once again. Sliding down from the top of the screen with two fingers is a trick that brings you to quick settings, rather than the regular notification pulldown bar options. Simply select the "U. Power saving" icon and select "Ok" to enable this mode. It's that easy, and only a few steps away.
However, users can also head into the settings menu through regular means to enable Ultra Power Saving Mode. Pull down the notification bar and hit the gear-shaped icon near the top right. From here you'll see a list of icons and settings. The lower right hand side should have a green battery icon labeled "Power Saving".
Settings > Power Saving > Ultra Power Saving mode > Swipe to ON > select OK
Once selected you'll be given a popup confirming you'd like to switch to Power Saving Mode, which is appreciated considering it takes more than a few seconds for your device to make the switch. Once complete users will notice the grey-scale display, and all those popular features are gone. However, it's all about preserving that battery life.
Should You Use This?
The Samsung Galaxy S5 has a beautiful 5.1-inch 1080p HD display, a fingerprint scanner inside the home button for enhanced security, an awesome 16 megapixel camera, and runs the latest version of Android. It's one of the best Android devices and smartphones available in 2014, but none of that will work once this is enabled.
Of course Ultra Power Saving mode isn't something consumers will use on a daily basis, so whether or not buyers use this feature is entirely up to them. If you want better battery life during road trips, camping, late nights out, or in case of emergencies, Ultra Power Saving mode is the perfect solution. If you're just looking for all around better battery life, without losing any features, perhaps an extended battery purchase is a better option.
Ultra Power Saving mode certainly wasn't designed to be used on a daily basis by users, but many will find it comes in handy during certain situations. Give it a try on your next vacation, you'll be surprised just how long the Galaxy S5 can last on a single charge.

As an Amazon Associate I earn from qualifying purchases.