How to Get Better iPhone 5 Battery Life
The iPhone 5 features a new 4-inch display, 4G LTE data speeds, and a new battery that Apple claims lasts longer than the iPhone 4S despite the larger display and the 4G LTE capabilities. And while iPhone 5 battery life reviews have been mostly positive, there are always ways to improve battery life with the iPhone and we wanted to share some tips about how to get better battery life with the iPhone 5.
The company claimed that the iPhone 5 gets better battery life than the iPhone 4S in its iPhone 5 announcement and initial tests reveal that it gets about the same, if not a little better mileage than the iPhone 4S.
Users are seeing anywhere from 8 to 12 hours of usage with the iPhone 5 and that's downright impressive for Apple's first attempt at an 4G LTE smartphone.
Read: iPhone 5 Battery Life Reviews.
And while impressive, there are some things that users can do to help improve the battery life on the iPhone 5. They might not add an extra five hours, but they should help to add some extra minutes, something that is often crucial while on-the-go.
Here are a few tips for improving the battery life on the iPhone 5.
Turn Off Wi-Fi/4G LTE
One of the ways I used to conserve battery life on my iPhone 3GS was by turning off the Wi-FI when I was out and about. This way, the phone wasn't trying to connect to Wi-Fi networks I wasn't going to use. With the iPhone 5, users will not only want to turn off Wi-Fi when not using it, but 4G LTE as well.
By turning both of these off when you need them, you'll be saving yourself some extra battery life.
Fortunately, turning both of these off is quick and easy. For Wi-Fi, head into Settings and at top, you'll want to click your Wi-Fi network. You'll be taken to a new menu where you can toggled Wi-Fi On or Off. Switch it to Off.
To turn off 4G LTE data speeds, head into Settings, then General. Once there, tap Cellular. There, you will see an option for Enable 4G LTE which has a toggle. Toggle it to Off.
Turn Down Screen Brightness
One simple trick that could save you quite a bit of iPhone 5 battery life is turning down the screen brightness. The screen eats up a lot of juice and by toning it down a bit, the strain on the iPhone 5's battery will ease a bit.
This is simple as well. Go into the Settings on your iPhone 5. From there, you'll see an option that reads Brightness & Wallpaper. Tap that option and you'll be taken to a screen that looks like the one below.
By default, it should be around 50% but you have the option to turn it lower or even toggle off Auto-Brightness which will keep your iPhone 5 at a constant level, perfect when you're in an environment where there is consistent lighting.
Turn Off Location Services/Notifications
While many of the services offered in iOS are extremely useful, they can also eat up battery life when turned on. We recommend shutting down twoof these in particular if you wish to conserve battery life on your iPhone 5.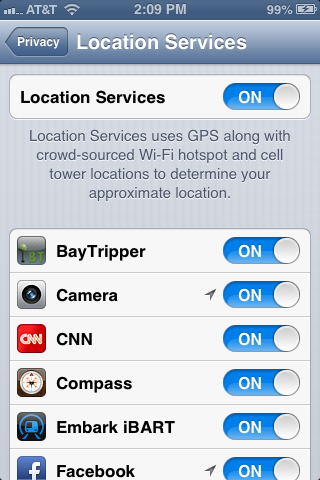 1. The first, Location Services. Location Services is the feature in iOS that uses GPS and crowd-sourced Wi-Fi to constantly determine your location. This is a particularly useful feature in the Maps application but it also is used by an assortment of other third-party apps. Turning this off could help save battery life.
To do this, first go into Settings. From there, scroll down to Privacy. Tap that and then tap Location Services at the top. At the top of the next page is a toggle where you can flip Location Services to Off.
2. And second, it's time to turn off Push Notifications which are the notifications that pop up on your home screen when something happens in one of your apps. For instance, when someone posts something on Facebook.
Go to Settings, then Notifications. You'll then see a long list of applications to choose from. From here, you can either turn of Do Not Disturb which will disable all Notifications or you can manually turn the ones you don't care about off when tapping on their name. Personally, I disable just about every single one.
You also might want to think about taking the Stocks and Weather widgets out of Notification Center. To do that, simply click on the appropriate one and toggle Notification Center to Off.
Switch Email to Manual
Another trick I have used in the past is to switch my Mail to manual. What I mean by that is, by default, your iPhone 5 will be fetching new data aka checking for new email automatically. This used to eat up battery on my iPhone so I turned it off, set it to manual and got great results.
To do this, go to Settings. Then, head to Mail, Contacts, Calenders. Scroll down and tap on Fetch New Data. There, you have the option of turning off Push completely if you want but I recommend scrolling down and tapping on Manually.
What this means is that you'll now have to manually check for email. Fortunately, Apple just made this simple. In iOS 6, you no longer have to tap to refresh email. You just have to pull down and it will check for new mail. A fantastic trade-off for a little more juice.
Restart the iPhone 5
A simple trick to get better battery life is just to restart your iPhone 5 once in awhile to flush its system. If you're like me, you'll often leave your device on for weeks maybe even months at a time without restarting it. Just by holding down the power button and turning it off, you may be able to gain back some precious battery life.
Simply hold the power button and Slide to Power Off when it asks you to.
Reset All Settings
Something else to try in order to improve iPhone 5 battery life is resetting all of your settings. This will turn back the clock on your settings without deleting the apps and data found on the iPhone 5.
To do this, head to Settings. Then, tap on General. Next, scroll to the bottom and tap on Reset. Tap on Reset All Settings. If you're prompted, enter your Passcode. Wait for the reset to finish then use your phone until it gets down to 0% then shuts off.
Then, plug in your iPhone 5 until it charges to 100%. This should help to solve any battery life issues you've been having.
Airplane Mode
Airplane Mode isn't just useful for when you're on a flight. It can also be used to save precious battery. By putting your iPhone 5 into Airplane Mode, it will disable all data/cellular related services. That means no data, no phone calls, no texts. This makes it perfect for battery life emergencies.
To turn on Airplane Mode, head into Settings and toggle Airplane Mode to On.
Last Ditch Effort – Restore
If none of these work, there is a last ditch effort that iPhone 5 owners can perform in order to try and resolve battery life issues. Again, this should only be attempted if nothing else has improved your battery life and you're not getting what you want.
First, you'll want to make a backup of your iPhone 5 so you don't have to reinstall all of your applications or move all of your files.
The backup process begins after you plug your device into a computer. If it doesn't happen automatically, you can force a backup to occur.
Simply go into iTunes, right click on your device, and select Back Up. I recently did this with my iPhone and while it takes a bit of time, it's going to be necessary for what you do next.
Make sure your device is still plugged in. Then, through iTunes, click your device on the left-hand menu which should being up a screen that looks like the one below.

Click Restore. This will transform your phone into the iPhone 5 it was when it first arrived. No files, no apps, nothing.
Once that is done, you will again want to right click your device in iTunes and you'll want to select Restore from Back Up. This should restore your iPhone 5 to the way it was before, apps and all, but with better battery life.