How to Get Better LG G3 Battery Life
With power and battery saver modes to large battery options, smartphones these days are starting to last longer and longer. When it comes to using a powerful smartphone like the LG G3 though, battery life is always a concern, and there are many ways to improve battery life with the LG G3.
LG's flagship G3 smartphone was released earlier this summer and has been one of the better Android smartphones released in 2014. It's loaded with a beautiful 5.5-inch quad-hd display, an impressive camera, and tons of features that may cause battery life to take a hit. There are obvious things you can do to improve it, and we'll go over a few of them below.
Read: LG G3 Setup Guide: 5 Steps to Get Started
The LG G3 comes with a large 3,000 mAh battery to keep it going for an entire day, but you can always squeeze a little more out. This guide will show LG G3 owners how to make the built-in LG G3 battery last longer, give you some suggestions to improve it, and even list an extended battery case for those who absolutely need the LG G3 to last longer. Read on for all the details.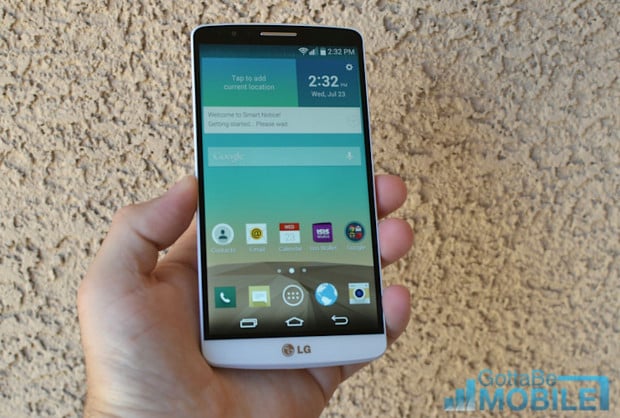 For starters, Google's made huge strides and has been working hard on making Android faster and smoother, yet more efficient at the same time. KitKat offered some of the best performance compared to previous releases, and the Android 5.0 Lollipop update coming soon to the LG G3 should improve on that even further.
Below are a few steps and simple tweaks that all LG G3 owners can do in a matter of minutes that could be just what you need to get a few more hours each day from your smartphone. Enough to make it through a night out, and get everything you need to do done without having to worry about finding a charger. The LG G3 already has good battery life, but lets make it even better.
Screen Brightness and Sleep Time
Having that 5.5-inch Quad-HD display turned on and displaying Facebook messages, tweets, or while browsing the web will be the biggest drain on the battery. Screen On time under the battery stats page in settings is important, as the display will use more battery than anything else. You'll want to head into Settings > Display > Brightness and choose something that works for you. Auto isn't ideal for conserving battery, and I use somewhere around 30% brightness. Auto will turn it up when lighting isn't idea, like outside, but the constant up and downs can eventually lower battery life throughout the day.
At the same time, you'll also want to set the display sleep time. This sets how long the display will stay powered on and lit up while not in use. Many users just drop a device on the table after use, and if this is set to two or five minutes, your battery will drain for no reason. I use 30 seconds personally, and always manually sleep my display after use, instead of just setting the device down. Meaning tap the power/wake button to turn it off before setting it down. When you do this 100 times in any given day, that's 100 times the screen will be on for 30 seconds (or longer) that it doesn't need to be. Others might suggest heading into Developer Options and disabling all of the animation effects, which can also increase battery life at the cost of the user interface and experience not being as smooth or pretty.
WiFi, 4G LTE & Bluetooth
As the obvious, if you aren't using WiFi or Bluetooth, you might as well turn them off. Even though they're minimal when it comes to battery drain this is one more quick and easy step. If you're in a WiFi location (coffee shop) yet not using WiFi, certainly turn it off as the device will continuously search for a network. Bluetooth being enabled isn't much of an issue, but while we're here, disable it if you haven't a need for it. Head into Settings and just slide to off both WiFi and Bluetooth. It's the first two options, you can't miss it.
Then of course, using things like Tethering or sharing the connection to a tablet or laptop will absolutely cause your battery to drain at a quick rate. Anything using 4G LTE continuously will hurt your battery. Use WiFi as often as you can, but turn it off when not in use.
Control Location Services and GPS
When your device fires up GPS for Google Maps and Navigation, or Facebook wants your location to share with the world, GPS will need to power on and is quite the battery hog. In Android 4.4 KitKat Google's finally changed this system, and will give users more control over how all aspects of location services uses GPS, and thus, the battery. Settings > General > Location > Mode and select Battery Saving.
If you want to be really extreme, flipping location services completely off will be a big saver when it comes to battery. Just don't expect Google Now to be as useful, give you directions, or find nearby restaurants and businesses. Facebook and Messenger apps won't share location, and Instagram or photo uploads won't have location data. In general leaving Location services enabled and on Battery Saving is ideal. As this uses mobile networks, towers, and WiFi access points to determine location, instead of the power hungry GPS chip inside your smartphone.
Data, Gmail, and Google Sync
Controlling what is automatically backed up, synced with Google, and otherwise transferring data is a big one. For obvious reasons you'll want to keep most of Google's sync settings enabled for Calendar, Contacts, Gmail, and other things, but if you don't need Gmail syncing and checking for emails every minute, change it. Gmail can be set to check whenever you'd like. From push, to 30 minutes, to never. Settings > General > Accounts > Google > and selecting account will show the sync options.
This is another area that makes Android powerful. Having Google sync everything from Music, Chrome browsing history, and even saving app data and settings. I'd keep this all enabled, but if you'd like to preserve battery here's another way to do so. Auto Backup of photos by Google +, DropBox, Google Drive, or any other service falls under the same category here. Either disable it, or have it set to only backup over WiFi, instead of mobile data. Google Photo Sync is a biggie, so use that with caution if you're snapping multiple photos per day of the family, or selfies.
Most of these backup and sync features are useful, but if you don't use Google+ Photos, Google Play Music, Movies, and many other things in this area, disable them to save a little bit of battery wherever you can.
Install Battery Guru
The LG G3 comes with a collection of battery saving software, but if you install the free SnapDragon Battery Guru software you'll see better G3 battery life with changes you rarely notice.  This app learns your usage habits and where you connect to WiFi and more to customize when settings turn on and off. Then does it automatically. Which results in nothing for you to do, but better battery life.
This is an app that works on any Snapdragon powered device, and delivered great results on the Galaxy S4, and early tests show it is helpful on our LG G3 as well, as it has a powerful quad-core Snapdragon 801 processor inside.
Battery Saver Mode
Last but not least is the built-in battery saver mode. This is a feature under Settings > General > Battery > Battery Saver. This feature is customizable and will let you set when your phone goes into this mode. I have it set at 20% for when it's truly needed. It will turn down screen brightness, kill WiFi or data when not in use (so you may not get Facebook notifications, Twitter alerts, or Gmail notifications) and even turns off the notification LED from flashing and taking little bits of battery.
Going in and setting this up as you see fit is a good idea. Once your phone gets to 20% (or whatever point you choose) battery saver mode will kick in and start sipping juice to get you through those last few hours of the day. It isn't ideal, but will work great in case of emergencies.
Battery Saver mode is increasingly becoming more popular, and it's a great way to still have a phone for calls and texts when you need it, rather than wasting all your battery looking at Facebook status updates.
Battery & Cases
Then of course you can always buy an extended battery that will usually be bigger than what's inside your phone. These however come with replacement backs that make the sleek LG G3 fatter, and the buttons on the back not as accessible. As a result some of the cases with built-in battery packs may be your best bet. Again, these make your device bulky and the options aren't as wide with the LG G3, but some can be found over at Amazon.
Other Quick Tips
Above we outlined a few of the quickest and easiest changes to actually make a noticeable difference on battery life, but you can always get apps like BetteryBatteryStats to follow what uses what, and help single out any battery draining issues. Things like rogue apps you may want to uninstall. Then, here's a few other quick tips that aren't daily options, but can help.
Read: LG G3 vs Nexus 6: Size Comparison
Set Airplane mode if needed. This kills all radios and connectivity and will seriously save a battery for days and days. On a flight or taking the train with no service, enable airplane mode to save it for when you arrive. Occasional restarts can also help to flush out the system and memory, and give your device a clean slate for the day or work week. Some might also suggest to opt not to use live wallpapers or widgets, but Android's so efficient those shouldn't cause battery drain. And they look pretty.
These are just a few of many different options available to users without getting deeper into the Android OS. Anything from custom ROMs and kernels can also severely impact battery life for better, or for worse. Enjoy the quick list, and your LG G3.