How to Get DuckDuckGo as your iOS 8 Default Search Engine
For the millions of Americans who were shocked to find out that the NSA may have monitored their communications without them knowing, last year was a rough one. The initial firestorm that leaks triggered has subsided, but a growing number of Americans are still concerned about their privacy and that's where the DuckDuckGo search engine comes in. With iOS 8, Apple has made it very easy to use DuckDuckGo as the default search engine on its line of iPhones and iPads. We're going to show you how to get DuckDuckGo as your iOS 8 default search engine so that your searches stay private.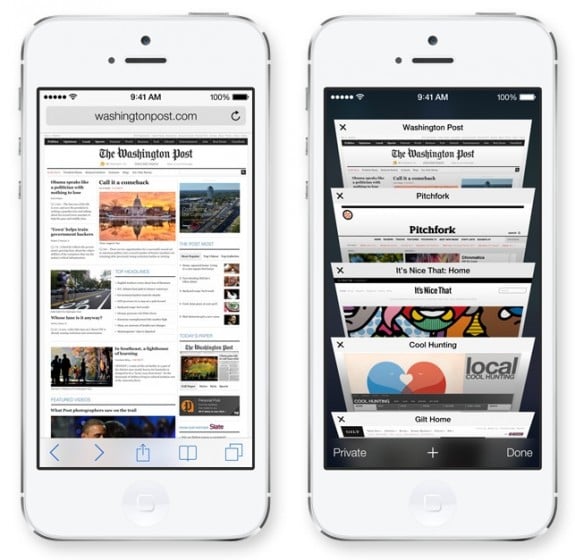 Read: 2013 story of the Year Was Data Security & Privacy 
Before we begin, it's super important that you already have everything you need. Of course, you'll need your iPhone, but you'll also need the iOS 8 update for your iPhone or iPad. Don't worry it's free. You can download it from the General settings area in the iPhone or iPad Settings app. Be sure that you're connected to a Wi-Fi network. Also, make sure that you don't need your iPhone or iPad for the next few hours, the update can take a bit.
Settings Up DuckDuckGoin iOS 8
Unlock your iPhone or iPad by sliding your finger from left to right at the bottom of your screen. If you're using a passcode you'll need to enter it now. If you're using an iPhone that's equipped with TouchID, simply put your finger on the Home button.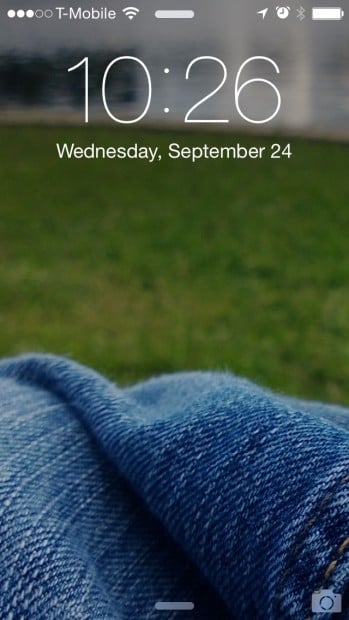 Welcome to the Home screen. Look for and open the Settings app. If  you've customized which apps sit where on your Home screen you could find the Settings app buried in a folder or on another Home screen accessed by swiping to the right. The Settings app is there somewhere, you'll just need to find it.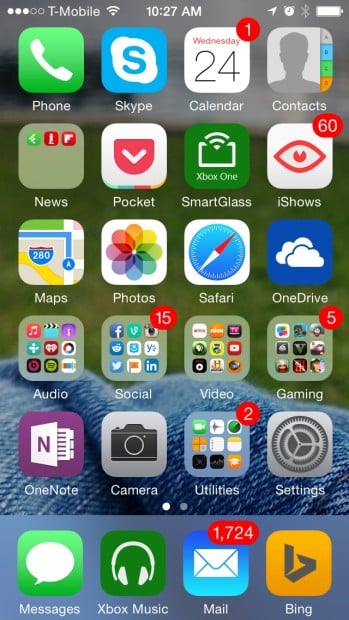 Inside the Settings app scroll down until you see the settings for Safari, the iPhone and iPad web browser that comes built-in. You'll want to tap on the option once you find it. Safari is the 26th option on the list of Settings.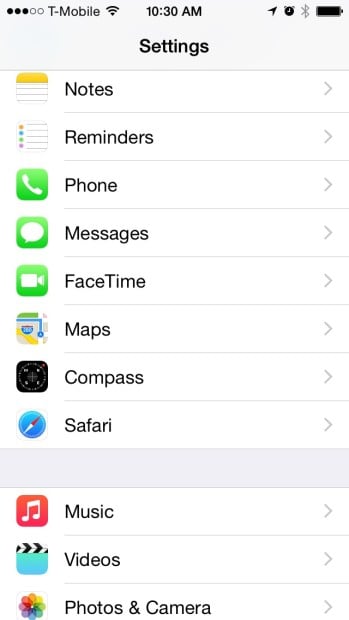 Now look for the Search Engine setting. Tap it for a list of other default search engines to use.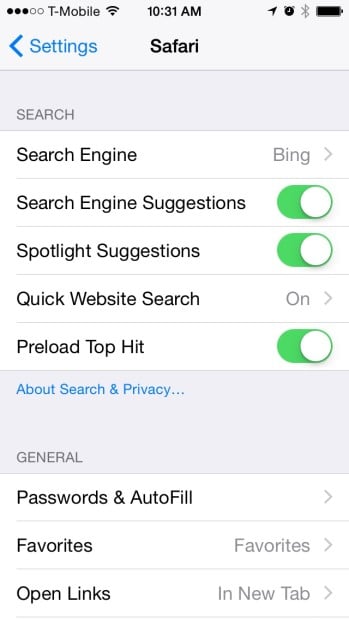 For this example, our default search engine is Bing. Tap on DuckDuckGo as the search engine you want your iPhone or iPad to use by default.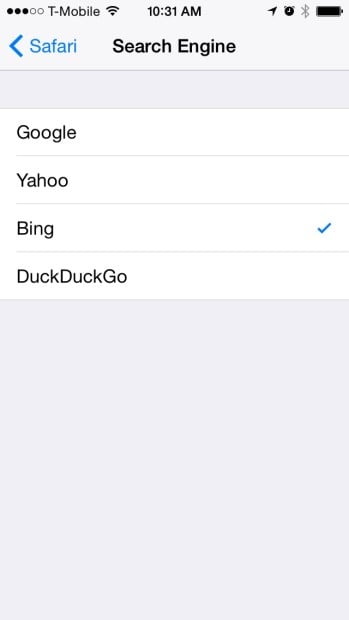 Now go back to the Home and open the Safari web browser. For now on, whenever you type anything into the address bar at the top of Safari you'll get results from DuckDuckGo.
Why Use DuckDuckGoin iOS 8?
Nothing explains why having DuckDuckGo on the iPhone and iPad than the search engine's own mission statement. "Our vision is simple. To give you great search results without tracking you," the thing search engine's home page reads. That's about all you need to say, really.
Read: DuckDuckGo vs. Google Search
Google may have started out as a search engine, an easy way to find what you're looking for in a sea of overwhelming information, but it's become more than that. Google makes a large amount of money on the advertisements that its ad network provides. Because Google Ads are embedded in millions of sites, the argument is that Google can and does track user's search history so that it can present them with more accurate advertisements. If you've ever searched for something and then noticed that you only saw ads related to the thing you searched for days on end, that's why.
In the last decade or so Google has expanded to other areas. Gmail, the company's webmail service, also has ads and the company has admitted to and defended its decision to include advertisements in Gmail that scan user's emails for accurate subject matter.
Judging by the popularity Gmail and Google Search enjoy, once can only conclude that wider public either doesn't know or doesn't care about Google building accurate profiles of their search and browsing habits for the sake of more accurate ads. Last year's NSA leaks added a new dimension to the problem though. Those leaks concerning the NSA last year pointed to an agency that had unchecked authority to tag user's communications. Information provided by the world's largest tech companies has pointed to an alarming number of policing organizations in the United States being granted access to user's personal information stored by web services like those offered by Google, Microsoft and Yahoo. Earlier this year Microsoft was ordered to surrender email it'd stored on a server in Ireland. It's not hard to imagine that an order like that couldn't be extended to search history on Google or some other search engine's servers.
Good luck with DuckDuckGo on your iPhone and iPad.