How to Get Free Xbox One Games, Music and Movies
The Xbox One and the Xbox 360 aren't just consoles. Like all modern devices, it isn't the capabilities that they have when they arrive to you that make them worthwhile. Instead, their worth is measured in the video games, television shows and other content that they enable. It's great that they're able to offer so much versatility, but that also means that having the consoles requires an investment before you can reap their benefits. That is, unless they're wiling to put forth some extra effort and get free Xbox media.
I suspect most people haven't discovered it yet, but there are actually two different ways to get free Xbox One games, television shows, movies and more without ever having to charge your credit or debit card. Best of all, neither requires you to hand over your Xbox Live account to less than reputable entities or risk getting scammed.
Xbox Live Rewards Program
The first of these two methods is called the Xbox Live Rewards Program. Once they join the program, users earn rewards points for certain tasks they do. Taking a survey about your Xbox experience through the portal earns users 250 credits. Renewing an Xbox Live Gold membership nets users up to 3,000 credits. Making a first purchase after signing up for Xbox Live Rewards earns users 1,250 points. The more achievements a user has, the more credits they receive as a sort of digital rebate.
Xbox One and Xbox 360 owners who rack up at least 5,000 rewards points will have the equivalent of their rewards points deposited into their Xbox Live account as cash. As 5,000 points equals $5, it'll take some time before members are able to buy free Xbox One big-budget titles with their Xbox Live Rewards earnings, however, that amount is roughly enough to rent a movie, buy downloadable content or even entire seasons of shows.
Essentially, Microsoft is rewarding user participation with store credits that they can use on anything.
Bing Rewards Program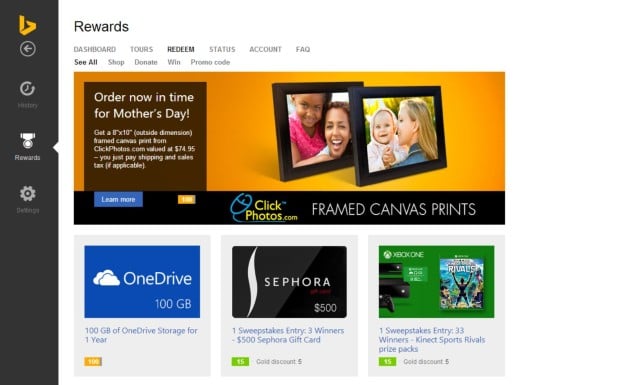 While users might have to spend a bit more money if they hope pick up things through the Xbox Live Rewards program quickly, the same isn't true for the Bing Rewards Program. In fact, Bing Rewards is even more generous than the Xbox Live Rewards Program.
The process of earning credit here is also less complicated. Users sign up for Bing Rewards online and make sure to save their username and password for the Microsoft Account in their browser. Every time they perform a search, or recommend a friend, they earn points that can be redeemed for rewards through the website. Users earn up to 15 credits a day for performing searches through Bing. Inviting friends earns users 500 points every time a friend also signs up for the program on their recommendation. From time to time Microsoft also holds double point weeks and allows users to earn more points for special onetime offers. For example, today's one time offer invites users to learn about the Cortana personal assistant that Microsoft revealed just yesterday.
Overtime, those points add up to the hundreds, and Microsoft allows users to redeem them different offers. For example, getting 100GB of OneDrive cloud storage for a year costs users 100 points. Getting 5% off purchases from the Microsoft Store costs users 40 Bing Rewards Points. There's also special sweepstakes that users can enter and a Bing for Schools program that allows users to send their points to local schools to earn Surface tablets.
The real kicker, though, is the gift cards. Users can redeem their points for $3 and $5 dollar gift cards for GameStop, Fandango, Domino's, Starbucks, Burger King, Applebee's and a few other restaurants. Microsoft also lets users redeem their points for $3 and $5 gift cards for the Xbox Store, Windows Phone Store and Windows Store. There are also redeemable digital gift cards for a month of Xbox Live Gold, a month of Xbox Music Pass and Skype Unlimited.
A month of Xbox Music costs members 950 points while a subscription to Xbox Live Gold for a single month costs 679 points a month. $3 gift cards cost users 375 Bing Rewards Points, while a $5 gift card costs $475 points. Prices for each reward decrease as users rack up more life-time points. For comparison, a month of Xbox Live Gold or Xbox Music Pass costs users $9.99 each.
Users can earn Bing Rewards Points on their iPhone and Android devices too. That's something Windows Phone users can't do right now.
All told, both are an excellent way for users to either keep their Xbox Live spending as low as possible, or even purchase some discounted games and television shows at no cost to them.

As an Amazon Associate I earn from qualifying purchases.