How to Get Google Maps in iOS 6
In iOS 6, Apple's new Maps application replaces Google Maps as the native maps app for iPhone, iPod and iPod touch. However, that doesn't mean that Google Maps is inaccessible when using iOS 6. In fact, there is a way to use Google Maps with on devices running iOS 6 right now. Here, we show you how to use Google Maps in iOS 6.
After years of rumors, Apple has finally replaced Google Maps with the release of iOS 6. Now, instead of Google Maps, tapping the Maps icon brings up Apple's new Maps application, an application that has received some pretty poor reviews from critics and users.
Read: iOS 6 Maps App Bugs Frustrate iPhone and iPad Users.
Google is rumored to be working on a Google Maps application for iOS but as of right now, it's unclear when or if it might hit the App Store. Fortunately, there is a way to get Google Maps up and running in iOS 6.
While it might not be as handy as having a standalone application, iOS 6 users who are frustrated by the bugs and lack if information inside Apple's Maps application can access Google Maps simply by firing up their browser and typing in a URL.
How to Use Google Maps in iOS 6
First, open up your browser on your iPhone, iPad or iPod touch.. It doesn't matter whether it's Safari or Chrome or something else.
Next, type maps.google.com in the Browser and you should be taken to an interface that resembles what you see below in the screenshot from my iPhone.
What you're seeing is a web-based version of Google Maps that is accessible, even though the device you may be using is running iOS 6. Of course, it looks quite a bit different than the Google Maps application that was in iOS just a few days ago, but it does have a lot of the same functionality.
Tap the + or – signs and you are able to zoom in and out with ease. Zoom in to check out where a restaurant or movie theater is. Zoom out to see a wide sweeping view of a particular area.
At the top, you'll see a navigation bar. On the far left is a search box. Next to that, you'll notice a multitude of options.
On the far left, you'll see that filled in circle. Tap that and Google Maps will show you where you are on the map. Next to that, you'll see an arrow inside of a diamond. That's where you can go to get directions if need be. To the right of that, you can click to find information about a particular place.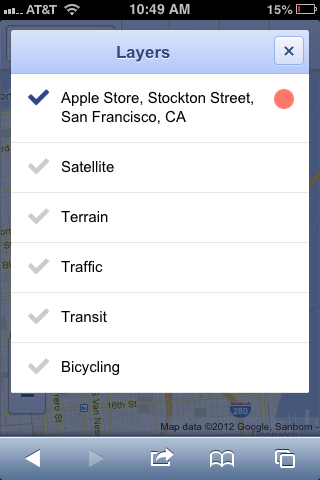 And finally, on the far right there is a drop down menu. Dropping that menu down allows you to clear the map but it also lets you select something called Layers.
Layers allows you to select layers for the maps. So if you want the old terrain view, you can put that on. You can select traffic to see local traffic in the area. You can even still get Transit and Bicycling routes, something that's missing in Apple's Maps application.
So this is an option for those that just can't stand Apple's new Maps application and don't want to download a third-party app for navigation purposes.
It's also nice for those that maybe just miss having Google Maps on their iPhone or iPad.

As an Amazon Associate I earn from qualifying purchases.