How to Get iPhone Alerts for Upcoming Holidays
Father's Day is right around the corner, and if you need to be reminded about it before it's too late, here's how you can receive iPhone alerts for upcoming holidays, including Father's Day and beyond.
I'm sure this happened to you last month: You reminded yourself that, yes, Mother's Day was coming up, but you quickly forgot it and by the time it rolled around, you had no gift prepared. It's tough, but there's an easy fix that will save you the embarrassment for next year and even for Father's Day later this month.
There's a relatively new app called Hooks, which can provide you with iPhone alerts for pretty much anything. It's a notifications app, and that its one and only purpose. With it, you can set up all sorts of different notifications and alerts about anything, like sports scores, weather updates, new TV episodes that air, and even receive Amber alerts.
Personally, the app has allowed me to delete some of the other apps that I've used solely to receive certain notifications. However, now I can delete those apps to free up space on my 16GB iPhone, while still receiving the notifications that I need.
Here's how to use the Hooks app to set up iPhone alerts for upcoming holidays, that way you'll never forget to buy a gift before it's too late.
Setting Up iPhone Alerts for Holidays
It's really easy to create an alert within the Hooks app, and it offers a clean user interface that makes it enjoyable to use, thanks to several big updates since its initial release. To create an alert for upcoming holidays, simply open up Hooks and tap on the plus icon in the upper-right corner of the screen.
The next screen will have a list of all the alerts that you have set up. If this is the first time using the app there likely won't be anything listed, but we'll be fixing that shortly, and the list will soon fill up with every new notification that you create.
The next step is to search for the specific alert that you want. Since you're wanting an iPhone alert that will notify about upcoming holidays, go ahead and start typing in "holiday" into the search field at the top of the screen.
Otherwise, you can scroll through the list of different alerts and find the one that says Holidays (USA).
Once you find it, go ahead and tap on it to select it. The next page will be where you set it up and define some parameters for the alert. You'll need to select your state, as well as how many days in advance you wanted to be notified. You can choose 1, 2, 3, or 5 days before the holiday. After that, you'll want Receive Notification (Push) enabled, and you can choose whether or not you want the alert to play a sound when it goes off.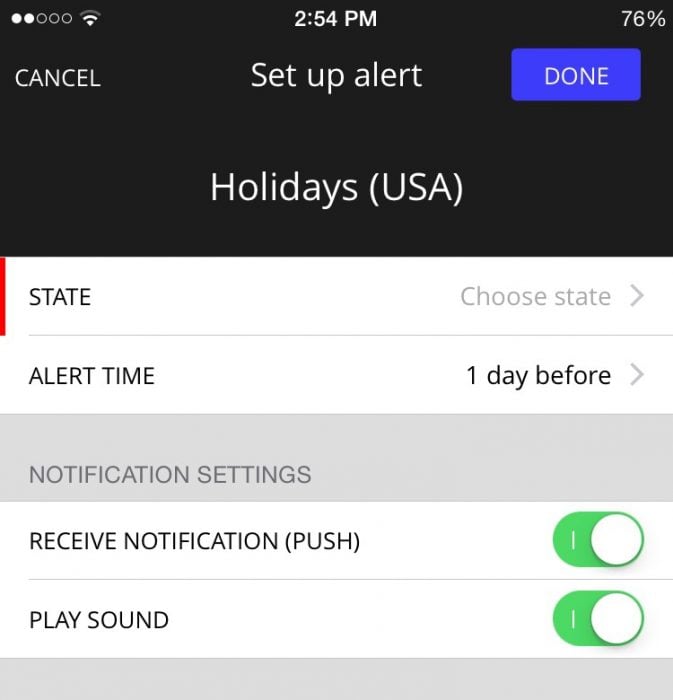 Once you're done on that screen, click Done in the upper-right corner to finalize the alert, and once it's done and created, you'll then begin to receive alerts when a holiday is coming up.
Be aware that you can't choose certain holidays to get alerts for, unfortunately. You'll end up receiving alerts for all holidays, including less-important ones that Columbus Day or something similar.
Receiving notifications about upcoming holidays is really just the tip of the iceberg with Hooks. You can receive all sorts of different iPhone alerts, and the selection is constantly growing as the app becomes more and more popular.
Again, I've used many different apps mainly just so that I could receive a notification on something. For instance, the MLB At Bat offers all sorts of features, like highlights, news, stats, scores, and even the ability to live-stream games right on your device, but all I really wanted from the app was to get iPhone alerts on when a White Sox game was starting, that way I could tune in without missing it.
However, with Hooks, I no longer need the MLB At Bat app, as Hooks will notify me when a White Sox game is about to start. It's great news, as that's one less app that I don't need on my iPhone, and I can free up some extra storage space this way.