How to Get iPhone Ringtones for Free
The stock ringtones on iPhone aren't terrible by any means, but if you want to add some creativity of your own, here's how to you can custom ringtones for your iPhones without paying a cent.
Apple sells ringtones and text tones in the iTunes Store, but they usually cost $1.29 for a ringtone and $0.99 for a text tone. That's not a lot of money, but if you like to change up your ringtones frequently, that kind of money can add up quickly, which is why it's better to get your ringtones for free.
Luckily there are several resources for obtaining free iPhone ringtones and text tones. Plus, you can even create your own ringtones by using the music that you already have in your iTunes library.
Whatever you choose to do, here are some resources to find free iPhone ringtones.
Ringtones iPhone App
One of the most popular apps for browsing free iPhone ringtones is called Ringtones for iPhone. It lets you create your own iPhone ringtones, as well as browse the app's catalog of already-made ringtones ready to download.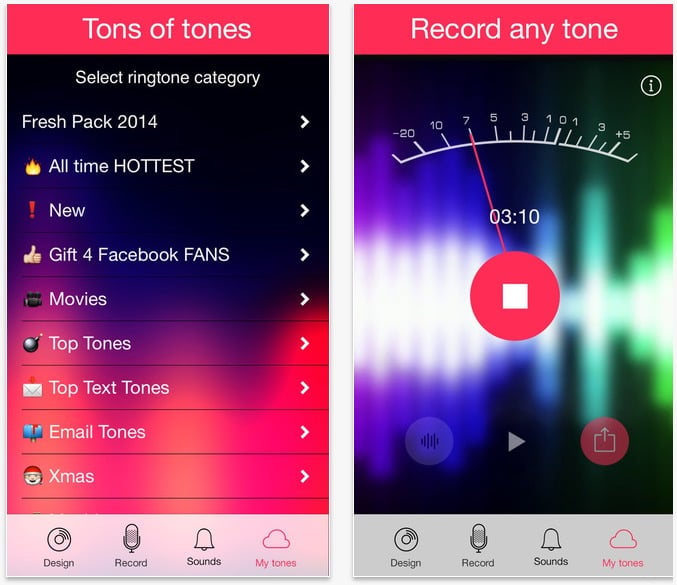 There's even a feature that lets you record a ringtone, so if you wanted your friend's voice as a ringtone, you can record him saying something and then have that play whenever someone calls you.
One of the big caveats is that iOS limits the app to what it can do, so you can't just find a ringtone and then set it as your ringtone right on your iPhone. There are a few hoops you have to jump through still, but the app does a great job of providing tutorials on how to do all of that.
Reddit's /r/Ringtones
Perhaps one of the best online communities for ringtones is Reddit's /u/Ringtones subreddit, which has over 700 subscribers. That's not a lot of members by any means and it could be more active than what it is, but it's one of the few online communities that focuses on ringtones.
In the subreddit, you can request a ringtone if you can't find it elsewhere, and hope that someone will create it for you. You can also use the search function in the subreddit to find a specific ringtone that you want. However, you might have better luck searching the entirety of Reddit.
Create Your Own Ringtones Through iTunes
When all else fails, you can take matters into your own hands and create a ringtone yourself using iTunes.
Unfortunately, Apple doesn't make it easy to create your own ringtones and put them on your iPhone, but it's still certainly possible. We're guessing that Apple wants to make it a bit more difficult to add your own ringtones to your iPhone in order to get you to buy ringtones in the iTunes store, but if you're like me, you'd rather save a couple bucks and do it yourself.
The process isn't incredibly difficult, but there are a lot of steps involved. Mainly, you have to slightly edit a song in your iTunes library, convert to a ringtone format, and then sync it to your iPhone. Be sure to check out the complete tutorial for all the steps required.