How to Get the New iOS 9.1 Emoji on Your Jailbroken iPhone
iOS 9.1 comes with a ton of new emoji for users to enjoy. Here's how to get the new iOS 9.1 emoji on your jailbroken iPhone.
iOS 9.1 was released recently, coming with some bug fixes and performance improvements, but it also patched up the exploits used in the iOS 9 jailbreak, deeming iOS 9.1 unjailbreakable. This means that those who want to jailbreak their devices can't update to iOS 9.1
This means that these users can't use the new emoji, which include a ton of new designs, including the infamous middle finger emoji that many users have been waiting for all this time.
Not all hope is lost, though, as the jailbreaking community has come through once again and saved the day. Even though users who are jailbroken on iOS 9.0 aren't officially able to get the new emoji, there are some new jailbreak tweaks that bring the new emoji to the older iOS version on jailbroken devices.
So if you've been wanting to give your friends the digital middle finger for a while now, it's finally possible to do on a jailbroken device running iOS 9.0.
Here's how to get the new iOS 9.1 emoji on iOS 9.0 if you have a jailbroken iPhone or iPad.
How to Get the New iOS 9.1 Emoji
For a brief disclaimer, the jailbreak developer for the tweaks that allow you to get the new emoji on your jailbroken iPhone hasn't quite finished developing the tweaks yet, but they're at least working so far.
Another thing to keep in mind is that some users report having issues with the new emoji showing up. Sometimes they appear as question marks in the text box. If you come across this issue, there's unfortunately nothing you can do to fix it other than wait for the tweak developer to update the tweaks so that the new emoji work properly.
Hopefully a better jailbreak tweak releases that more easily enables the new iOS 9.1 emoji, but at this point, this is all that's available, so follow these steps and you'll be on your way to new iOS 9.1 emoji.
First off, go into Cydia and add a new repo to your repository list. You do this by tapping the Sources tab at the bottom, hit Edit in the top-right corner, then Add in the top-left. In the text box that pops up, type in https://poomsmart.github.io/repo and add it. Wait for it to reload and go back into Cydia.
Now, hit the Search tab and search for BytaFont 2 and install it.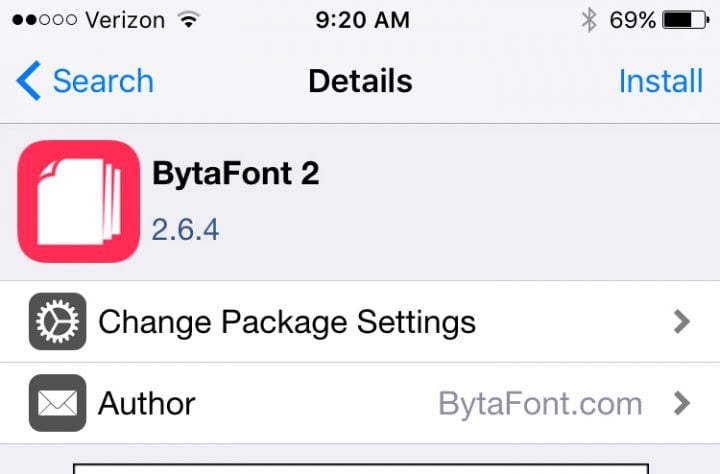 After that's installed, go back into Cydia if you're not still there and search for Emoji iOS 9.1 Backup (D) and install that as well.
After it's installed, exit out of Cydia and open up the BytaFont 2 app that you downloaded earlier. Tap on the Swap Mode tab at the bottom, then select Emoji from the list and then tap on Em0ji_iOS 9.1.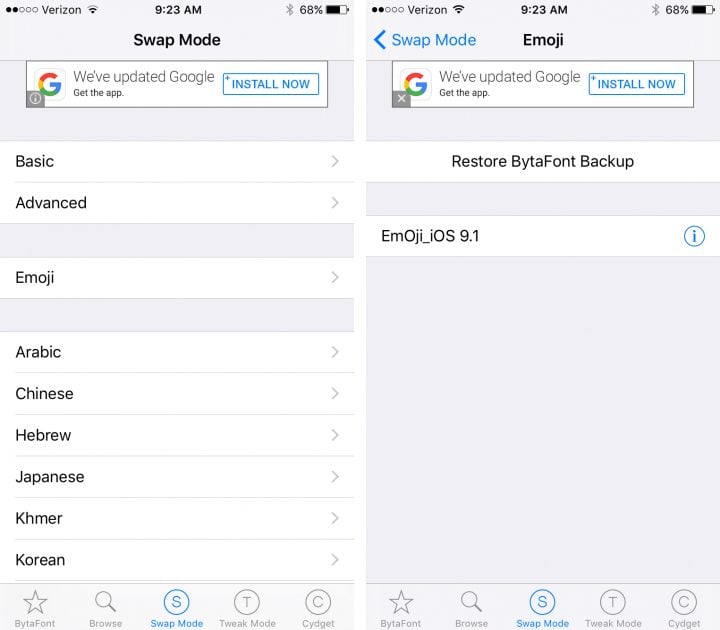 Respring your device if it didn't do so automatically, and then go back into Cydia. Search for Emoji83+ and install the non-beta version. After that, you'll respring your device and you'll be good to go.
Simply just head into the Messages app and open up the Emoji keyboard and look for the new emojis that you want. You should see the middle finger emoji, as well as the other 149 new emoji that are available in iOS 9.1.
Again, if you select an emoji and it shows up as a question mark in the text box, this seems to be a problem for some users that have installed the jailbreak tweaks, and it's something that the user can't fix, but rather must wait for the jailbreak developer to update the tweaks in order for the emoji to work properly.
If that's the case for you, just be patient and we should see some updates to the tweaks in the near future.

As an Amazon Associate I earn from qualifying purchases.