How to Get the Old YouTube App Back on iPhone and iPad
YouTube recently updated its iOS app, and if you're not a big fan of the new interface, here's how to get the old YouTube app back on your iPhone or iPad.
What's being considered one of the worst updates for the YouTube app ever (with one-and-a-half stars out of over 6,500 ratings), Google redesigned the app with a new look that isn't exactly flattering. While it does come with new in-app editing tools, the new look of the app has many users up in arms.
First off the new app gets rid of the slide-over navigation sidebar in favor of a new tab that you can access from the home screen. The top navigation bar also takes a page from the Android book with a flat one-color design that Google has pulled off well in the past, but sort of swings and misses with its new YouTube app.
However, the app does include a dedicated tab that includes a timeline of YouTube videos from channels you subscribe to, which is actually a neat little feature to have, but some users simply just want the old YouTube app back.
Luckily, there are ways to do this, with one way requiring a jailbroken device, but in any case, here's how to get the old YouTube app back on your iPhone or iPad.
Jailbreak Your iPhone or iPad
This trick only works if your device is running iOS 8.4.0 or older, and if you're not already jailbroken, you most likely already updated to iOS 9. Since iOS 9 isn't jailbroken, this trick won't work.
However, for those who are jailbroken, you can download a Cydia tweak that brings back the old YouTube app.
The tweak is called YTOldNav and it can be downloaded from Cydia after adding the repo.ioscreatix.com repository to your Cydia app.
It's a simple tweak that doesn't require any settings to mess with. Once it's downloaded, you can go back to the YouTube app and enjoy it just like how it was before Google changed it.
Restore from a Previous Backup
This trick works well, but it can be a bit tricky since you have to restore from a previous backup for your iPhone or iPad, so if you have new apps and new files on your device since updating to the new YouTube app, you'll those files and such.
Essentially, what you're doing is restoring your iOS device back to a time before you updated to the new YouTube app in order to get the old design back.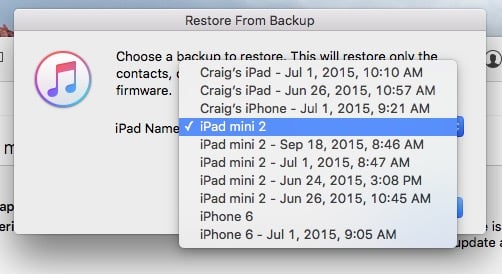 To do this, simply plug in your iPhone or iPad into your computer and open up iTunes. From there, click on the device icon that pops up toward the upper-left corner to go to your device's summary page.
Toward the bottom, click on Restore Backup. You'll need to turn off Find My iPhone in order to do this, but after you do that, the next screen will have you choose a backup from a drop-down menu. Hopefully you back up often enough so that you can choose a backup from right before you updated the YouTube app.
From there, just restore that backup and let it do its thing. Eventually, you'll be running on a backup that included the old YouTube app.
Don't Sweat It Too Much
In the end, if either one of these tricks won't work for you, don't sweat it too much. The new YouTube layout may not be the best, but it's still usable and it isn't the end of the world.
We're sure that Google is hearing the feedback on its new design of the iOS app, so hopefully they'll update it in the near future with some positive changes.
Otherwise, while it may not be the best look that the YouTube app has had, the new added features are at least pretty cool.