How to Get OS X El Capitan's Window Snap Feature Right Now
If you're a fan of OS X El Capitan's new window snap feature, here's how to get it right now without waiting.
Apple announced and revealed OS X El Capitan yesterday during the company's WWDC keynote, arriving with a handful of new features, but keeping the same overall design and look as OS X Yosemite.
In fact, OS X El Capitan can be considered a rather minor update from OS X Yosemite, and Apple only needed about 10 minutes tops to show off the new features during its presentation.
However, some of the new features may prove useful to many Mac users, including new swipe gestures, Spotlight Search improvements, and a new multi-tasking feature that allows users to quickly and easily snap windows and create a side-by-side view using two windows.
This is similar to Windows' Aero Snap feature, where you can drag a window off to the side to activate the snap and the let go of the mouse or trackpad to have the operating system automatically resize the window to fit on half of the screen. It works a bit differently in OS X El Capitan, but the main point is there.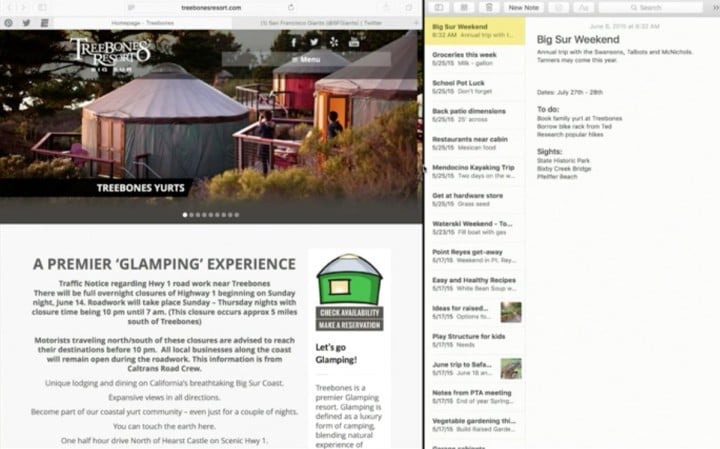 Unfortunately, OS X El Capitan won't be available until later this year in the fall, but the good news is that you can use the new window snap feature in OS X right now in OS X Yosemite, thanks to a third-party application called BetterSnapTool.
Here's how to set it up and begin snapping windows in OS X.
How to Get OS X El Capitan's Window Snap Feature
While BetterSnapTool doesn't provide the exact experience as the split-view feature in OS X El Capitan, it's close enough, and it's a good way to try out the feature before you decide to upgrade to the latest version of OS X later this year, especially if you want to upgrade solely for the new split-view feature.
BetterSnapTool is an app that's available in the Mac App Store for a couple of dollars. To download and install it, simply open up the Mac App Store on your Mac and search for BetterSnapTool. It should pop up in the results, and from there you can click on Install (it displays Open on my Mac since I already have it installed).
Next, fire up the app and you'll instantly be greeted with the settings pane where you can change around the options and set up BetterSnapTool to your own liking. In fact, the tool only has a settings windows. Otherwise, you can close it out and BetterSnapTool will work in the background and won't get in the way. You can even disable the menubar icon if you want to.
First off, one of the first settings that you should make sure is enabled is that BetterSnapTool should launch every time you boot up your Mac. This can be found toward the bottom of the General Settings tab, and there should be a checkbox that you can select for this.
BetterSnapTool allows you to snap windows in numerous different ways, including to the left or right side so that they automatically resize to fit half of the screen. You can also snap a window to the top of the screen to automatically resize it to fit the entire screen.
You can even snap windows to the upper or lower corners so that windows resize to fit a quarter of the screen in that specific area that you snap it to. You can enable or disable any of these snap features from the General Settings tab.
There are a slew of advanced settings that you can mess with, but for most users, you won't need to mess with them at all. You really just need to be concerned about the General Settings tab.
However, in the advanced settings you can change the look of the snap highlighter and even take advantage of secondary actions with the Close, Minimize, and Maximize buttons in the upper-left corner of windows.
If you're on a MacBook and want to add some more features to the trackpad, there's a tool from the same developers called BetterTouchTool, which allows you to add all sorts of custom swipe gestures and taps to the Mac trackpad. It also comes with the window snap features that you can find in BetterSnapTool, so if you're the type that likes to consolidate features into as few apps as possible, BetterTouchTool essentially kills two birds with one stone.
BetterTouchTool isn't available in the Mac App Store, but you can download it for free from the app's website.