How To Get Rid of Special Offers on Kindle Fire Tablets
Advertising is everywhere. There's no escaping it. Unless you become a hermit and live in a cave you're going to become exposed to some form of it. The mobile world and the Internet unfortunately are all about advertising. Theoretically it is why we can enjoy so much of the Internet for free. Advertising also affords us occasional discounts on some of the gear, gadgets, and content we love. For some advertising is a necessary evil, some can tune it out and go on their merry way, and some would just as soon never see an ad again.
Amazon's Kindle tablets, just like Amazon's website, are built to make it easier to buy stuff. Recommendations, a form of advertising, are always front and center. Those recommendations are built on your past Amazon purchase and search history. I don't know about you, but by and large these recommendations fail more times than not when it comes to offering me something based on my past history. Perhaps that's because I have very eclectic tastes.
Regardless of my Amazon recommendation observations, Amazon sells its Kindle Fire tablet not only in multiple sizes, storage capacities, and display resolutions, it also sells them with and without a feature called Special Offers. Special Offers is essentially an advertising program. The lock screen of your Kindle Fire Tablet will display a "special offer" each time you open up your device. Those offers can include books, Apps, music, or any of the content Amazon sells. Special Offers can also appear as a screen saver. The special offer goes away once you swipe to unlock your device. Special Offers will also occasionally send you special offers via notifications.
When you purchase a Kindle Fire tablet you can choose a variant with or without Special Offers. The price with Special Offers is $15 less than without. Obviously that's the appeal for those on tight budgets or who don't mind a little advertising always front and center.
There is a way to get rid of Special Offers if you'd tired of viewing them on your lock screen. Note you'll have to pay the $15 to do so, but if you're willing to pay the freight you can make them go away.
Here's how to get rid of special offers on Kindle Fire tablets.
From a web browser go to Manage My Kindle on Amazon's website. You can enter Manage My Kindle in the search box on Amazon's home page. At the top of the page of results you will see the link to Manage My Kindle.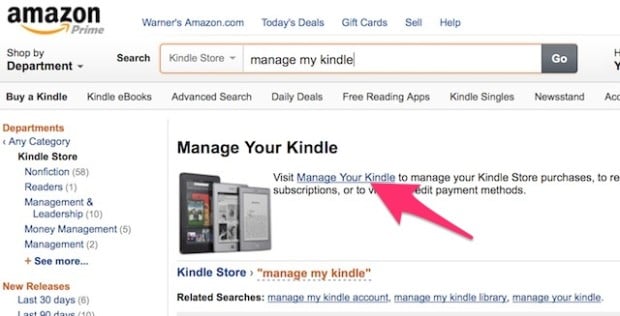 From the Manage My Kindle page scroll down until you see Manage Your Devices in the left hand column. Click on Manage Your Devices.
Once you come to the Manage Your Devices screen you will see all of the Kindle devices and other devices that you have Amazon's Kindle App installed on listed before you. Underneath that horizontal list of devices you'll see a device's Kindle email address, the name and the serial number of the device and whether or not the device is subscribed to Special Offers.
To the right of the Special Offers: Subscribed you'll see an edit button. Click on that button.
You'll be presented with an action screen that tells you that you'll be charged the $15 you saved when you opted to purchase a Kindle Fire tablet with Special Offers. You can unsubscribe with one-click of the big yellow button. Note that the credit card you have on file will be charged immediately.
That's it. You're done. You'll no longer see Special Offers on your lock screen or as your screen saver.
Read: Kindle Fire HDX 8.9: Review
Other Amazon Recommendations
You may notice on if you hold your Kindle Fire tablet in portrait mode (screen in a vertical orientation) that there is also a small display line below the Carousel of recently accessed content and the grid display of Apps. That line display recommendations of content similar to that which is in immediate focus in the Carousel.
For example, if you have a book in focus in the Carousel, you'll see books recommendations based on that title. The same with video content, music, and Apps.
That line also displays action buttons for some of the pre-installed Amazon Apps if one of those is in focus in the Carousel.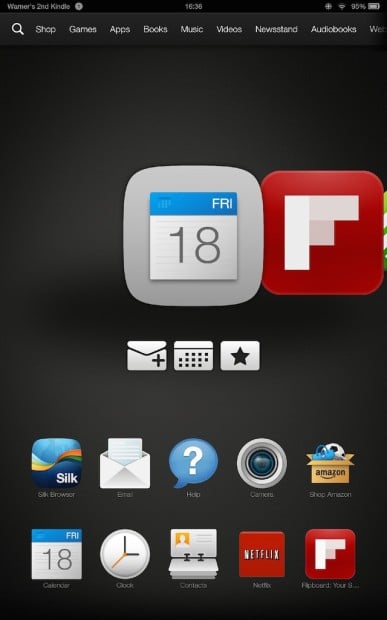 Different buttons and different actions show up depending on what is in focus in the Carousel. For the Email, Calendar, and Contact Apps, there are three action buttons:
An envelope with a + sign takes you to the email App to compose a new email.
The Calendar icon takes you to the Calendar.
The Star  icon takes you to your favorites in Contacts.
If the Silk Browser icon is in focus, the action buttons left to right will take you to a new tab screen with your most visited sites displayed. The magnifying glass will take you to the Silk Browser's search screen, and the bookmark button will take you to your bookmarks.
If your Photos App icon is in focus, you'll see your photo albums that you can click on to display them.
Again, this line only shows up on the Home Screen in portrait mode. If you want to remove the line it is easily done.
Swipe down from the top of your screen and choose Settings.
Then choose Applications.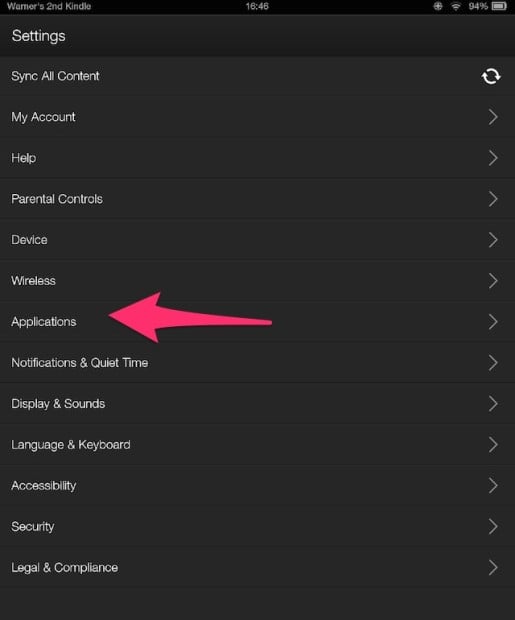 Then choose Home Screen.
You'll be presented with a choice of Show or Hide. Make your choice and you're done.
Other Kindle Fire HDX coverage and How-To's

As an Amazon Associate I earn from qualifying purchases.