How to Get Split View Multitasking on Older iPads
A new feature introduced in iOS 9 allows iPad users to use two apps at once, thanks to a new Split View multitasking feature, but it only works on the iPad Air 2 and the upcoming iPad Pro. However, here's how to get Split View on older iPads.
While the app switcher was once considered a multitasking feature of sorts, it didn't really end up that way, as once you exit out of an app, it's essentially suspended until you open it back up, and switching between apps in the first place wasn't really true multitasking.
However, in iOS 9 on the iPad, users can now finally take advantage of true multitasking on the iPad, allowing iPad Air 2 users to use Split View, which gives you a two-paned system of two apps that you can use at the same time.
The only downside is that this feature is only available on the iPad Air 2 and the upcoming iPad Pro, which is expected to be released later this month or early next month.
However, thanks to a jailbreak tweak, you can use Apple's Split-View multitasking feature on older iPads. Here's how to make it work.
Getting Split View on Older iPads
In order to get this to work, you'll need a jailbroken iPad, which thanks to Pangu, there's an iOS 9 jailbreak available.
Of course, jailbreaking isn't for everyone, but the process is fairly straightforward and actually easier than you might think.
Once you're jailbroken, the hard part is over, and all you need to do now is open up Cydia and install a tweak called Medusa. This is a tweak that puts Apple's Split View multitasking feature on older iPads.
You'll first need to add a repository to Cydia first, though. Do this by tapping on the Sources tab at the bottom and then hitting Edit in the top-right corner. From there, tap Add in the top-left and enter in repo.cpdigitaldarkroom.com in the text box. Tap Add Source and wait for Cydia to compile it.
After you install Medusa, there aren't any extra settings to enable or change around. Split View multitasking will work right away, and you can try it by first opening up an app and then swiping from the right edge of the screen inward. This will bring up what's called Slide Over. Pick any app in the scrollable list to open it.
From there, you can tap and hold on the separator between the two apps and drag it across the screen to adjust the size of either panes. You'll now be able to use both apps at once.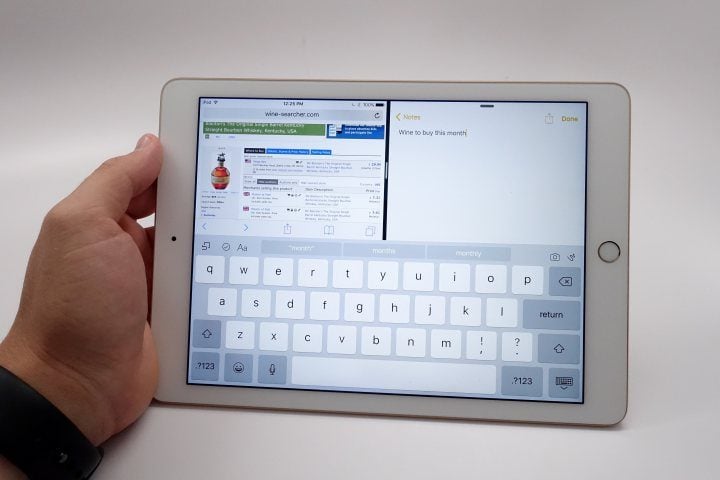 The feature works exactly like how it works on the iPad Air 2, so with this jailbreak tweak, you're not getting a reduced version or a modified version of Split View, but the actual feature that comes with the iPad Air 2.
Of course, this isn't the only exclusive feature that you can get on other iOS device models. There are a few jailbreak tweaks available that bring 3D Touch features to older iPhones. 3D Touch is officially exclusive to the iPhone 6s because of its new pressure-sensitive display, but the feature can easily be mimicked on other iOS devices.
This is the beauty of jailbreaking. You can customize iOS to your heart's content and even add new features, as well as get rid of annoying features so that you don't have to deal with them. A big complaint about iOS is that it's not as customizable as Android, but by jailbreaking, you open up a whole new world that makes iOS way more customizable than Android.
If you jailbroke your iPad and are looking for some nice tweaks to use, Medusa is a great one to start with if you don't have an iPad Air 2.