How to Get Started with Windows 10
Microsoft's Windows 10 operating system is a chance at a fresh start, an opportunity for users to go back to basics and choose how they want to use their PC. In fact, Microsoft built-in so many options, so many different ways of making Windows 10 devices your own that it is possible all the choices can be confusing. GottaBeMobile has some tips on getting started with Windows 10. These include a guide to the new Windows Store and a break down of how Tablet Mode works.
How to Get Started with Windows 10 – The Start Menu & Tablet Mode
You may have heard that Windows 10 is better for notebook and desktop users. That's entirely true, and this is because Microsoft found a better way to balance what mouse users need with what touch users require. A new Windows Store, Start Menu and feature called Continuum brokers this peace.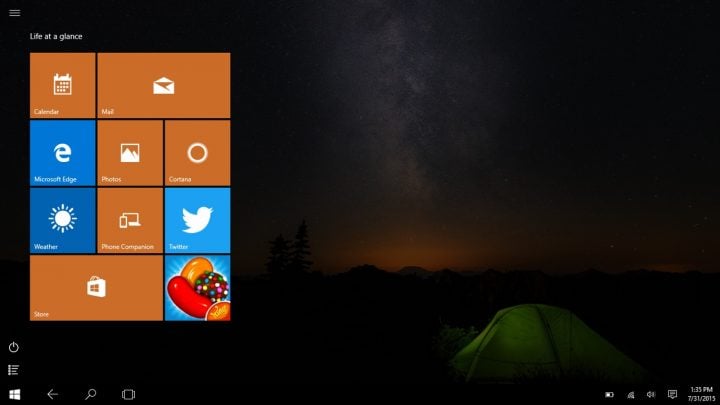 Continuum acts as stage manager for your Windows 10 experience. If you have a keyboard physically connected to your device, all the apps on your PC open like typical Windows apps. You can resize them, minimize them and multitask with them the same way you could in Windows 7 or Windows Vista.
If you have a PC equipped with Touch, Tablet Mode can be turned on, maximizing every app so that it's easier to control with your finger and more. When Tablet Mode is turned on you'll also get a full screen Start experience with more space for you to Pin Live Tiles and shortcuts. When Tablet Mode is turned off you get your Start menu back, complete with shortcuts to your files and settings. When you connect and disconnect a keyboard to your Windows 10 tablet or 2-in-1 Continuum will ask you if you'd like to switch into and out of Tablet Mode automatically. You can choose to make the switch or set your computer automatically so that it switches in and out of Tablet Mode automatically.
Read: How to Use Tablet Mode in Windows 10
How to Get Started with Windows 10 – Action Center
Windows 10 includes a centralized place for reading notifications from your apps and quickly changing settings. Like on Windows Phone, this area is called the Action Center.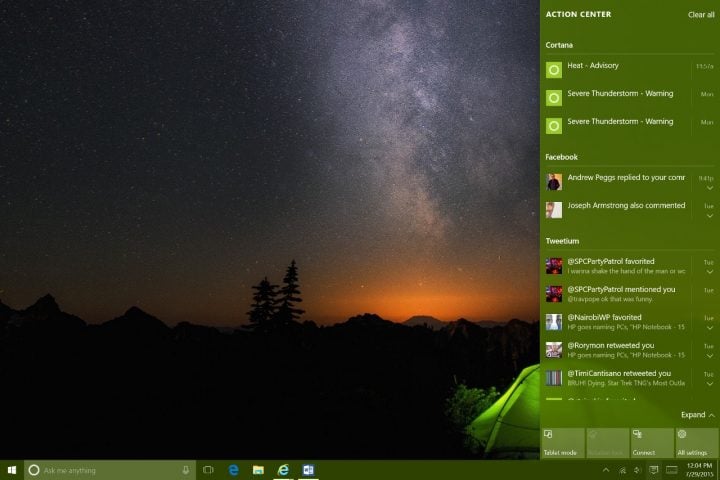 With a mouse you can click the Action Center icon in your Taskbar on the far right to open the Action Center. Touch users can tap on that icon too, or they can place their finger on the right edge of their display and slowly slide it to the left. Tap or click on Expand to get a look at even more Settings.
How to Get Started with Windows 10 – TaskView
Regardless of whether you're in Tablet Mode or not, multitasking needs to be easy. The TaskView is Microsoft's answer to app switching and more.
Swipe from the left edge of touchscreen display to the right to reveal the TaskView. If you have a mouse and keyboard, tablet or click on the TaskView button to the right of the search bar. Here you can see every app you have open, close unused apps and drag some apps to another Desktop to separate your tasks.
How to Get Started with Windows 10 – Finding the Get Started Guide
There's plenty of Windows 10 documentation online, but Microsoft has smartly put some at your fingertips too.
There's a Get Started guide installed on everything running Windows 10, and just about every question you could have for an app or feature is answered there. Tap or click on the Windows button in the bottom-left corner of your screen. Now select All Apps. Look for the Get Started app in the list of installed apps. Besides illustrations, the Get Started app also comes with short video tutorials for most Windows 10 features.
How to Get Started with Windows 10 – Contact Support
If you can get your Windows 10 notebook, desktop or tablet running, but you're having trouble with other things, contact Microsoft's support lines. Rather than pick up the phone, there's a built-in app for this called Contact Support. It's listed among with the rest of Windows 10's app selection. Contact Support gets you a direct line to Microsoft's employees without having to pick up a phone. Besides issues directly related to Windows 10, the Contact Support app also puts you in touch with the staff in charge of Office 365, Xbox, Skype and Windows.
How to Get Started with Windows 10 – Download Apps and Games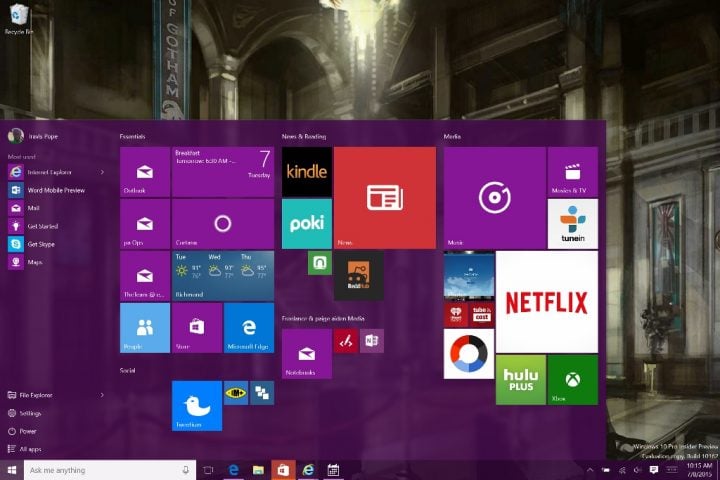 Microsoft's Windows Store is well on its way to offering all sorts of goodies for Windows 10 users. In addition to games, apps and desktop programs, there's a burgeoning music store and video store there too. Look for Store in your list of installed apps. Note that you'll need to have added a Microsoft Account to your Windows 10 PC if you haven't already.
How to Get Started with Windows 10 – Going Back to Windows 8 and Windows 7
Depending on how you installed Windows 10, you may have the opportunity to go back to Windows 8 and Windows 7. Windows 10 keeps your old version of Windows secretly installed for 30 days, giving you the option to abandon it for whatever was already installed on your PC if you don't like it. The button for restoring your old version of Windows is within the Update and Recovery area in the Settings app.
Read: Going Back to Windows 6 & Windows 8 From Windows 10
Good luck with Windows 10. The operating system update is available absolutely free to anyone who has Windows 7 or Windows 8 installed on their computer.