How To Get The Fable Legends Beta
Microsoft's Lionhead Studios has finally revealed when it'll launch the Fable Legends multiplayer beta so that users can test the game's online systems ahead of the Fable Legends for Xbox One final release date sometime next year.
October 16th, this coming Thursday, is when Xbox One owners who successfully apply for an invitation through the Fable Legends website will be able to experience the game's multiplayer system for themselves. As Lionhead Studios reveals in a blog post on the subject, this isn't a beta in the sense that most gamers are used to on living room consoles.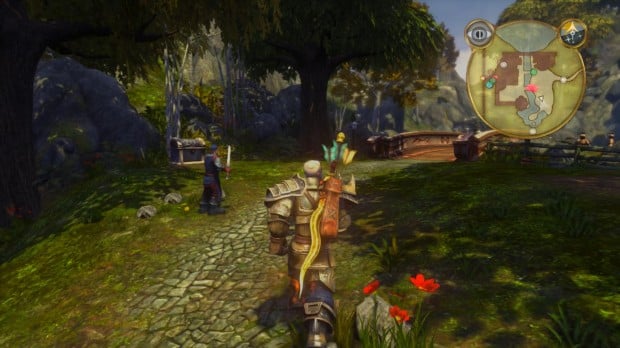 Not everyone who applies for the Fable Legends beta will be able to get in. This is due to this round of tests being what's called a closed beta. Users need to register here and wait for an invitation. Whether they actually receive an invitation is completely up to Lionhead. Presumably, it's looking for specific testers with specific attributes. Lionhead says that users who submit their email address may get another email inviting them into the closed beta. The game developer is also asking users that previously signed up for the Fable Legends beta to login in again and finish up the registration process.
Interestingly enough, Lionhead is also asking users who are interested in trying the game to sign up for its forum and follow it on Facebook and Twitter because they'll "be on the lookout for [their] most dedicated and passionate fans to invite."
Don't mistake the low-key first Fable Legends betaas an indicator of how important this game is. Lionhead Studios gave gamers their first glimpse of Fable Legends in 2013, but didn't reveal a lot of particulars. At the time it did say that Fable Legends would be a prequel to the Fable series of games that it'd published on the Xbox 360 and original Xbox. We now know that Fable Legends will be exclusive to the Xbox One and that's one of the reasons it is important. Fable Legends will act as one of the show pieces for the Xbox One console. It'll be one of the games Microsoft will be able to point to as a true next-generation game that only owners of its consoles can play. The other is a sequel to the long-running Halo franchise called Halo 5: The Guardians.
Read: Microsoft Makes It Rain Games at E3 2014
The game is also important because Lionhead is once again taking some liberties with game play. In three of the four previous Fable games buyers played as a warrior or hero who's destined to rule the magical and dangerous kingdom of Albion. There were some multiplayer elements, but generally you played Fable because you were interested in the role-playing game's story. Co-operative multiplayer will feature heavily in Fable Legends. Players will be able to team up with their friends, or the game's itself will control members of their team. Individual members of the team – called "heroes" – will come with their own skills and unique advantages. There will be multiple character types for users to choose from and each will be somewhat customizable.
Instead of being a throwaway title or something that users can pick up, finish the campaign and then move on, Microsoft and Lionhead are hoping that Fable Legends will have a very long life as a go-to multiplayer title. How the two plan on achieving that remains mostly unclear, but no doubt the multiplayer is a key part of that. In some ways it seems Fable Legends is more of an online role-playing game than it is a sequel to the long running franchise.
October 16th may be when the first Xbox One owners can begin taking part in the Fable Legends beta but we still don't know whether Microsoft plans to launch an open beta that's available to everyone before the final version of the game arrives on store shelves. Currently, Microsoft is expected to launch Fable Legends in 2015. We don't yet have an actual release date.