How to Get the iOS 8 Wallpaper Right Now for Your iPhone & iPad
Apple announced and unveiled iOS 8 yesterday, and it's the next version in line over iOS 7. While iOS 8 is merely in beta form only available to a select number of developers and beta program testers right now, you can actually get the iOS 8 wallpaper and rock it on your iPhone or iPad right now. We even made a desktop version to use on your Mac, if that's your thing.
iOS 8 keeps the same overall look and feel of iOS 7, but adds a ton of new features. Most notably, iOS 8 now comes with interactive notifications, which allow users to manage notifications and respond to them right from the Notification Center. So if you get a text message you can tap on it to reply to it right there without having to open up the Messages app. These work a lot like Android's notifications, and that's certainly not a bad thing. These interactive notifications also work on the lock screen, and the Facebook integration even allows you to "Like" or comment on a Facebook post directed at you.
In the Messages app, you can now finally remove certain contacts from group conversations and also give a custom name to group chats as well. Furthermore, you can enable Do Not Disturb for just certain conversations, so that you'll still receive text messages from a friend, but you can quickly mute any incoming notifications from your mom.
Also in Messages, you can share your location with whomever you're chatting with, as well as record a quick audio or video message and send it to them immediately. We've seen these features in other apps as well, including Snapchat and WhatsApp, but they're now integrated into iOS, which is really cool.
As for the app switcher, it's still the same overall look and design, although Apple has now added "Recent Contacts" or "Favorites" (whichever you prefer in the Settings) for which you can tap on a contact and call or text them from right there.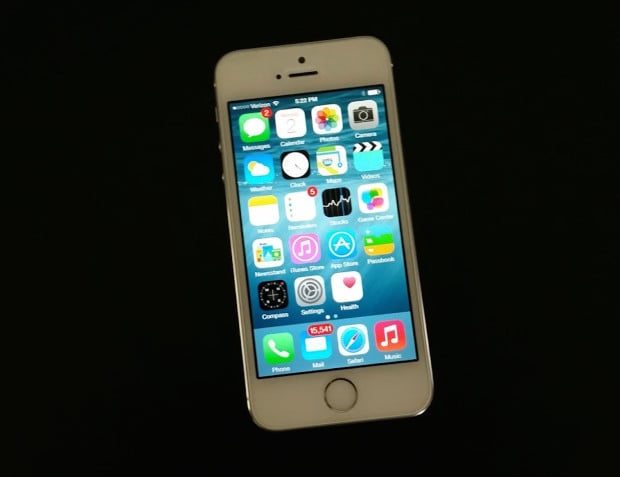 Spotlight Search in iOS 8 remains the same as iOS 7, but Apple added more things that you can search for, including searching for apps, points of interest, news, and songs (even on iTunes).
Apple also announced something called QuickType for the iOS keyboard, which is essentially predictive typing that's very similar to what we've seen on Android with the Google Keyboard and SwiftKey. It learns your typing habits over time and provides you with suggested words as you're typing.
As for new apps, Apple has announced HealthKit for iOS, which acts a centralized app to view all of your health data, like your step count, heart rate, calories burned and even data on how well you're sleeping throughout the night.
Read: 51 iOS 8 Features You'll Actually Care About
Apple has also partnered with a handful of healthcare providers, and HealthKit will allow these providers to receive and transmit reading data from patient checkups.
Of course, Siri wasn't left out of the update circle. Apple added some great new functionality to Siri, including the ability to talk to Siri without even having to touch your iPhone (just say "Hey, Siri"). This is obviously a lot like "Ok, Google" for Android devices.
Siri also gets Shazam integration with iOS 8, with the ability to recognize a song played on the radio or at a bar.
If you'd like to try out these features right now, you can do so by paying a bit of cash to get the beta on your iPhone or iPad. However, if you're not willing to try out beta software (and we can't blame you), then at least using the wallpaper can make the waiting a bit more bearable.
Download the Wallpaper for iPhone & iPad
You can download the iOS 8 wallpaper for the iPhone 5, iPhone 5c and iPhone 5s, which have the 16:9 aspect ratio with their 4-inch displays, and we also modified that wallpaper to work with the older iPhone 4 and iPhone 4s, since those devices have smaller 3:2 aspect ratio displays.
As for iPad, you can download a 2048×2048 iOS 8 wallpaper, which will work on the models with Retina displays, as well as the older iPad 2 — no need to edit it to work with the non-Retina models.
Download the Wallpaper for Mac
Since we couldn't find a Mac version of the iOS 8 wallpaper, we had to make it ourselves using the iPad version. And because the iPad version is maxed at 2048 pixels, the Mac wallpaper ends up at 2048×1152 when we crop it to a 16:9 aspect ratio.
This isn't big enough to be a wallpaper for a Retina-equipped MacBookPro or Thunderbolt display, since those are around 2500 pixels across, but it definitely works for something like a 1920×1080 monitor. If you happen to find a higher-resolution version of the iOS 8 wallpaper, please let us know!

This article may contain affiliate links. Click here for more details.