How to Get the iOS 9 Wallpaper Right Now
Apple announced and unveiled iOS 9 yesterday, arriving with a slew of new features. However, if the cool new wallpaper is what caught your attention, here's how to get the iOS 9 wallpaper right now.
iOS 9 keeps the same overall look and design as iOS 8, but tacks on some improvements and new features that Apple thinks users will enjoy.
Siri is both faster and more accurate, with the company claiming 40% improvements all around. There's also an improved Spotlight Search, better privacy, more support overall for Apple Pay with credit cards and store loyalty cards, and even transit directions in Apple Maps for the first time ever.
Overall, there seem to be a slew of smaller improvements overall with iOS 9 that add up to a much better user experience.
However, it's hard to keep your eyes off of the new iOS 9 wallpaper, and it certainly looks much better than any of the wallpapers that Apple provides in iOS 8. If you'd rather not wait until the fall to get the iOS 9 wallpaper when the new update releases, here's how to get the iOS 9 wallpaper right now.
How to Get the iOS 9 Wallpaper
First off, it's important to note that Apple got the iOS 9 wallpaper from a photographer, and we're guessing the company bought the rights to use it as such. The photo is called "Rainbow Barrel" by Chris Burkard. Based on the photo and how it's used as the iOS 9 wallpaper, it appears that Apple made some slight edits to the photo for iOS 9.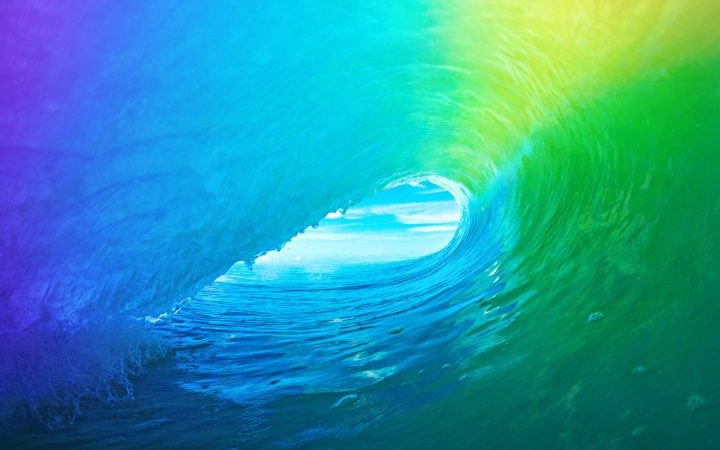 This means that you can technically get the iOS 9 wallpaper right now, but it won't be exactly the same as how Apple has it (although I did edit out the surfer's head). Still, it looks really good, and this will at least hold you over until the fall when iOS 9 releases, or when a developer dives deep into the root files of iOS 9 to dig out the true iOS 9 wallpaper image files.
Without further ado, here are different versions of the iOS 9 wallpaper that you can download right now.
Again, this wallpaper isn't the exact same as the way Apple has it, but it works well and it looks really good as an iPad or iPhone wallpaper.
How to Install These Wallpapers on Your Device
After you download these wallpapers, they'll be ready to be put on your iPhone or iPad, but if you're not sure how to get them on your mobile device from your computer, there are several methods you can choose from.
The best option would be through the new Photos app on Mac if you have iCloud Photo Library enabled. Simply just import the wallpaper into Photos and then it will appear in the Photos app on your iPhone or iPad. From there, you can select the image, tap on the Share button and tap Use as Wallpaper.
You can also use Dropbox and put the wallpaper file in your Dropbox folder. From there, open up the Dropbox app on your device and save it to your photos. Then just tap on the Share button and select Use as Wallpaper.
You can also send the wallpaper image through iMessage to yourself. You can then open up the message on your iPhone or iPad, save the image, and then access it in the Photos app.

As an Amazon Associate I earn from qualifying purchases.