How to Get the iPhone 6 Event Wallpaper on Your iPhone
Apple has announced an event for September 9, where the company will most likely unveil the iPhone 6, along with the iWatch. Apple sent out fairly vague invites as it always does, with the date and a brief clever note to keep things interesting.
The invitations come with the tagline, "Wish we could say more", raising speculation of what this could possibly mean. Perhaps it has something to do with a focus on Siri, but Apple is never one to shy away from simply being coy in their invitation taglines.
It's expected that Apple will announce two iPhone 6 models, one of which will be a 4.7-inch model, while the other will be a larger 5.5-inch variant. The new device is also expected to receive a new design that will forego the squared off edges that we've seen since the iPhone 4 in favor of rounded edges similar to the design of the iPad Air and the iPad mini.
Other than that, we're not sure what to expect from the new device. Of course, it will most likely come with a faster processor and better graphics, but details on this are extremely scarce. It's mostly the design of the iPhone 6 that has been leaked countless times.
In any case, the invitations are out, and it includes a simple Apple logo in the background that's rather tasteful, and it turns out that one designer liked it so much that he made wallpapers out of the design from the iPhone 6 event invitations.
You can download the wallpapers from DeviantART, and the bundle includes wallpapers for Mac computers, iPad, and iPhone. The iPhone wallpaper appears to made with the iPhone 5s and iPhone 5 in mind, but it can easily be cropped if you want to use it on an iPhone 4s or iPhone 4.
Frankly, the wallpaper looks great, and it takes the simple and elegant design from the iPhone 6 event invitations and turns them into something you can display on your iOS device or Mac.
Furthermore, you can grab the wallpaper for OS X 10.10 Yosemite right now, even though the OS still isn't available publicly. The wallpaper is available for download and looks great on the MacBook Pro's Retina display, if we do say so ourselves.
This new version of OS X comes with some pretty sweet features, including an all-new look and feel that finally puts OS X on par with iOS 7, thanks to the translucent windows and menus, as well as a flatter design overall, with redesigned icons that mimic iOS 7 icons, but still include some depth so that there's still a bit of that classic OS X feel.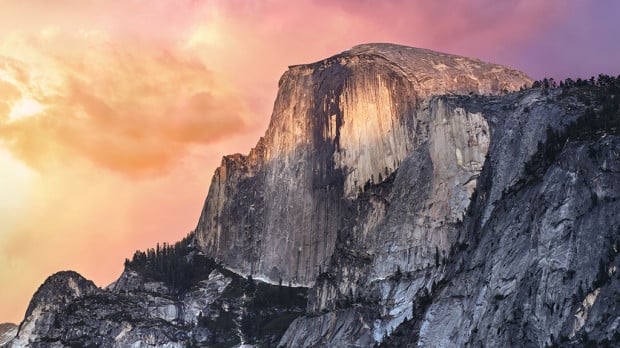 OS X Yosemite will launch sometime in the fall, but we're guessing at some point in October based on past release timelines from Apple.
As for iOS 8, you can get the official wallpaper for the new mobile OS right now as well.
iOS 8 keeps the same overall look and feel of iOS 7, but adds a ton of new features. Most notably, iOS 8 now comes with interactive notifications, which allow users to manage notifications and respond to them right from the Notification Center. So if you get a text message you can tap on it to reply to it right there without having to open up the Messages app. These work a lot like Android's notifications, and that's certainly not a bad thing. These interactive notifications also work on the lock screen, and the Facebook integration even allows you to "Like" or comment on a Facebook post directed at you.
iOS 8 will most likely launch just a few days before the iPhone 6 releases, which will probably sometime in mid-September, with the iPhone 6 most likely releasing on September 19.

This article may contain affiliate links. Click here for more details.