How to Get the New iTunes in the Cloud Music App Now With iTunes 10.3
At the WWDC conference Apple announced a collection of new iCloud features that will arrive this fall with iOS 5, but they also announced a few new features that are available today for all users. The iCloud app, music and book features of iTunes in the cloud can be installed on your iOS 4.3 device as a beta by downloading the new iTunes 10.3 software from Apple.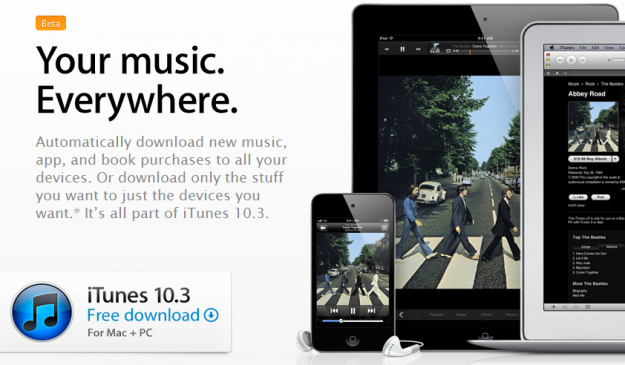 The iTunes 10.3 software isn't available for download for all users just yet, but Apple has posted information on the iTunes website which means the iTunes dsoftware will soon be ready for all users to download. Once you have the new iTunes software you will have access to the iCloud App Store, iCloud Music app and iCloud books allowing you to download your purchases to your iPhone, iPod and iPad wirelessly.
These apps are free and don't include iTunes Match, which will launch later this year with a $24.99 price tag. The iTunes in the Cloud beta will work on the following devices if you have iOS 4.3 installed;
iPhone 3GS
iPhone 4
iPad
iPad 2
iPod Touch (3rd and 4th Gen)
To get the iTunes 10.3 download, you can visit the iTunes page and download the latast software assoon as Apple flips the switch or you can tell iTunes to check for updates. On Mac, click on the iTunes in the Itunes menubar and click Check for Updates. On Windows, click Help then Check for Updates.
After installing iTunes 10.3 and syncing your iPad, iPhone or iPod you should have access to the new iCloud beta apps.

As an Amazon Associate I earn from qualifying purchases.