How to Get the OS X El Capitan Wallpaper Right Now
Apple unveiled the next version of OS X earlier this week, called OS X El Capitan, and it includes a handful of new features, but if the new wallpaper was what drew you in, here's how to get the OS X El Capitan wallpaper right now.
The latest version of OS X doesn't seem to be a huge update over OS X Yosemite, which isn't too surprising. It keeps the same overall design and look as Yosemite, but arrives with a bucket of small features that many Mac users will enjoy.
There's new swipe gestures that users can take advantage of in a number of stock Apple apps, including Mail and Safari, where users can delete emails by swiping left, and pin tabs in Safari by swiping as well.
There's also a new split-view mode that allows users to multi-task and easily view two applications at once. It's similar to Windows' Aero Snap feature, and it's also something that Mac users have been able to accomplish using third-party software.
OS X El Capitan won't release to the public until the fall at some point (most likely in October), so if you can't wait that long to splay your desktop with the new wallpaper, here's how to get it right now.
OS X El Capitan Wallpaper
The default OS X Yosemite wallpaper isn't terrible, but the OS X El Capitan wallpaper looks way better in my opinion. Both are fairly similar, but OS X El Capitan offers a way better look at the vertical rock formation that can be found in Yosemite National Park.
If you want the new OS X El Capitan wallpaper, click on this link to be taken to the image link where you can download the wallpaper in full resolution. In fact, it's a massive 5120×3200 in size, so it'll work on all Retina MacBook Pro models, as well as the newer 5K Retina iMac.
If you'd rather take the OS X El Capitan experience with you on the go and want the new OS X El Capitan wallpaper for your iPhone or iPad, I made some custom ones to fit those screen sizes as well, and they even work with iOS 8's parallax effect.
How to Install Wallpaper on Mac
So now that you have the new OS X El Capitan wallpaper downloaded and ready to go, how do you actually make it your desktop's wallpaper?
It's actually really easy to do. Simply just right-click on the image and then select Set Desktop Picture. This will instantly change your desktop wallpaper to that image.
You can also go into System Preferences > Desktop & Screen Saver to fine-tune your wallpaper and rotate it to a new image every 30 minutes or however long you define. Otherwise, if you just want to quickly make a certain image your desktop wallpaper, the right-click shortcut is the best way to do it. There's no resizing, cropping, or anything else needed when you do this.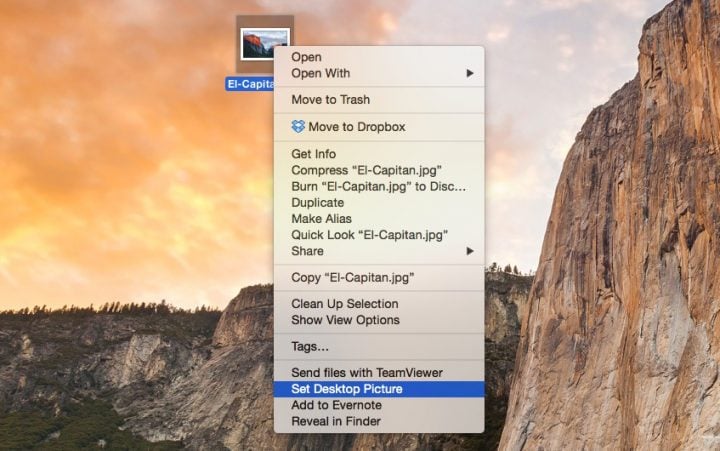 To install the wallpaper on your iPhone or iPad, there are a few methods that you can choose from, but perhaps the easiest is by using the Photos Mac app if you have iCloud Photo Library enabled. You can simply import the wallpaper into Photos and it will automatically show up in the Photos app on your iOS device.
From there, you can view image, tap on Share button and then select Use as Wallpaper.
You can also send the wallpaper to yourself through iMessage from your Mac. Just drag-and-drop the image into iMessage and send it. Then open up the message on your iOS device, save the image, and then open it up in the Photos app where you can then set it as your wallpaper.
Dropbox is also another good option. You can put the wallpaper in your Dropbox folder and then access the wallpaper in the Dropbox mobile app. From there, save the image to the Photos app and set it as your Wallpaper.

As an Amazon Associate I earn from qualifying purchases.