How to Get The Pre-Order Batman Arkham Knight Extras
Batman: Arkham Knight has expectations to live up to when it arrives on store shelves June 23rd. Developed by Rocksteady Studios and published by Warner Brothers Interactive Entertainment, Batman: Arkham Knight is the final major release in a series of games that did what other titles couldn't. For years, superhero video games were a virtual dumpster of bad storytelling, bad play mechanics and cheap tricks. There had been nothing in the way of best-selling games for a superhero franchise — at least not based on a comic book. It was Batman: Arkham Asylum, with its approachable combat system and great story that, started it all.
For a game so important, Batman Arkham Knight pre-orders are about as complicated as they can be. If purchasing a video game was itself a superhero fantasy, Batman: Arkham Knight pre-order buyers would need a decoder ring of their own. Here's a complete breakdown of Batman Arkham Knight pre-orders, where you can purchase the game ahead of release, and the other versions of the game that come with add-on content.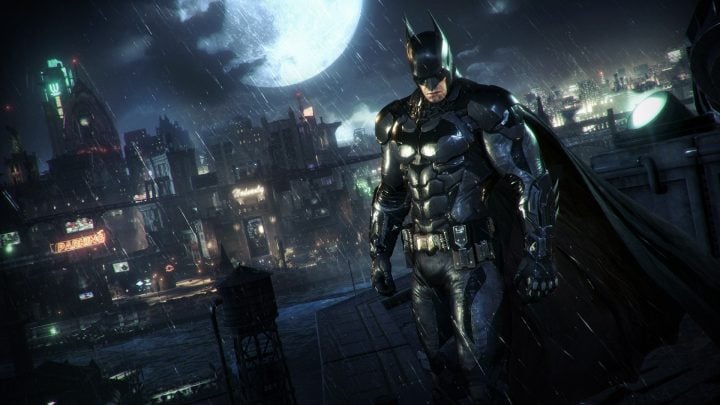 Read: 5 Things to Know About Batman: Arkham Knight Now
The best place to start when looking into Batman: Arkham Knight pre-order details are the pre-order exclusives. There are tons of them for Batman: Arkham Knight, based on specific region and more. That's a shame because getting this content will be important to a lot of people, if this is the last game in the series users are going to want to experience as much as they can.
In these pre-order details you'll likely notice some consistency. In general, there are three main kinds of Batman: Arkham Knight pre-order bonuses. They are skins, challenge maps and story missions. Skins fit over your character, giving you the opportunity to customize your Batman's look. Challenge Maps are dedicated rooms that users can play in to rack up score and compare with other gamers. Story missions are separate from the main campaign, but add their own narrative.
Retail Store Editions
Harley Quinn Pack 
The Harley Quinn Pack features both story missions and challenge maps. Anyone who has a Batman: Arkham Knight pre-order around the world will get this pack absolutely free.
Red Hood Pack – GameStop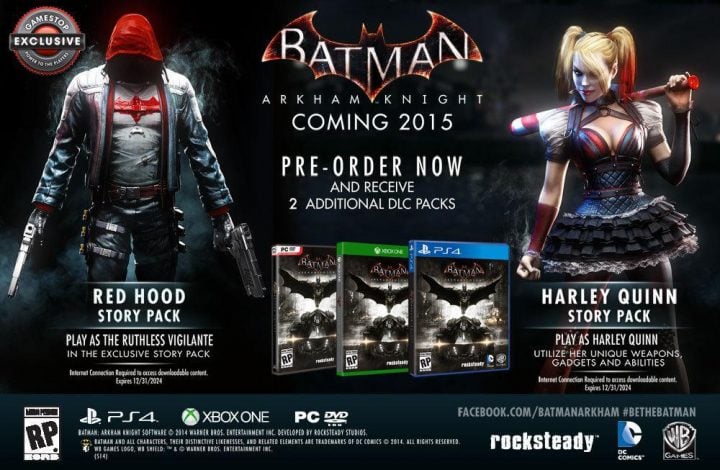 The Red Hood is one of Batman's pseudo allies. His violent nature isn't exactly sanctioned by the Batman, but he fights the same criminals that Batman does. Shoppers at GameStop in the United States, EB Games in Canada, Game in the United Kingdom will get the Red Hood Missions and Challenge Maps when they pre-order.
Batman Beyond & Dark Knight Returns Skin – Steam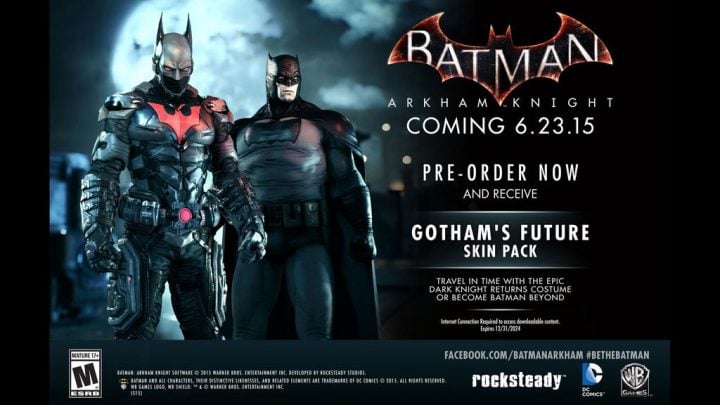 Anyone who wants to make their Batman look like the Batman in the cartoon Batman Beyond will need to pre-order and purchase the game from Steam, the PC video game download service available on Windows, Linux and Mac. These skins are also exclusive to Steam in Australia, the United Kingdom and Canada.
Prototype Batmobile Skin – Wal-Mart 
In Batman: Arkham Knight the Batmobile is pretty much a starring character. It has weapons upgrades, can be called on in most situations and does feature pretty heavily into the game's combat. Players can customize the look of their Batmobile, just like they can Batman himself. There's a Prototype Batmobile skin for anyone who signs up for a Batman: Arkham Knight pre-order at Wal-Mart. Wal-Mart is also giving users $5 in credit to use towards its Vudu video streaming service. Only gamers in Australia will have access to the Prototype Batmobile skin outside of the United States it seems.
Wayne Tech Booster Pack – Best Buy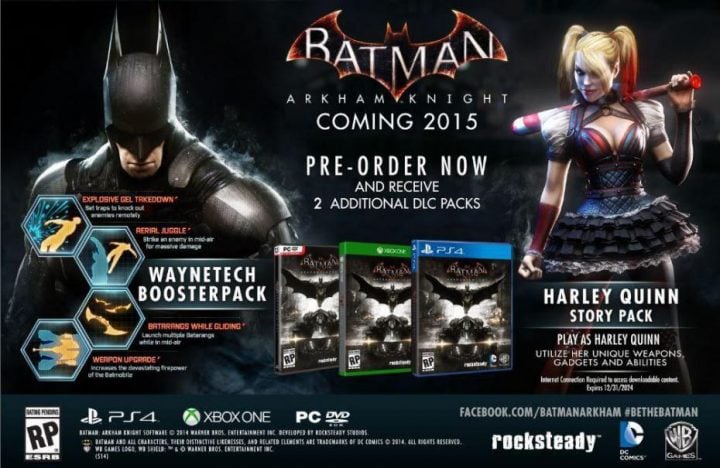 The WayneTech Booster Pack is a series of upgrades that you get when you pre-order at Best Buy to power-up your character. They're not necessarily must-haves, but they could make early levels in the game pretty interesting. The Wayne Tech Booster Pack includes an Explosive Gel Takedown, Aerial Juggle, the ability to throw batarings while gliding and a weapon upgrade for the Batmobile. Best Buy Canada will offer the Wayne Tech Booster Pack for those that get a Batman: Arkham Knight pre-order. Tesco will offer the pack in the United Kingdom and JB Hi-Fi will handle the upgrade pack in Australia.
Microsoft Store / Xbox Store 
The Microsoft Store isn't offering any story related content beyond the Harley Quinn mission and challenge map packs that everyone who pre-orders the game gets free of charge. Instead, it's stores are giving anyone who pre-orders Batman: Arkham Knight $10 in credit that can be used in the Xbox Store for extra content, television shows, music videos or towards other games. The Xbox Store offers a Digital Premiums Edition that includes all of the season pass content for the game at a cost of $89.99.
PlayStation Store / Sony 
Users who purchase the game from the PlayStation Store get an exclusive Batman: Arkham Knight PS4 Theme to use on their console in the United States and Canada.
Read: Epic Batman: Arkham Knight PS4 Bundle Coming
Sony is offering a customized PS4 console for Batman: Arkham Knight buyers. In addition to that, Sony has a deal with Warner Brothers that guarantees its users access to special extras. These exclusive extras include a classic TV Batman skin, a classic TV Batmobile skin, access to the Justice League Unlimited 3000 Batman skin and Scarecrow's Nightmare missions. These pieces of content will eventually come to players on other consoles. The PlayStation Store has a discounted Digital Premium download version available too for $10 off the normal price. This version gets users all of the season pass content.
Steelbook Case – Tesco  
Batman Arkham Knight pre-order shoppers abroad stand to get a little extra from retailers not available in the United States. Tesco, a retail store in the UK is offering a dedicated Steelbook case and a controller skin exclusively.
Steelbook Case  & Batmobile Edition – EB Games 
The special edition Steelbook case and Batmobile edition bundles are completely exclusive to Batman: Arkham Knight pre-order buyers at EB Games in Australia.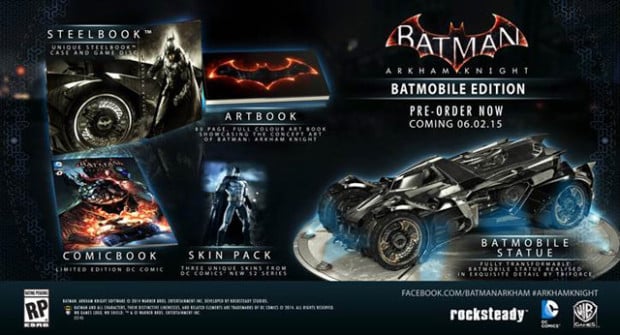 Batman: Arkham Knight is only coming to the Xbox One, PS4 and Windows PCs on June 23rd. It will not come to the Xbox 360 or PS3. Xbox, PlayStation and Steam are offering a $10 discount to those who purchase the game and the season pass together. Normally, these all-in-one digital bundles would cost $99.

This article may contain affiliate links. Click here for more details.