How to Get the Windows 8.1 Preview Now
Consumers who can't wait to try Windows 8.1 can download the Windows 8.1 Preview free of charge and install it on any notebook or tablet running Windows 8.
Windows 8.1 is the first major feature update for Microsoft's Windows 8 and Windows RT, which launched last October to mixed reviews. Since then, it seems the company has been working hard to bridge the gap between users who find the decades-old Desktop environment to be useful and shoring up the much more future proof Metro environment for users who appreciate what it does.
Desktop users will love the Start button that'll now appear on the left hand side of their taskbar and the new Boot to Desktop option that's new to this release. Meanwhile, the new ability to open multiple Metro-style applications, further customize the Start Screen with different tile sizes and more integrated settings will please any user who had an appreciation for the direction Microsoft was headed with Windows 8 but felt they just didn't quite get it right last fall.
Read: Microsoft Confirms Windows 8.1 is a Free Update to Windows 8
Regardless of which group you belong to, there's little doubt that you'll want to grab the preview of this release quickly and painlessly. Here's how to install the Windows 8.1 Preview right now.
First back up your files. Though the Windows 8.1 Preview will effectively act as an update, users will need to do what's called an in-place upgrade to get the final version of Windows 8.1 this fall. When that happens, all applications running on the system will need to be reinstalled.
On the other hand Windows 8.1 is also available to Windows RT users. It's Windows RT that runs on devices like Microsoft's Surface RT. These users will need to uninstall and then reinstall their Windows Store apps after receiving the final version of the release.
While we encourage backups whenever doing upgrades, Microsoft says that the update won't uninstall any applications. It also won't remove any files that are on the Windows device.
How to Install Windows 8.1 Preview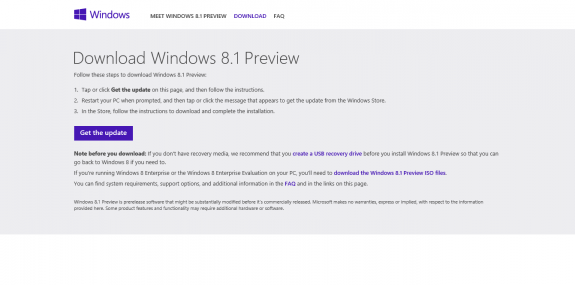 Begin the installation process by downloading the pre-installation update from Windows.com. Once you're on the site, click the button labeled "Get the Update".
Once the update has finished download, you'll be asked whether you'd like to install the Windows Update Standalone Installer. Click "Yes".
After the installation has finished, you'll be told that the Windows device you're installing Windows 8.1 on needs to be restarted. Click "yes" to let the device restart.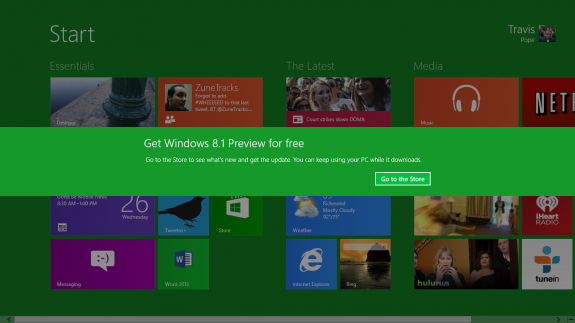 Once the reboot has finished and you've logged back into Windows, a notification should pop up for to install the Windows 8.1 Preview once it's available to download from the Windows Store. Click on it.
Click the 'download' button on the top left hand corner of the details page for the Windows 8.1 Preview. Then wait for the download and automatic install process to finish.
And there you go, after a few reboots, the latest builds of the next version of Windows are now install on your device.
Be sure to check out GottaBeMobile's ongoing Windows 8.1 coverage as we deep dive into the operating to bring news of what Microsoft has in store for all Windows 8 users later this year.