How to Get the Washington Post for Free with Amazon Prime
Amazon has announced that all Amazon Prime members can sign up to receive a free subscription to the Washington Post for six months. Here's how to activate it to start reading the popular newspaper for free.
Amazon Prime already comes with some really good benefits. For just $99 per year, Amazon Prime members get free two-day shipping, free access to Amazon's Prime Instant Video service, free access to Amazon's music streaming service, free access to the Kindle Lending Library, unlimited photo storage with Amazon Cloud Drive, and even early access to Lightning Deals.
Add free access to the Washington Post to that list, as Amazon announced today that Amazon Prime members will get free and unlimited access to the Washington Post National Digital Edition for six months, which is a $60 value when it's all said and done.
Normally, the digital edition to the newspaper is $10 per month to access, but if you have Amazon Prime, you can get it for free for six months. However, you can continue to access the digital addition for a discount after that free period is up, paying just $4 per month for the service (saving $6 each month). Not a bad deal if you like to read the news on a daily basis.
Here's how to activate your free access to the Washington Post if you have Amazon Prime.
How to Get the Washington Post for Free
A deal like this may seem a bit odd, considering that a huge online retailer is teaming up with a newspaper, but considering that Amazon Founder and CEO Jeff Bezos owns the Washington Post, we're not too surprised by this partnership. Plus, it's a good way to get users looking at newspapers again, even if it is the digital edition.
In any case, if you have Amazon Prime and want to receive your free access to the Washington Post, simply head to this link and click the big yellow button that says Log in with Amazon to start your free trial.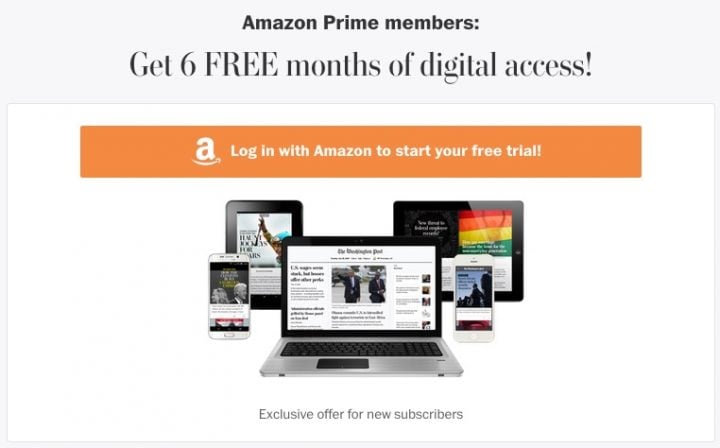 A pop-up will appear for you to log into Amazon.
It will automatically retrieve your payment details from your Amazon account and use it to confirm your payment method for when the six-month free trial ends. Simply click Start my subscription to finalize everything.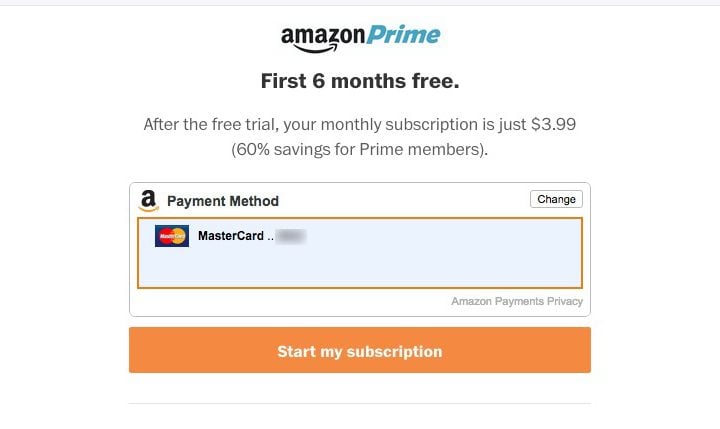 From here, simply just download the Washington Post app to your mobile device or you can simply access the newspaper in the web browser on your computer. When it asks you to log in, simply use your Amazon email address and password.
The Washington Post has a partial paywall, much like other newspapers. Users can read ten stories for free each month, and Washington Post articles found on search engines can be read for free as well. However, with a subscription, you can get unlimited access to the Washington Post whenever and wherever.
Now, when you download the mobile app, you'll actually be given a one-month free trial (at least on iOS), which is cool and all, but if you took advantage of the free Amazon Prime deal, that one month doesn't get added onto those six other months, which is unfortunate, but it makes sense.
Be aware that after the free six-month trial ends, the Washington Post will automatically renew your subscription for that $4 per month, so it might be a good idea to set a calendar reminder six months ahead so that you can cancel the subscription if you want without that auto-renewal kicking you in the butt when you least expect it to.
In any case, even if you don't read the newspaper on a daily basis, this neat deal might push you to read more when you have your morning coffee. Even if you don't care about politics, you can at least read the sports and entertainment sections, as the Washington Post has all sorts of categories that it covers.

As an Amazon Associate I earn from qualifying purchases.