How to Get Windows Phone 7.5 Mango Right Now
As many of you out there with Windows Phone devices know, Microsoft, manufacturers and carriers have begun to roll out the highly anticipated Windows Phone 7.5 Mango update today. Unfortunately, only around 10% of you Windows Phone owners are currently eligible to get the update and it may be weeks before your phone sees the update pop up for installation.
Well, if you aren't the patient type, there is a way to get Mango rocking and rolling on your phone right now. It involves the same Zune trick that surfaced back when Microsoft rolled out the NoDo update.
Keep in mind, three updates must be installed to get Mango. 7392, 7403, and finally 7720 which is Mango. So, you'll probably be sitting around for quite some time before the update finishes.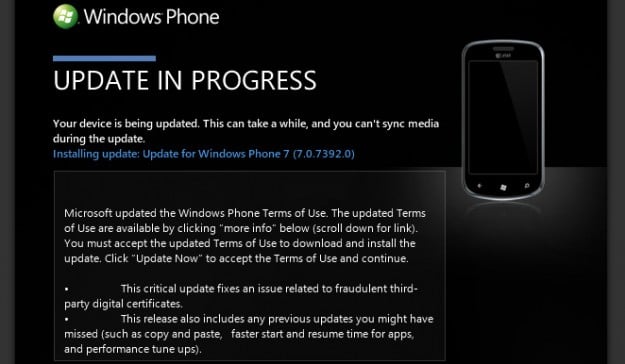 That being said, he are the instructions, courtesy of WPCentral:
Connect your Windows Phone to a PC and launch the Zune software
Click on Phone/Settings/Update. Allow the software to tell you whether an update is available. If so, skip this guide. If not continue to the next step.
Click the update button again, and this time immediately disconnect your computer from the internet (some people have better luck waiting 1-2 seconds). Do this by pulling the Ethernet cable, disabling Wi-Fi, etc.
Wait 30 seconds or so and you should receive a notification that an update is available. This is 7392, the Mango pre-update.
Now reconnect to the internet and continue with the update process through the Zune software.
After 7392 is fully installed, you may receive a notification that another update is available. If so, install Mango now. If not, proceed to the next step.
If the second update isn't popping up on its own, repeat steps 3-5, causing the 7403 update to appear.
Install 7403, brave reader.
Mango time! At this point, Zune should automatically start installing 7720, Mango. If it doesn't happen automatically, force it like in previous steps.
This last step is very important! Celebrate your phone's new found Mango status by purchasing a mango smoothie at your nearest Smoothie King, Jamba Juice, or Baskin Robbins.
We highly recommend you perform step 10. That sounds delicious.
In any event, if you follow these instructions, you should get Mango. Back files up if you can just in case something goes wrong but from what we can see, this works like magic.
Let us know how it goes.

As an Amazon Associate I earn from qualifying purchases.