How To Get Your New iPad Early From Fedex
I finally got my shipping notification from Apple today saying they shipped my new iPad 3rd gen and found that thankfully they shipped it using FedEx. I'm glad to learn they used FedEx because the company will let you hold your shipment at the nearest distribution center so you can pick it up when it's convenient for you.
UPDATE: See below for further details.
For people who want to get their iPad out of the box as early as possible or for those who work and can't wait at home, this might be the best way to get your pre-ordered iPad. Here's how I set up holding my shipment at the FedEx facility so I can pick it up early Friday morning.
If you use this option, you can get your new iPad first thing in the morning, instead of waiting until 3 PM, when most shipments need to be delivered by.
When you receive your shipping notification email from Apple, click the button that says "Track Shipment" which will take you to the FedEx site.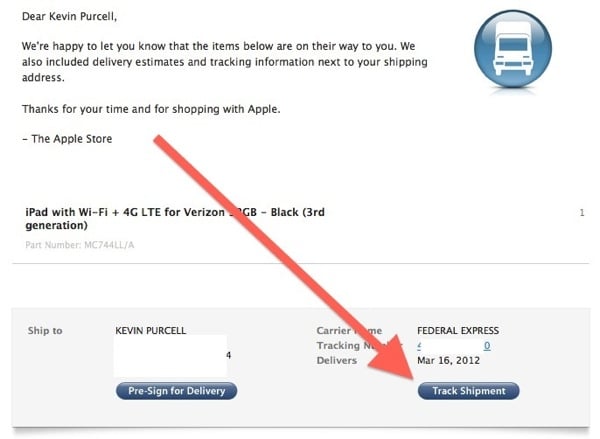 Now find the link that reads "Hold at FedEx" Location about a third of the way down the page.
Once you do, follow the screen prompts to hold your package at the FedEx shipping center near you and they will. One of the screens lets you select your location. In my area there was only one option. Check where that location is. It may not be worth it if the location isn't within a short drive.
If you don't want to do this online, you can call FedEx at 1.800.463.3339.
You can go get your new iPad after the shipping center opens, 7:00 AM 9:00 AM for me. I wouldn't be surprised if there will be a requirement from Apple that FedEx hold them till after 8:00 AM since that's when Apple opens their stores. Some locations may not open until 9 AM, so make sure you double-check.
UPDATE: I just received a call from my local FedEx facility. They received the information about my request to hold the iPad at my local warehouse and contacted me to tell me that it will be ready to pick up at 9:00 AM instead of at 7:00 AM when the rest of the warehouse opens. It is not yet there, but will be Friday morning. She was very nice and FedEx impressed me. I didn't have to call them, they called me.
She also stated that many others were doing the same thing and I should expect a crowd. I am going to still arrive before 9:00 but she warned that due to the large shipment of iPads coming into their center, she expects their plane to be late making the driver late to the warehouse.
Once you get yours, run by the local Apple store or other retail locations where people must stand in line to buy them and laugh at the people in line. Great nerd fun!

As an Amazon Associate I earn from qualifying purchases.