How to Get YouTube Back on the iPad mini
Today is iPad mini and iPad fourth-generation release day and that means there will be plenty of new iPad owners digging into their new tablet. One thing that new iPad owners will find is that in iOS 6, the operating system found stock on both the iPad mini and iPad fourth-generation, the native YouTube application will be missing. This is unfortunately by design. However, there are some viable alternatives that work just like an official YouTube app would.
In iOS 6, Apple has taken out the native YouTube application. And unlike the Maps application that replaced Google Maps, Apple decided not to include any sort of YouTube alternative, an issue that is compounded by the lack of an official YouTube app on the App Store. The iPhone on the other hand is the beneficiary of an official YouTube app from Google, found on the App Store for free.
Read: iOS 6 Tips and Tricks.
While iPad owners must wait for an official iPad application from Google, there are still ways to make YouTube accessible from the home screen on either the iPad mini or the new fourth-generation iPad.
Here's how to do it.
YouTube in the Browser
One extremely way to use YouTube on the iPad mini and iPad fourth-generation is simply by opening up your preferred browser be it Safari or another supported browser like Google Chrome and heading to the YouTube website.
Once in the web browser, users can type in www.youtube.com and be taken to a simple web interface allows users to not only view YouTube videos, but also manage individual playlists, subscriptions, videos, messages, and more.
It's not as convenient as tapping on an application on the home screen but it definitely is full service and a handy way to access YouTube content should the unofficial apps not be sufficient.
McTube – YouTube Client, Downloader & MP3 for iPad
When iOS 6 first arrived, YouTube clients were scarce. However, now that developers have had some time, there are more than a few options on the App Store. The best one that we've found so far, and the one that I use the most, is an application called McTube which is free for the basic version and $1.99 for the Pro Version which gets rid of the ads and adds the ability to download unlimited videos.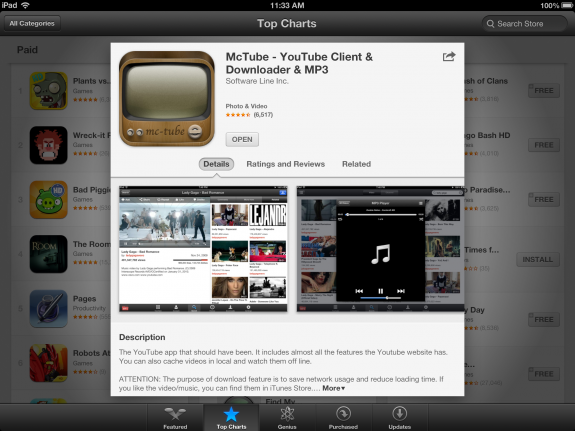 I've been using the free one on my iPad and it's definitely the go-to YouTube app at the moment as it essentially is, as it says, the "YouTube app that should have been." It's not perfect, but it's still good and it offers all the functionality you'd want from an official iPad application on your iPad home screen.
In other words, it will keep iPad owners happy until an official app from Google arrives, if it ever does.
The interface in McTube is extremely easy to navigate, punctuated by a navigation bar that sits on the bottom of the screen. The main portion of the interface is, of course, the YouTube videos that are ripe for watching.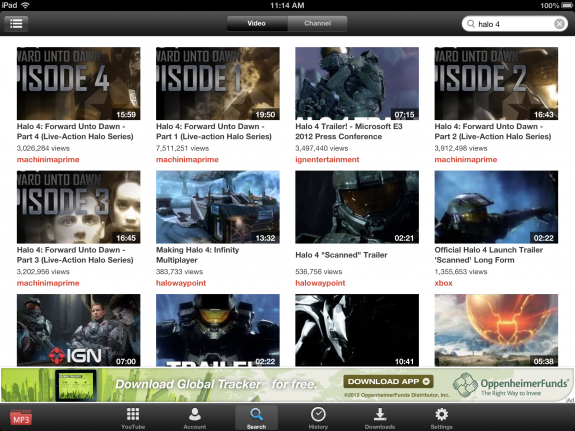 It supports the Retina Display of the iPad fourth-gen and it offers HD video support as well. Users are also able to comment, rate, search, and even download videos to watch later.
Here is the full list of features:
– Support iPhone 5, iPad Retina
– Cache videos and watch offline
– HD support, up to 1080p
– MP3 Player with background mode
– Search for Videos, Channels, Playlist
– Categories from YouTube
– Filter videos by region
– Rate, share and comment on videos
– Subscription, Playlist, Favourite, Watch Later, History
Those who are annoyed by advertising will want to shell out the $2 for the Pro version as it doesn't have them. Also, if you fall in love with the ability to download videos for later, the Pro version might be worth investing in as the free version does not feature unlimited downloads.
Other YouTube App Alternatives
McTube, of course, isn't the only YouTube app alternative on the App Store. There is another one that I rather enjoy called Jasmine which, while less popular than the McTube app, is still is worth a look.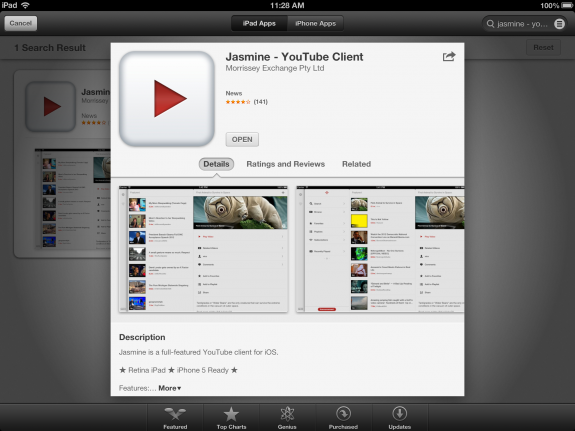 It boasts a four star rating after more than 1,600 review from iPad owners.
As of yet, I have yet to find any paid application, other than the Pro version of McTube that is worth paying for so iPad mini and iPad fourth-generation owners would be smart to utilize either one of these applications.

As an Amazon Associate I earn from qualifying purchases.