How to Hard Reset a Windows Phone
So you want to get rid of your Windows Phone or return it. You definitely do not want to leave your data for others to find. Here's how to ensure that it's gone before sending it out.
I've been reviewing smartphones for years and I have seen some really wacky stuff left behind on review devices I have received from PR Agencies. PR Agencies should take the time to do what the previous reviewer forgot, but some slip by. When I have run into these, I simply do a hard reset for them. Only once have I contacted one of them. There were some pics of a analysts kids and pets and I wanted to make sure he had them backed up 1st. He was very happy about getting them back, but who knows what some other person might do with your sensitive data.
Here's the simple way to clear that data. This procedure is the same across all current Windows Phones (at least up to Mango).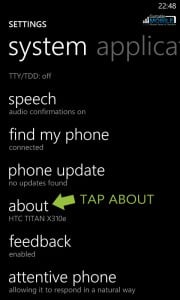 1. Tap on Settings
2. Next, tap about
3. There you will find "reset your phone", tap that and you'll then be given two warnings with two chances to back out.
4. Warning #1 – Tap Yes
5. Warning #2 – Tap Yes
After the 2nd Yes, the process begins. It might take a couple of minutes, but generally it's fast.
Your device will reboot and when complete, it will prompt you to set up just like a new Windows Phone.
Here's a video I did to show the process as well.
A couple of warnings:
Doing this will wipe all data. EVERYTHING.
If unlocked your phone using ChevronWP7, you will have to unlock again. The tool is still online, but you can no longer buy tokens.
If you plan to use the same Windows Live ID, you can speed up the process of reinstalling apps by using Reinstaller.
If you have any questions, feel free to contact me.