How to Hide Posts from Certain Facebook Friends
If don't want to unfriend a Facebook friend, but you don't want them to see any of your future posts, here's how to hide posts from certain Facebook friends.
Facebook is a great place to share your latest experiences with the people who matter most to you, including friends, family, and even acquaintances. While you can completely choose who you have as Facebook friends (and set the privacy levels as far as what your friends can and can't see), sometimes you just have to friend someone that you may not really want to friend.
Why is that, though? Well, it could come down to not wanting to offend someone. If your aunt loves using Facebook and sends you a friend request, it might get a little awkward the next time you see her if you ignored her request.
Read: 31 Facebook Tips & Tricks
Furthermore, if you're currently Facebook friends with someone, it could raise a red flag for that someone that you unfriend. While they won't get a notification or anything, there are many Facebook users are so infatuated with having as many friends as possible that they'll certainly notice if their friend count went down, and they'll look to see who it was that unfriended them. Heck, there are services out there that can notify you when someone unfriends you.
So if you don't want to cause any drama by unfriending someone or ignoring their friend request, here's how to hide posts from certain Facebook friends that you don't truly want to be Facebook friends with.
How to Hide Posts from Certain Facebook Friends
On the Facebook mobile app, you have some options as far as who sees your Facebook post. Whenever you go to post something new on Faceboom, you can tap next to the To: and customize who will be able to see that post.
You can select options like Public, Friends, and any Smart Lists or Custom Lists that you may have put together in the past. From the mobile app you can also custom select your friends one-by-one who you'd like to see your post, and simply leave out those who you don't want seeing your stuff.
The easiest option, however, is to do the opposite and select only the Facebook friends that you don't want seeing your Facebook posts. However, you can't do this on the Facebook mobile app.
Instead, we'll need to do this on the Facebook website in the web browser on your computer.
When you have the Facebook website open, go up to where you would post something and then click on the button that says Friends (it could also say Public or something else depending on your privacy settings). A drop-down menu will appear. Click on More Options to reveal…well…more options.
From there, click on Custom. A new pop-up will appear.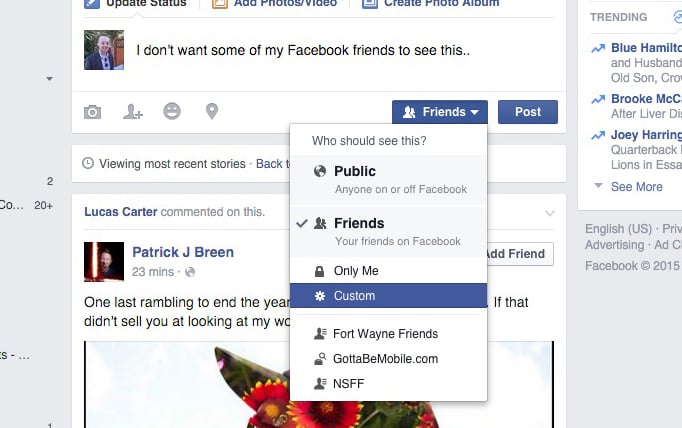 You'll want to go into the section called Don't share with, and from here you'll simply enter in the names of your Facebook friends who don't want seeing your Facebook posts.
Once you're done, click on Save Changes. From now on, whenever you post something new, those people who you included in that list will not see what you post. Plus, this custom setting will now show up in the Facebook mobile app as an option to choose.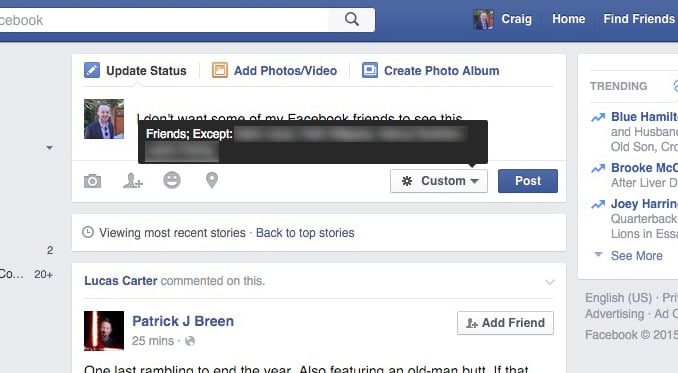 With this method, you'll still be full Facebook friends with this person, but they simply won't see anything that you post. Even if they visit your Facebook page and look at your timeline, they won't see your posts that you excluded them from. It will simply look like you haven't posted anything in a while.
Of course, if you want to post something on Facebook and want all of your friends to see it, simply just click on that box and select Friends. This will allow all of your Facebook friends to see your post.

This article may contain affiliate links. Click here for more details.