How to Improve iPad Battery Life in 5 Minutes
Some iPad users complain that Apple's new tablet's battery doesn't last as long as they'd like it to. Here are tips to drastically improve the iPad's battery life.
Many of these iPad battery saving tips will require some trade offs, but giving up some usability is a better option than carrying around a dead iPad.
The new iPad claims 10 hours of battery life and does a good job of delivering, but the long charging time means that some users end up leaving the airport or hotel without a full charge.
From big impact savings to tweaks that eek out every last drop of battery life this guide will show users how to keep the iPad running long after other iPads need a charge.
Easy & Big Impact iPad Battery Life Fixes
The following iPad settings are easy to change and have the biggest impact on battery life without impacting what the iPad is capable of.
Screen Brightness
The iPad's Retina Display drains more juice than anything else. A bright screen looks great, but when there's no power nearby, turning the brightness down is the easiest way to get longer iPad battery life. Also disabling auto brightness will increase the battery's potential, because the brightness stays at a fixed level compared to constantly adjusting to the lighting conditions.
Tap Settings then Brightness & Wallpaper to reduce the screen brightness and also Turn Auto-Brightness Off
Overall keeping a handle on the screen brightness is the best way to have a longer battery life on the iPad.
Auto Screen Lock
Going along with screen brightness is the Auto screen lock option. This setting is used to turn the display off automatically after a period of time. This saves the battery so it doesn't have to constantly be powering the screen. Set this option to 2 minutes and/or use a smart cover so it's not using up battery while the iPad is sitting on your desk or couch.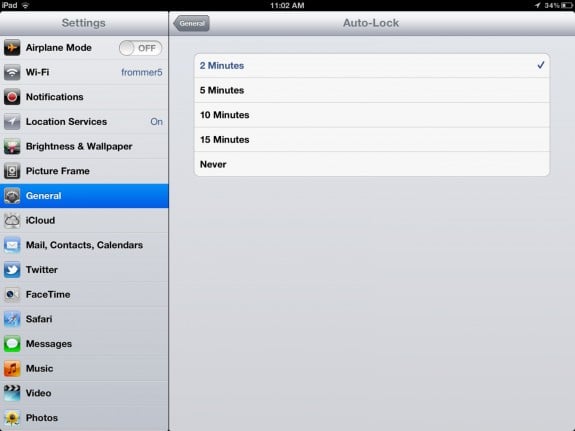 To enable Auto Screen Lock tap Settings then General and Choose Auto-Lock
Limit Syncing
Syncing content such as email also places a decent amount of strain on an iPad's battery. If the settings are changed to a manual sync rather than having content always being beamed to an iPad this can heavily impact how long the device lasts.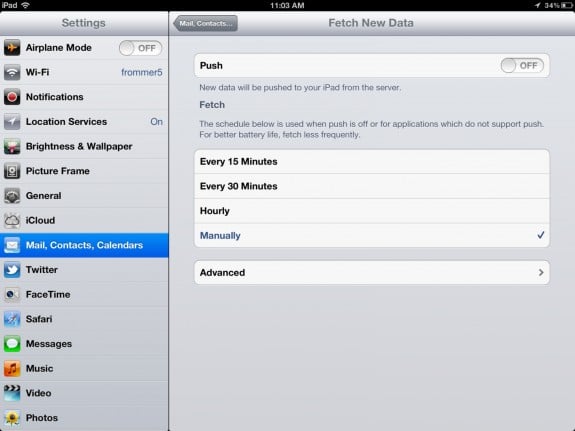 To Limit Syncing Tap Settings then go to Mail, Contacts, Calendars  Turn Push OFF and set Fetch to Manually
This concept also goes with any IM program installed on the iPad. By turning off push messaging the iPad can take a breather instead of recieving content all the time.
Tame your Notifications
Another major culprit of battery life is notifications. While it is nice to see that Jill updated her Facebook status enough of these alerts have a negative impact on battery life. Turn off Lock Screen Notifications is the easiest way to take care of this problem as it will no longer light up your device while carrying it in your bag.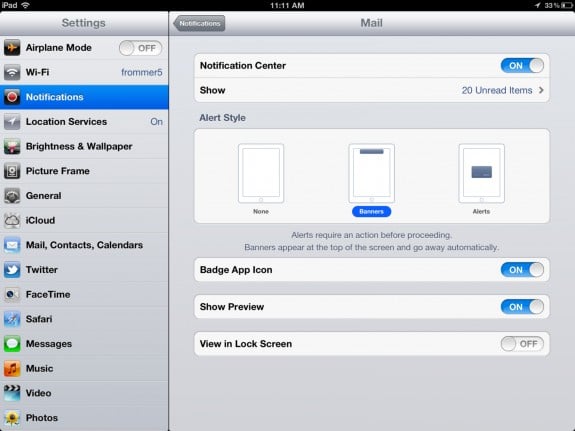 To turn off lock screen notifications Tap Settings then go to Notifications, Choose an app and Turn View in Lock Screen to OFF
Going along with disabling notifications is to Turn off push notifications. Push notifications suck battery by being in contact with the apps on the iPad and notifying the user instantaneously.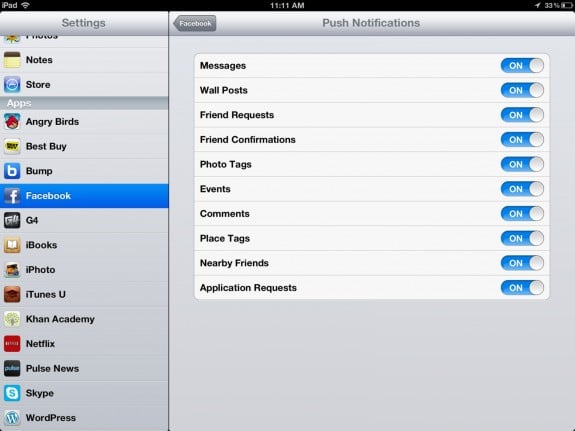 To disable push notifications choose Settings then go to the Apps section, After choosing one Select Push Notifications and Turn them OFF
Consume less content
This is a pretty basic tip but by not playing games and watching high-def youtube videos the iPad will last much longer. Also if it is necessary to listen or watch media it is best for the content to be stored on your device rather than being streamed.
Turn off Data and other Services
Another good way to keep a half empty iPad battery happy is to turn off cellular data completely when not in use or while at home. By disabling data it is one less thing for the iPad to run in the background especially if you aren't using it. Also, Turn off 4G LTE when fast speeds aren't needed to save power.

If the iPad being used had a 3G or 4G connection Tap Settings, Choose Cellular Data and Turn it OFF
Also below that is Enable LTE If there is a need to use Cellular data but not at the fastest speed it is wise to Turn OFF Enable LTE
Turn off Location Services
Location services are what allow apps to locate where you are and use that data to help you find a local restaurant or service. While these services are helpful they are a drain on battery power and can be turned off for certain apps that don't really need it (clocks, games, etc.)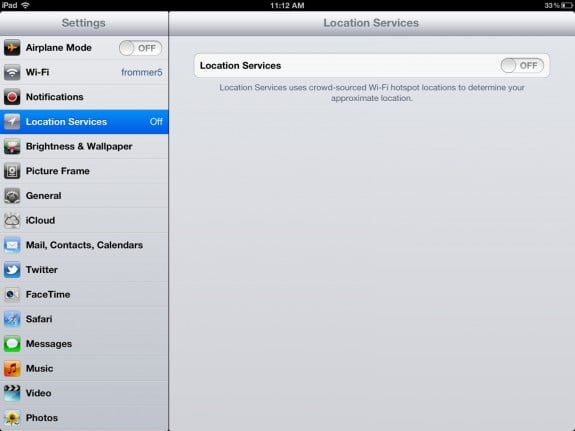 To disable All Location Services Tap Settings then Choose Location Services and Turn them OFF
Limit your connections
Turning off WiFi when not in use – (watching a movie in the car, reading a book, etc. ) is a great idea to help create a longer lasting battery. With the WiFi radio turned off it is not searching for networks to join so therefore it is not using battery. It is also smart to Turn off Ask To Join networks as that way the iPad will not always be searching for a network if the user forgets to turn WiFi off.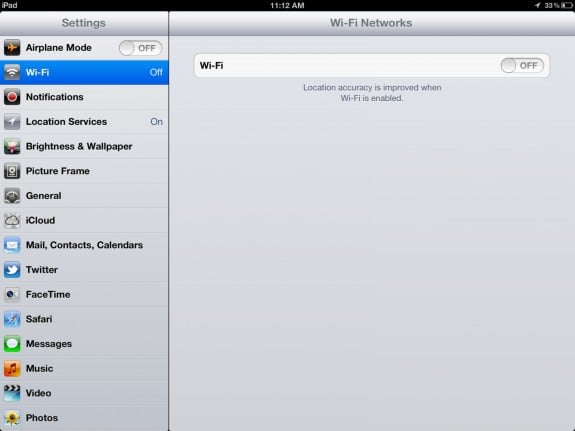 To Turn WiFi off go to Settings then Choose WiFi and Slide it to Off
Turn off Bluetooth when not in use as well to increase battery life. Whenever an accessory is not connected to the iPad via Bluetooth it is wise to have Bluetooth turned off.
To Turn Bluetooth off go to Settings then choose General, then go to Bluetooth and turn it OFF
Last ditch effort
Use Reset All Settings to clear out any other bugs that could be negatively affecting battery life.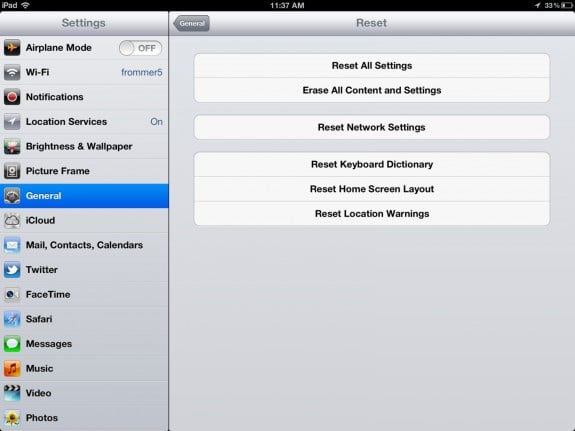 To Reset All Settings go to Settings ->  Then General -> And Choose Reset All Settings
If after Resetting All Settings the battery life is still less than optimal be sure that the iPad is Updated to latest version of iOS.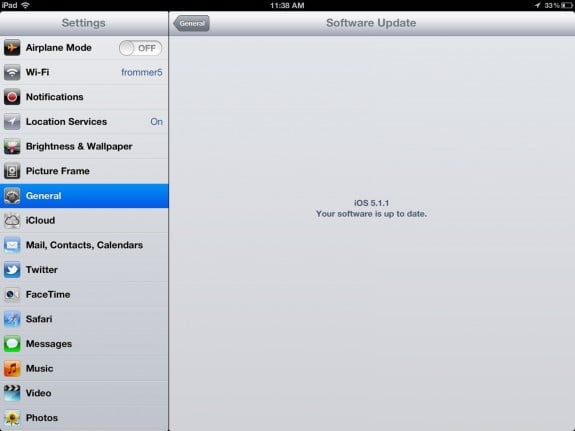 To Check the Software go to Settings then General and choose Software Update
If there is an update available Download and install it to the iPad.
Two last things to do are Disable Usage Reports and Time Zone Adjustment as these take up battery to perform.
To disable Usage Reports Go to Settings then General and choose About and then select Diagnostics and Usage, Choose Don't Send to disable the setting.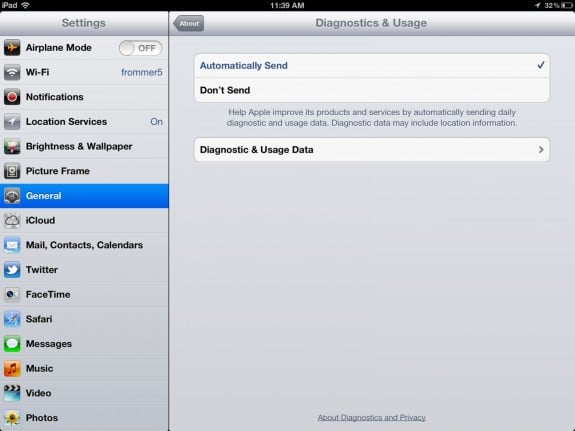 To disable Time Zone Adjustment Go to Settings then General and choose Date and Time, Turn Set Automatically to OFF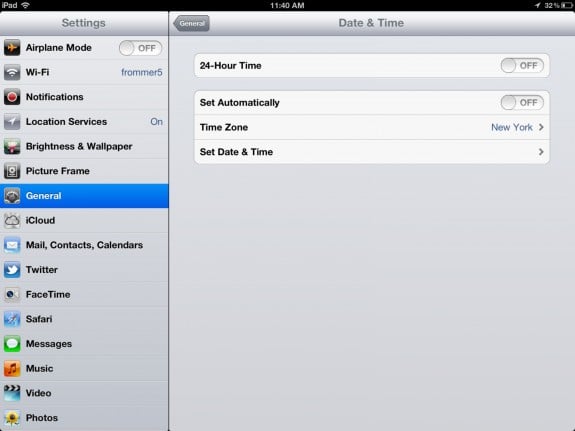 Start Over
If all else fails, restoring the iPad to factory settings and starting from scratch is a good way to clear out problems causing bad battery life.
In this case, don't just restore from a backup, but set the iPad up from scratch. By starting new, users can hopefully ditch any corruption that is cutting battery life short.
Plug the iPad into iTunes to start the backup process. If iTunes does not start a sync and backup automatically, right-click on the iPad and click on Back Up.
After the backup is complete, left click on the iPad on the left side of the screen, then click on Restore. This will erase anything on the iPad and return it to the same state as when it left the Apple store.
From here, users can Restore from a Backup by right-click on the device name on the left hand side of iTunes, or start over with a blank tablet.
Add Battery Life
Overall these tips will help to improve battery life for the iPad in a big way. Although there are some drawbacks with these tweaks, such as manually controlling items and forgoing notifications, the benefits outweigh the negatives.
Another option for users who still struggle with battery life is to invest in external battery power. The perfect solution for the job is the ZAGGsparq. The ZAGGsparq provides plenty of additional battery power for an iPad when it is impossible to charge from a traditional wall charger.
Pick up the ZAGGSparq 3100 or ZAGGSparq 6000 to charge the iPad while away from an outlet. The ZAGGSparq 3100 is $69.99 and the 6000 is $99 ZAGG.

This article may contain affiliate links. Click here for more details.