How to Install a Steam Skin for a Better Look
The undisputed king of the PC gaming space, Valve's Steam store and software are to Windows and Mac gaming what the Xbox and PlayStation are to gaming on a television set. The two provide millions of users with access to new games, big discounts and community experiences that are hard for other programs and marketplaces to duplicate. A big part of PC gaming's appeal is the high to degree to which users can customize their experience. Take skins as an example. Anyone can install a Steam skin to add a bit of personality to their experience.
Gamers that lived through the times of highly customizable music software before iTunes blossomed will likely appreciated skins the most. Skins give users the power to create their own experience. The process is pretty simple too. Users need only find a Steam skin that they like and drop it into the right folder. There's no coding involved, unless users want to make their own complete skin. Contrast this with the very locked down, limited nature of console gaming. On consoles, you can decide what apps appear in your shortcuts for quick access and which background you'd like to use. That's it.
Read: 7 Valve Steam Tips & Tricks for New Users
Here's how to install a Steam skin and make it look the way that you want it to.
How to Install a Steam Skin: Before We Begin
Before you install a Steam skin, you're going to actually need the software installed on your PC. You're also going to need a Steam account, and the credentials to get into that Steam account; the software doesn't let you in without it. If you're new to Steam, go ahead and take care of these items now. If you're not new to the service, you have these already.
The most important thing you'll need is a Steam skin that you like. SteamSkins.org has options that are available for anyone to download. As you're going to need to download the files, be sure to use a wired or wireless network. Don't tether to your smartphone or tablet to use your mobile data plan.
Finally, you'll want to make sure that you have something on your PC that can open ZIP files. That's because the skins that you download will come compressed in a ZIP file to save transfer space. You'll need to extract them from that ZIP folder and drag them to their proper place in Steam's files. Don't worry, Windows 7, Windows 8 and Windows 10 all have the ability to open ZIP files built-in.
Skinning Steam
First you'll need to download a copy of the Steam skin that you like.
Every skin uploaded to SteamSkins.org has at least one way to download it at the bottom of its listing. You can use either option to get the files to your PC, but it's a safer bet to just use the SteamSkin.org direct download instead of a mirror link, even if it might take a little longer. Download your skin of choice. For the purposes of this how to, we're adding the Metro skin to our Steam client.
If you have any kind of virus protection on your PC, let that software scan the Steam skin that you just downloaded, just to make sure that it's safe. Windows 8 and Windows 10 both have built-in virus protection that checks for bad things in downloads for you. Just be sure that you haven't turned them off.
Open the ZIP file that you downloaded. This file could be different places, depending on where your web browser is told to save things. For Microsoft's Edge web browser, all downloads are in the Downloads Folder.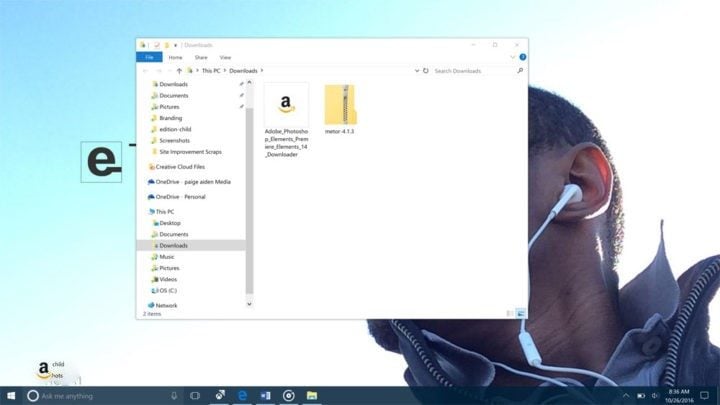 Double click on the ZIP file to open it.
Drag all the files inside the folder to your Desktop.
Different Steam skins might have slightly different installations. Metro skin uses a custom font that you need to drag into your computer's font folder before activating the skin for the best results, for example. Be sure to open the Read Me file included with your Steam skin to be sure that you've done all the things necessary to get your skin working.
Now it's time to install your Steam skin. You'll need to drag the folder for the skin that you just copied to your Desktop over to the proper folder within Steam. Open any folder, then tap or click on This PC in the side bar.
Now open the C: drive by double-clicking on it.
Double-click on Program Files.
Find the Steam folder and double-click on it.
Now double-click on the Skins folder.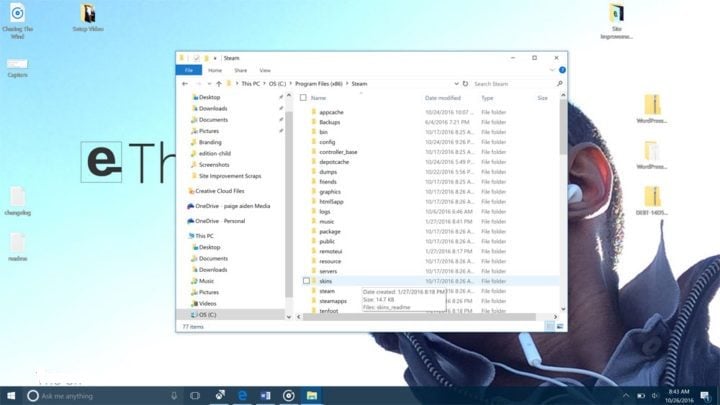 Drag the folder with the Steam skin that you put on your Desktop, to the Skins folder.
Now you need to just turn the Steam skin on. Go ahead and open Steam now.
Inside, click on Steam in the top-left corner of the app. Next click on Settings.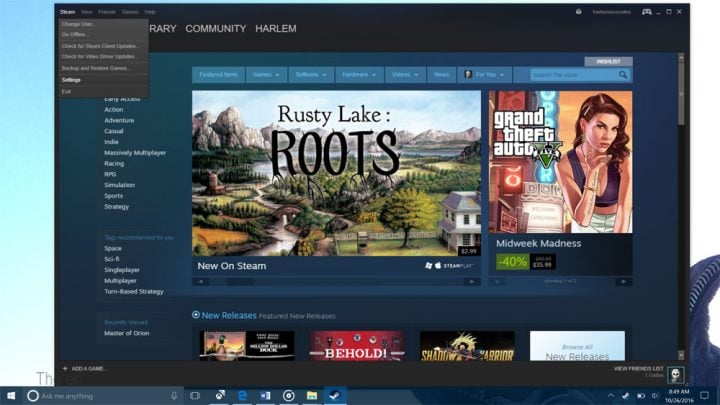 Tap or click on Interface. It's in the menu on the left of the Settings pop-up.
Select the Steam skin that you would like to use from the drop-down in the middle of the Settings pop-up. Click Ok. You'll need to Restart Steam.
That's it, you've successfully managed to install a Steam skin on your PC.