How to Fix Pebble Smartwatch Problems with Custom Firmware
The Pebble smartwatch has been available to the public for about a year now, and it has received mixed reception thus far. It's certainly an innovative product, but the execution leaves something to be desired for a lot of users.
The Pebble simply just has a few quirks that don't make sense at all, including no default battery meter anywhere and the inability to get rid of some of the useless stock watchfaces.
However, custom firmware for the Pebble is available to download and install for free, and it's surprisingly easy to customize and install it. It's not terribly simple, but if you follow the steps that we provide below, you can get rid of a lot of the annoyances that you might have with your Pebble smartwatch.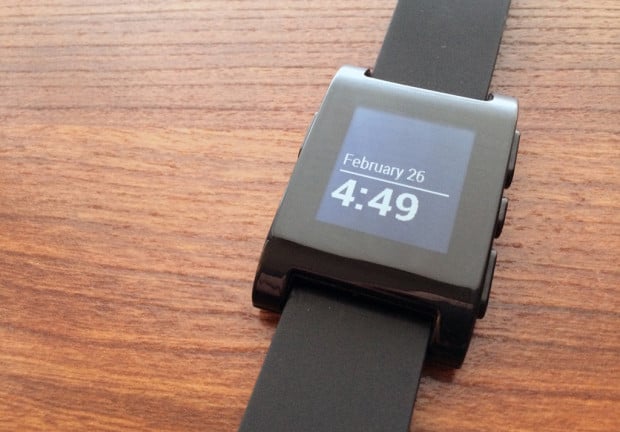 What Does Custom Firmware Do?
The custom firmware that we'll help you install is provided by a website called Pebble Bits, and it fixes a handful of annoyances. It deletes any of the default watchfaces that you don't want (the Pebble comes with three watchfaces that you can't delete normally) and it disables any of the menu items that you don't use. For instance, the Pebble menu comes stock with Music, Notifications, Alarms and Watchfaces. Personally, I don't use any of those menu items except for Notifications, so with the custom firmware, I can get rid of Music, Alarms and Watchfaces.
The custom firmware also shows the remaining battery level in the status bar when you access the menu. There is a known bug that shows "1-" instead of "100" when the battery is full, but it's not really a huge deal. For some reason, the Pebble doesn't show you the battery level anywhere except for when the watch gets low on battery. By then, it's too late. There are Pebble apps that you can install that show you your battery level, but why take up one of your precious slots when you can just have it included in the firmware?
Lastly, the custom firmware comes with a couple of patches if you're experiencing certain bugs with your Pebble watch.  If you get "??????" when receiving an incoming call, there's a patch that can fix that to show either the contact name or just the phone number. There's also a patch that allows you to use any of the buttons on the Pebble watch to launch an application. Nifty!
Instructions
For the tutorial, we'll be using an iPhone and the Dropbox app to transfer the custom firmware file to the Pebble, but it also work on Android and most other cloud storage apps.
First off, head to this web address to get started. You'll first start out by selecting the languages that you want your Pebble watch to support. If you speak English, then leave this all alone and just scroll down and click Continue. Otherwise, select your native language.
The next page is where the meat and bone is. Most of this should be self-explanatory if you read everything and understand it, but just in case you get lost, we'll guide you through each of the selections.
Firmware Version: Select the latest 2.0.1 firmware with the correct version that corresponds to your specific Pebble device (If your Pebble serial number starts with a number use V2R2, or if your Pebble serial number starts with the letter Q use V3R1, and select STEEL if you have the new Pebble Steel.)
Disable Firmware Applications: Here you can select which watchfaces and menu items that you don't want included.
Firmware Patches: Select which patches you want, but I simply didn't bother with this section. However, be sure to checkmark the battery level indicator under the subsection titled Extra Features, and if you're experiencing the Caller ID bug, it wouldn't hurt to apply one of the patches.
Interface Translation: Don't bother with this section.
Firmware Fonts: Don't bother with this section either, unless you want to use a different font other than the default one.
Next, click on Create Firmware. The next page is where you'll download the .PBZ file. You can either scan the QR code to download it directly to your smartphone (only works on Android), or just click on the link of the file to the right.
Once downloaded, drag and drop the file into your Dropbox folder and open up the Dropbox app on your iPhone. You should see the file in the list. Tap on it to open it, but you'll quickly notice that Dropbox can't open the file. Gasp! What to do?!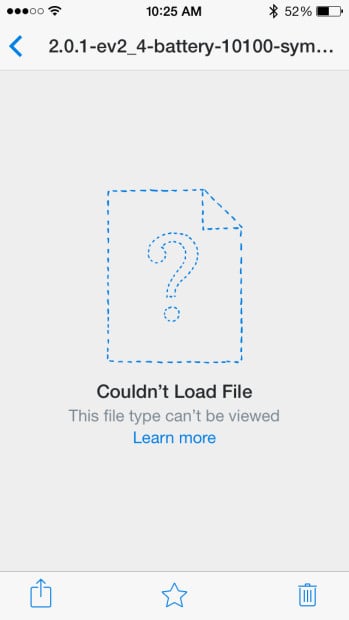 Don't worry: Simply tap on the Share button in the very bottom-left corner and select Open In….
Another pop-up will appear and you'll select Open in Pebble.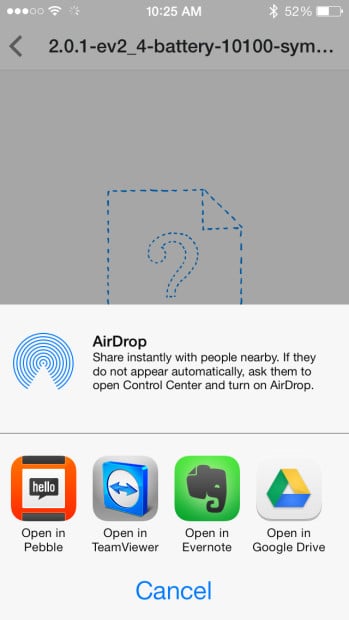 You'll be transferred to the Pebble app where a warning will pop up, basically just saying that installing firmware from unverified sources may not be a good idea, but you're a rebel, so tap on Continue.
You'll be taken to the next screen where you'll tap on the Update button. It'll download the file and install it. Once it's complete, it'll say that your Pebble "is now up-to-date." Tap Continue to finish the process.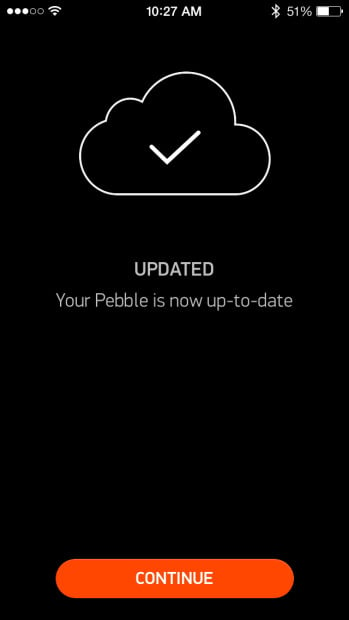 Now, when you start playing around with your Pebble, you'll notice the awesome new changes. Hooray! There are no limitations to using the custom firmware, and your Pebble, nor the Pebble app, will notice that anything is different, which is fantastic; you can go ahead and download more apps and use the watch as normal.