How to Install Facebook for iPad on Your Jailbroken Tablet
We told you yesterday about how the Facebook for iPad app was leaked via hidden code inside the Facebook for iPhone app. Today (as the folks at iDownloadBlog tell us) anyone with a jailbroken iPad can transform the Facebook for iPhone app into the unreleased iPad version.
There was a previous (more complicated method) that was floating around yesterday, but Facebook apparently was able to block that from their end. This new method of activating Facebook for iPad involves simply downloading an app from Cydia, Faceforward. The app automatically tweaks the code that will unveil the hidden "Facebook for iPad" inside of the free Facebook for iPhone app. It it currently working, and shouldn't be blocked anytime soon.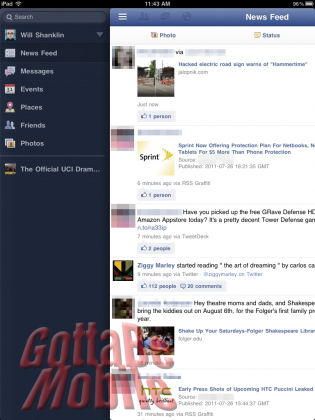 Here are the easy steps to activate the hidden Facebook for iPad:
Download the Facebook for iPhone app (free from the AppStore)
Make sure your iPad is jailbroken. Instructions are here for firmware 4.3.3 or earlier, or here for 4.3.4 or later). If you have an iPad 2 and are on 4.3.4 or later, you're out of luck.
Open Cydia and search for FaceForward (if it isn't showing in search results, be sure to hit "refresh" under the changes section)
Install FaceForward (free) and hit "restart springboard" after it finishes
After following those steps, simply open the Facebook app, and it will be iPad-optimized!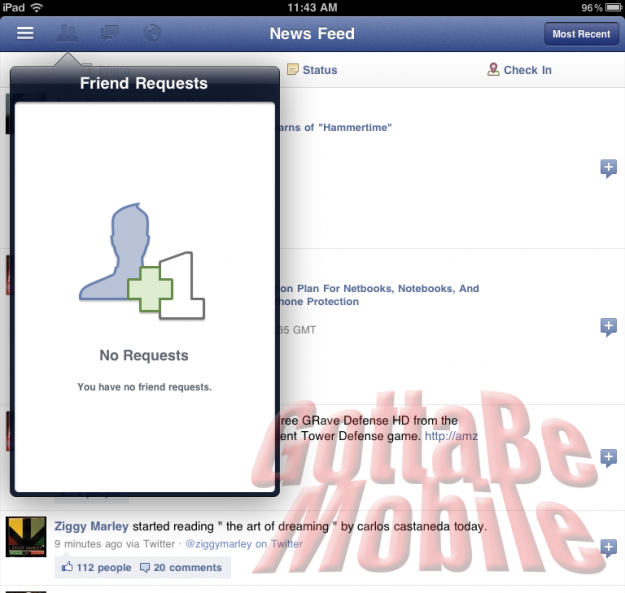 It isn't confirmed whether this will be the release version when Facebook finally gets around to launching their tablet iOS app. We're guessing it's a beta version, as it doesn't have quite as polished a look as we would hope for.
Jailbroken iPad users, if you check out FaceForward – let us know what you think. Is this what you'd hope for from a Facebook for iPad app?

As an Amazon Associate I earn from qualifying purchases.