How to Install Games on Xbox One
For a new generation of console gaming, both Microsoft and Sony made big bets on new ways to get games. The Xbox One, Microsoft's video game console for the living room, makes games available in two ways. You can purchase a game at a retail store, or through its digital store as a download. Whichever you decide, you have to install games on Xbox One.
Microsoft worked hard to make installing games on the console as simple as possible. Games purchased at a retail store, like GameStop or Target, are ridiculously straight forward. There's only a single step and you lose out on almost nothing, except time. Time is also something that those that purchase a game for Xbox One digitally need to worry about. Installing games on Xbox One from the Xbox Store can take hours because of a game's size. Still it isn't too complicated.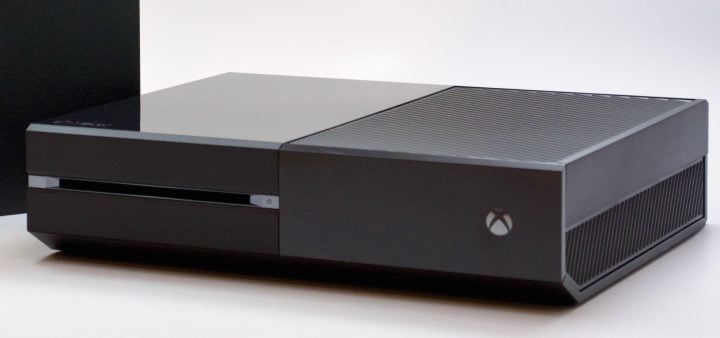 Here's how to install games on Xbox One, no matter which way you decided to purchase your game.
How to Install Games on Xbox One: Disc
If you're going to install games on Xbox One from a disc, the process is simple. Once you've got your Xbox One all setup, place the disc that you purchased with the game on it into the slot loading disc drive on the Xbox One or Xbox One S. Both will allow you to begin installing the game you just inserted.
Depending on how big the game is, installing a disc game on Xbox One can go quickly or take some time. Games on Xbox One are bigger than the Xbox 360 titles that you might be used to. You don't have to keep the console on the Home screen for the installation to continue. Your console will let you know when it's safe to start the game.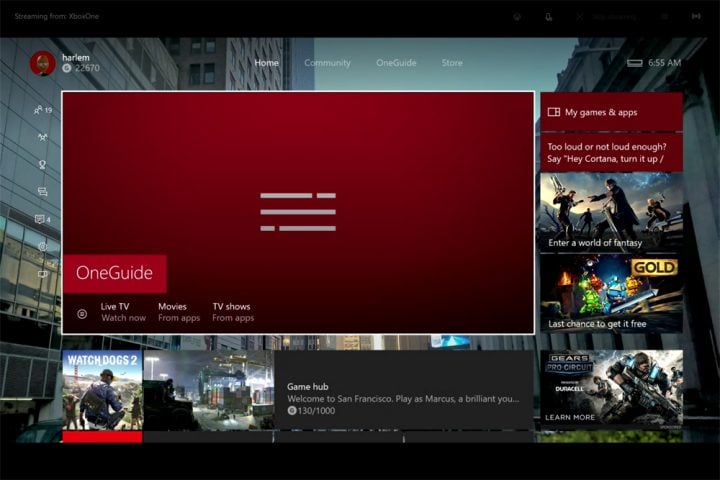 Read: How to Play Xbox 360 Games on the Xbox One
Don't trade-in Xbox One games that you plan to continue playing. Despite you installing a game from a disc, the console still requires you to insert that disc as a way of verifying that you own it. Microsoft had plans to do away with this requirement, but changed them when buyers made it clear they wanted the option to play games offline and not have the console connect to the internet at least once a day.
When a physical game is in your Xbox One, the fourth icon on the Xbox One will always show that game with a disc icon overlay. If you uninstall the game, you can always insert the disc and install it again.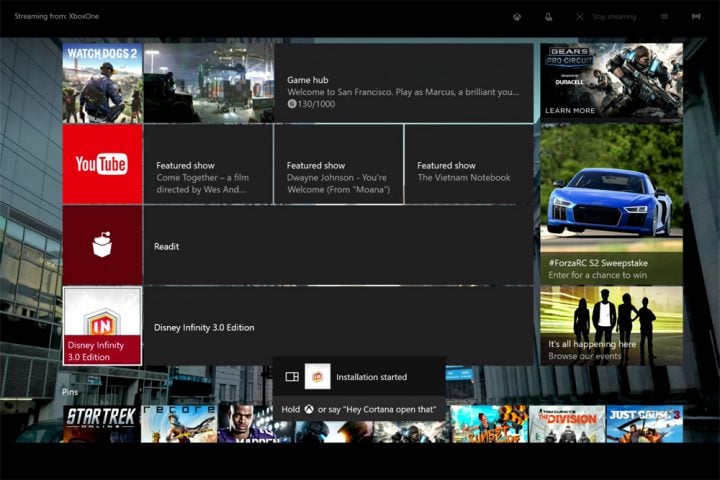 If you have an internet connection, Xbox One will check to make sure that you have the latest version of any game that you install. You can choose to install that update immediately, or wait until later.
How to Install Games on Xbox One: Digital
There's a lot more you need to know if you want to install games on Xbox One from the Xbox Store.
You can acquire digital games through buying them from the Xbox Store in the Store area, or from codes that you purchase online through Amazon and GameStop. Disc games sometimes come with digital codes that unlock downloads too.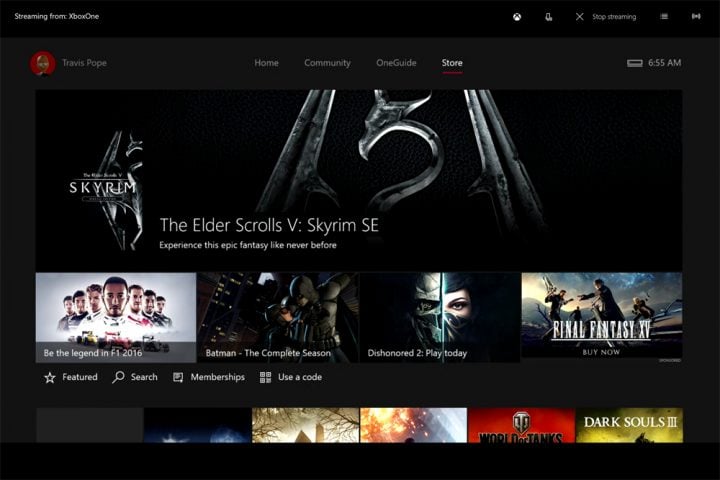 Read: Xbox One Digital Games: 5 Things You Need to Know
If you have an Xbox One with a Kinect sensor, simply say, "Xbox, use a code." This command will take you to a screen that lets you input the code you have. If you don't have a code but do want to purchase a digital game, go to the Store area and find the game in Microsoft's catalog. You'll need to have a credit card associated with your Microsoft Account or a credit card on file. Xbox will prompt you to add a payment method once you try to buy a game digitally.
Once you've used a code or purchased a game through the store, the download should start immediately. It's going to take some time to finish though. How much time passes between when you hit "Buy" and when it finishes depends on the game's size and your internet connection. All isn't lost though.
Some games will let you begin playing, even before you've finished them. Again, you don't have to stay on the store page or home area, your console will tell you when enough of a game has been installed that you can play, or when the download is finished.
How to Install Games on Xbox One: Managing Games
It's from the My Games and Apps screen that you can manage everything about your games, whether they came from a disc or a download. Highlight a game in My Games and Apps and press the Menu button on your Xbox Controller.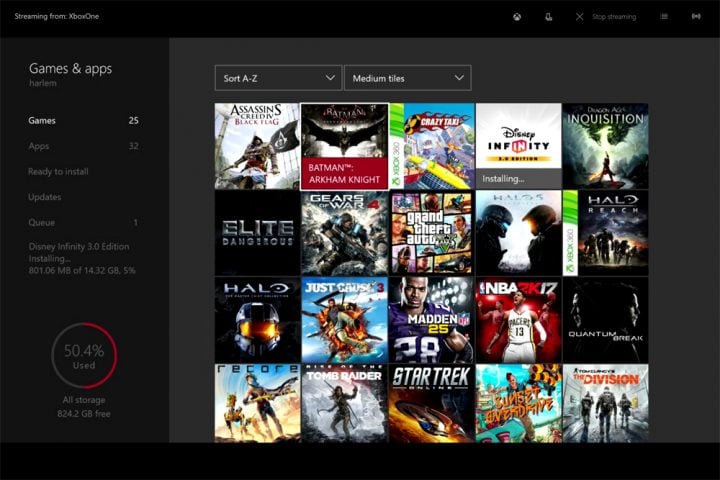 Select Manage game from the pop-up screen.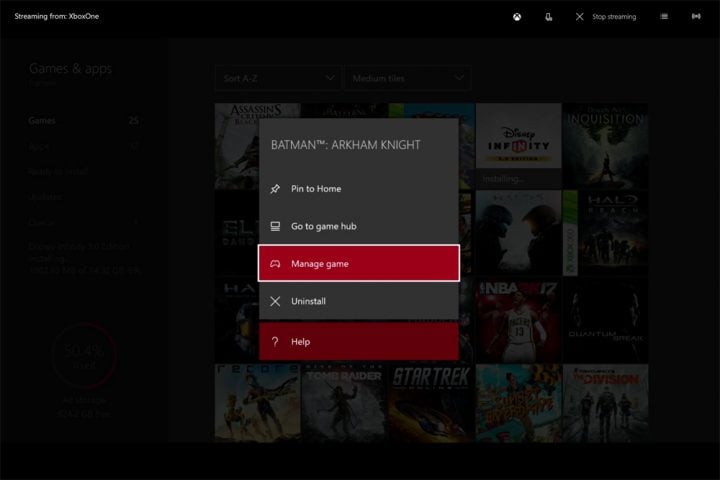 From this area you can monitor games for updates, find out whether you installed it on your console's internal drive and find out the last time you played. The screen also gives you access to any downloadable content that you've purchased and saved data that you have stored on your console. If you ever need to delete a game to make room for another, that's done here. Xbox One manages game saves and updates on its own. As such, there's no reason that you should need to go into the manage area for those activities.
Read: 33 Xbox One Tips for a Better Experience
That's how to install games on Xbox One. Good luck with your new console.