How to Make & Receive iPhone Calls in OS X Yosemite
If you want to use your Mac to make and receive phone calls from your iPhone, here's how to do it using OS X Yosemite and iOS 8.
OS X Yosemite was launched last week during Apple's iPad event, allowing Mac users to download and install the long-awaited new version of OS X. One of the coolest new features of OS X Yosemite is the ability to make and receive phone calls right on your Mac from your iPhone.
This new feature is a part of Apple's Continuity initiative that aims to get OS X and iOS working seamlessly together, and OS X Yosemite is the first version of Apple's Mac operating system that truly does this.
To make and receive phone calls on your Mac, you'll need to make sure that both your Mac and your iPhone are connected to the same WiFi network and are also signed into the same iCloud account. If you're at home and only have one iCloud account anyway, then you're most likely all set to go, but it wouldn't hurt to double check this.
After that, we're all ready to begin setting it up. Here's how to do it.
Setting Up Phone Calls in OS X Yosemite
To set this up, there are settings that you'll need to enable on both your Mac and your iPhone. Let's first start with your Mac.
Open up the FaceTime app, which is located in the Applications folder (or it could already be located in your dock).
Click on FaceTime in the menu bar in the upper-left corner of the screen.
Click on Preferences.
Place a checkmark next to iPhone Cellular Calls.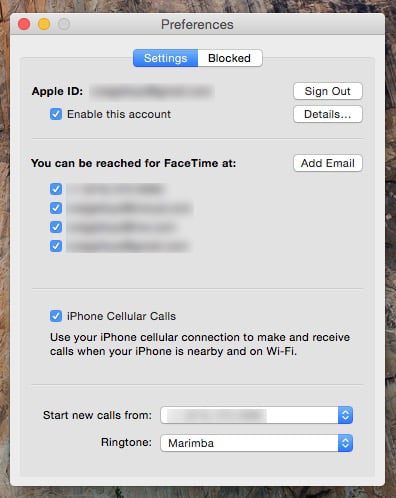 Now, let's move to your iPhone and enable that same feature in iOS.
Open up the Settings app.
Tap on FaceTime.
Find iPhone Cellular Calls and turn the toggle switch On.
One thing that's important to know is that, while this setting lies in the FaceTime settings, FaceTime itself doesn't have to be open in order to make and receive phone calls. With that said, we're not sure why this feature's setting is tucked into FaceTime's settings, but we digress.
After you have done these two things, you'll be all set to go and will be able to make and receive phone calls right on your Mac.
Making & Receiving Phone Calls
Receiving phone calls in OS X Yosemite is really easy; you just wait for a call to come in and it will show up in the upper-right corner as any other notification would. From there, you can click on Accept or Decline. Accepting the call will allow you to talk using the Mac's microphone and hear the other person through the speakers. Declining the call will send it to voicemail.
To make a phone call in OS X Yosemite, simply open the Contacts app and hover over a number you want to call. A blue phone icon will appear off to the right. Simply just click on that icon to make a phone call. You can also open up FaceTime and dial a number if you don't have it in your contacts list.
There's also a third-party app called Continuity Keypad that brings the Phone app's keypad in iOS 8 to OS X Yosemite, allowing you to easily dial numbers without having to open FaceTime or the Contacts app.
What Else Is New in OS X Yosemite
OS X Yosemite was first announced back in June during Apple's annual WWDC developers conference and it has spent the summer in beta form for developers to test out and report any bugs. The OS has seen multiple beta releases over the past few months and was finally released to the public late last week.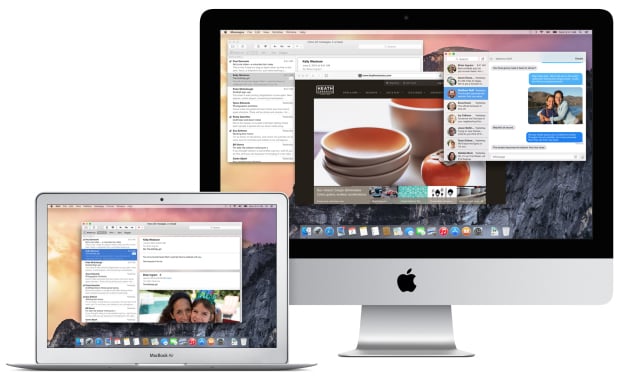 This new version of OS X comes with some pretty sweet features, including an all-new look and feel that finally puts OS X on par with iOS 7, thanks to the translucent windows and menus, as well as a flatter design overall, with redesigned icons that mimic iOS 7 icons, but still include some depth so that there's still a bit of that classic OS X feel.
Furthermore, OS X 10.10 Yosemite also comes improvements made to Messages, including the ability to send and receive SMS text messages (rather than just iMessages).
You can also take advantage of Handoff, which allows you to begin working on something on one device and continue working on it on a different device, whether it's on OS X or iOS.
If you haven't yet installed OS X Yosemite, here's a thorough guide on performing a clean install on your Mac machine.