How to Jailbreak iOS 5.1 for iPhone 4, iPhone 3GS, iPad, and iPod touch
Yesterday, at the iPad event in San Francisco Apple both announced and released its latest version of iOS, iOS 5.1. And while we thought that a jailbreak for the the software might take awhile to arrive, we now know that that's not the case. Indeed, Redsn0w has been updated for iOS 5.1 and can be used, this very moment for iDevices not called the iPad 2 or iPhone 4S that are running iOS 5.1.
Just to refresh your memory, jailbreaking frees your iPhone from limitations put on it by Apple and by the device's carrier be it AT&T, Sprint or Verizon. While  it has been made legal, jailbreaking will void your warranty so keep that in mind before you take the plunge.
You can read our 5 Reasons to Jailbreak guide, and be sure check out the Top hidden Cydia gems and Top 5 Cydia apps for the iPhone and iPod Touch.
That being said, if you're still thinking about jailbreaking your iOS 5.1 device, keep reading.
The jailbreak that you'll be using, Redsn0w 0.9.10b6, is a tethered jailbreak. That means that you will have to connect your device to a computer that is running the jailbreak ever single time you want to power it up. It's a hassle but until an untethered jailbreak arrives, this is what you're stuck with.
Also, this is not available for those running an iPad 2 or iPhone 4S. It's only going to work on the iPhone 3GS, the original iPad, the iPhone 4, and the third and fourth generation models of the iPod touch.
Are we clear?
Good.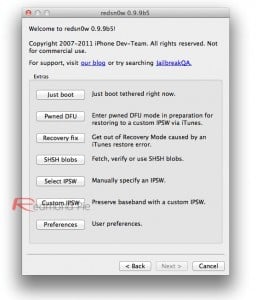 Then let's move on to the good stuff.
Install iTunes 10.6.
Connect Your iDevice to your computer and back up your files. Or, if you have iCloud enabled, you can check in your iCloud settings to see if the device has recently been backed up.
Download the correct version of iOS 5.1. You can check out our full guide on how to do that if you are unsure.
Open that file, select 'Jailbreak' then 'Install Cydia'. It'll take you to DFU mode and Redsn0w will jailbreak your device.
Once Cydia is installed, you'll want to be in DFU mode and in there should be an option for 'Extras'. It looks like this image you see here.
Pick 'Just Boot'.
Once you perform those steps, you should have a fully functional jailbreak for iOS 5.1. Now, again, keep in mind. Steps six and seven are going to have to be repeated every single time you reboot your device.
It's a bit tedious but hey, it's the price you have to pay at the moment.
Finally, please be careful.
While this should work without any sort of a hitch, you just never know.
Via: Redmond Pie