How to Jailbreak iOS 8.4 on Mac with TaiG
If you want to jailbreak iOS 8.4 on your iPhone or iPad using TaiG on your Mac, here's how to do it, thanks to TaiG's new Mac jailbreak tool.
An iOS 8.4 jailbreak was released back in late June with a Mac version of the jailbreak tool arriving just last month. However, TaiG wasn't behind that particular version, and instead another Chinese dev team released a Mac version. However, TaiG is released its own Mac version that jailbreakers can use to jailbreak their iPhones and iPads.
The Mac version that released last month came from PP, another Chinese jailbreak dev team possibly competing with TaiG, although they've been accused of simply stealing TaiG's code.
PP's Mac version of the iOS 8.4 jailbreak tool works and all, but if you want a genuine experience when jailbreaking your iPhone or iPad, using TaiG's new jailbreak tool for Mac is the best way to go.
Here's how to jailbreak iOS 8.4 on Mac using the new TaiG jailbreak tool.
Before You Begin
As with any other jailbreak process in the past, it's important that you do a few things first to prepare for the jailbreak.
Most notably, you'll want to back up your iPhone or iPad first before you do anything. Be sure to back up through iTunes so that it will back up absolutely everything.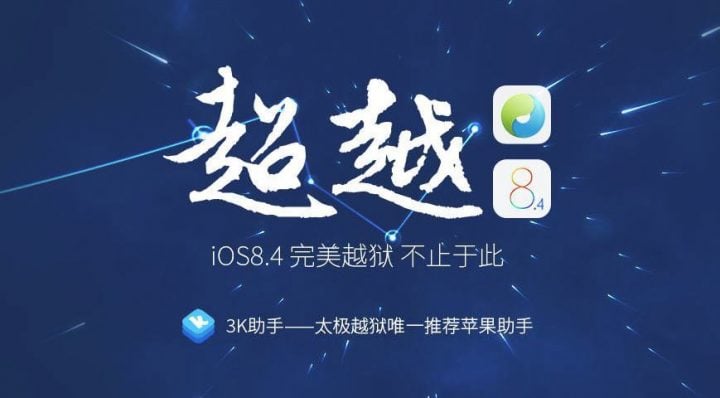 You'll also want to make sure that your iOS device has a clean install of iOS 8.4, which you can easily do by restoring in iTunes and wiping to factory settings. Don't worry, though — after you jailbreak, you can restore your backup to get all of your apps and settings back.
After that, make sure that Bluetooth and WiFi are turned off, and disconnect your Apple Watch if you have one. Turning off WiFi isn't essential, but it could help prevent any problems from occurring.
You also need to turn off Find My iPhone and disable the passcode on your iOS device, as these things could interfere with the jailbreaking process. To disable your passcode, go to Settings > Passcode, enter your passcode, select Turn Passcode Off and enter in your passcode again to confirm. To disable Find My iPhone, go to Settings > iCloud > Find My iPhone and turn it off. You'll need to enter in your Apple ID password to confirm.
Lastly, just make sure that iTunes is updated to the latest version, but keep it closed during the jailbreaking process.
Jailbreaking iOS 8.4 on Mac
First thing's first: go to TaiG's website and download the jailbreak tool for Mac. Then open up the .DMG file and install the jailbreak tool just like you would with any other Mac app.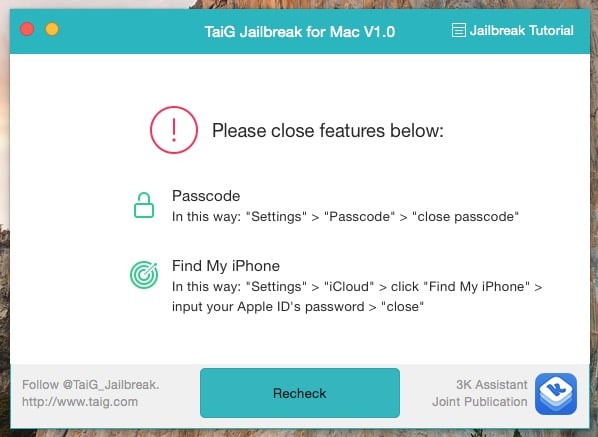 From there, fire up TaiG and plug in your iPhone or iPad. You might see a window that tells you to turn off the passcode and Find My iPhone on your device, but if you already did this, you're good to go. Otherwise, disable these features and click Recheck when you're done to move onto the next part.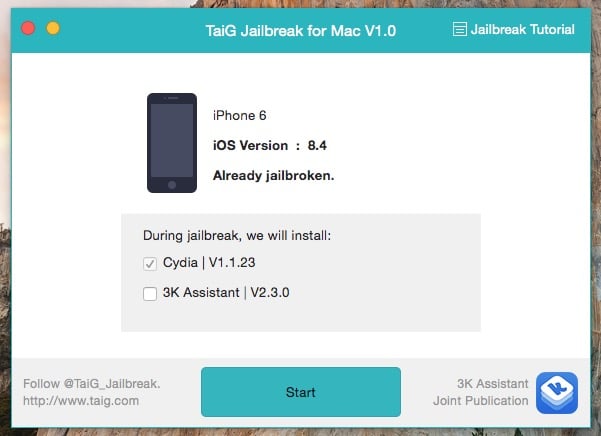 On the next screen. make sure to uncheck 3K Assistant, as it's nothing more than bloatware. Next, click Start and let the jailbreak tool do its thing.
It should take a few minutes for the tool to jailbreak your iOS device, and your iPhone or iPad will restart a couple of times during the process. Just sit back and let it do what it needs to do, but eventually a new window should pop up that says Jailbreak Succeeded! From here, you can close out of the tool and unplug your device from your Mac.
Congratulations! You now have a jailbroken iOS device running iOS 8.4 that you jailbroke right on your Mac using TaiG.