How to Jailbreak iOS 8.4 with TaiG
An iOS 8.4 jailbreak has been released, so here's how to jailbreak iOS 8.4 on your iPhone or iPad right now using TaiG's jailbreak tool.
Jailbreak news has been moving quickly over the last week or so, with an iOS 8.3 jailbreak releasing last week and receiving multiple updates since then. However, with iOS 8.4 right around the corner at the time, an iOS 8.4 jailbreak was something that many users were hoping for.
Since the betas for iOS 8.4 were jailbreakable, it was almost a given that the final version of iOS 8.4 would be jailbreakable as well, since many believed that Apple wouldn't have enough time to patch the exploits that were used.
That's definitely the case, because soon after iOS 8.4 was released by Apple, TaiG released its iOS 8.4 jailbreak tool just a few afters afterward, proving that the exploit used just need a quick update to work with the latest version of iOS.
In any case, if you're one that wants to jailbreak iOS 8.4 on your iPhone or iPad, here's how to do it using TaiG's latest jailbreak tool.
Before You Begin
Like with the iOS 8.3 jailbreak, there are several things that you'll need to do first before jailbreaking your iOS device.
First of all, it's incredibly important to back up your iPhone or iPad before you jailbreak, that way if anything goes wrong, you can restore your device back to a stable state and try jailbreaking your device again.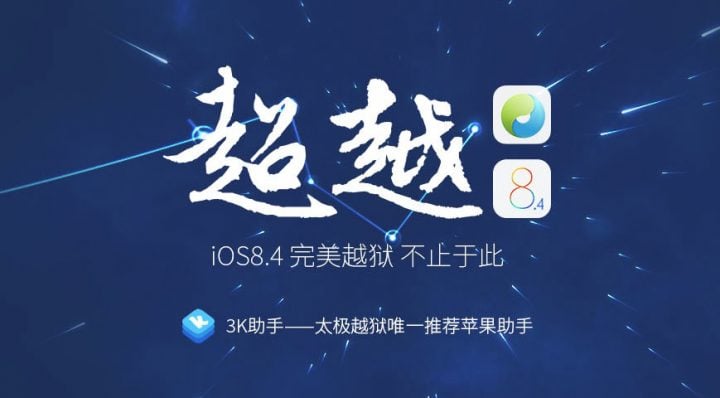 Take a look at our handy guide that shows you how to back up your iPhone or iPad, but you likely already know how if you've been a long-time iPhone or iPad owner.
After you back up your iPhone or iPad, you'll then want to update your device to iOS 8.4. If you're already jailbroken on iOS 8.3, here's a guide on how to update your jailbroken iPhone or iPad. This will unjailbreak it, but once you update, you can follow the guide below to jailbreak iOS 8.4. The process is pretty simple anyway. You just open iTunes and update your device to iOS 8.3 like you would any other time, as it doesn't really matter if your iPhone or iPad is jailbroken or not.
The next thing you'll want to do is disable the passcode lock on your device, as well as disable Find My iPhone. For the passcode, navigate to Settings > Passcode > Enter your passcode > Turn Passcode Off and enter in your passcode again to confirm. To disable Find My iPhone, go to Settings > iCloud > Find My iPhone and turn it off. You'll need to enter in your Apple ID password to confirm.
At this point, you're all ready to go and can now begin the process of jailbreaking your iPhone or iPad on iOS 8.4.
How to Jailbreak iOS 8.4
Head to TaiG's website and download the iOS 8.4 jailbreak tool on the home page. It'll be version 2.2 and it will download as a .ZIP file and extract as an .EXE file. Remember that this will only run on Windows and not Mac. For jailbreaking on Mac, check out our other guide.
Double-clicking on the .EXE file will open up the jailbreak tool. From there, you'll see two check boxes, one of which you can't change, which is the Cydia option. Be sure to uncheck the box next to 3K Assistant, though, since it's bloatware.
From there, click Start and let the process do its thing. It should take a few minutes to complete and your device will restart a couple of times. At the end, you'll get a Jailbreak Succeeded message.
If at any point, you receive a message on your iPhone or iPad saying that your storage is almost full after you jailbreak, simply open up Cydia and let the file system initialize, and then respring. After that, you shouldn't get the message anymore.
You can now exit out of the jailbreak tool and then restore a backup on your device to get all of your apps and settings back. Jailbreaking your iPhone or iPad on a clean and wiped device is ideal, otherwise you may encounter problems during the jailbreaking process.
The iOS 8.4 jailbreak should last throughout the summer until iOS 9 releases later in the fall, which is good news for jailbreakers, as the latest version of iOS is now jailbreakable and it's likely the last major update iOS 8 will see.

As an Amazon Associate I earn from qualifying purchases.