How to Jailbreak iOS 9 on Mac
An iOS 9 jailbreak was recently released this month, but a Mac version of the jailbreak tool has just been released. Here's how to jailbreak iOS 9 on Mac.
It's likely that your iPhone or iPad is already jailbroken on iOS 9, even though the jailbreak tool only worked on Windows. You probably knew someone who had a Windows computer that you borrowed to get the job done. However, if you've been holding out for a Mac version of the jailbreak tool, then today is your lucky day.
iOS 9 was released last month, and while it keeps the same overall look and feel as iOS 8 for the most part, the new version comes with some pretty cool new features, including Spotlight Search improvements, an overhauled Notes app, a new News app, transit directions in Apple Maps, and Split View multitasking for iPads.
With what's perhaps the quickest jailbreak release we've seen for a major version of iOS, the iOS 9 jailbreak allows users to take advantage of these new features in iOS 9, as well as use all sorts of jailbreak tweaks at the same time, with the ability to add new features and customize all sorts of settings that Apple normally wouldn't allow for.
If you haven't yet jailbroken your iPhone or iPad because of not having a Windows computer, now is your time to get it done. However, if you're currently on iOS 9.1, you'll need to downgrade to iOS 9.0.2 in order to jailbreak.
Without further ado, here's how to jailbreak iOS 9 on Mac.
Jailbreak iOS 9 on Mac with Pangu
When a new jailbreak releases, it's not uncommon to see a Windows version release and not a Mac version, probably because developing a jailbreak tool is a bit easier to do on Windows, while a Mac version can take a bit longer.
With that said, there are a handful of users who can't jailbreak their iPhones or iPads simply because a Mac version of the jailbreak tool isn't available, but that's no longer the case, as Pangu as released a Mac version for jailbreakers to use.
The Mac version of the iOS 9 jailbreak tool can be downloaded from Pangu's website. After you download it the .DMG file, open it up like you would any app that you're about to install. The Pangu jailbreak tool won't install, but double-clicking it will open it up so that you can begin the jailbreaking process.
Before you begin, though, you'll want to make sure to back up your device using iTunes, so if anything goes wrong with the jailbreak process, you'll have a backup to fall back on so that you don't lose your apps, settings, and other files.
Next, you'll need to disable Find My iPhone and then turn on Airplane Mode (in that order). To disable Find My iPhone, simply go into Settings > iCloud > Find My iPhone and turn it off. Airplane Mode can easily be enabled right from the Control Center by swiping up from the bottom of the screen.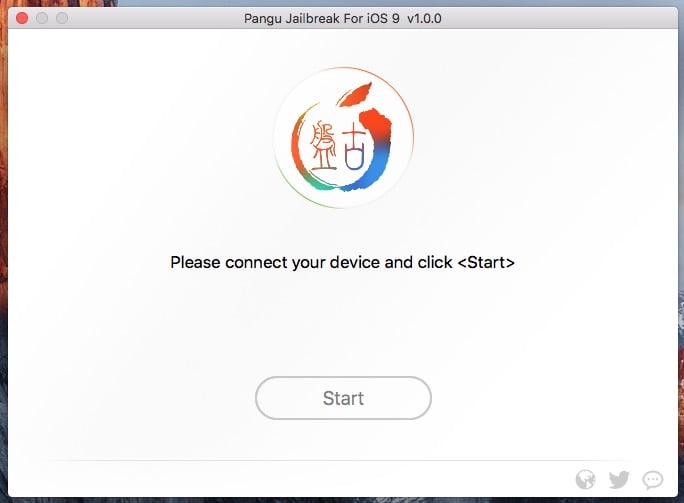 Now plug in your iPhone or iPad into your Mac and open up the jailbreak tool. Click Start to begin the jailbreaking process. You'll see a warning page about backing up your device, but since you already did this, just click Already backup.
The jailbreak tool will begin the jailbreaking process. Eventually, your iPhone or iPad will reboot and you'll need to go back in and enable Airplane Mode again.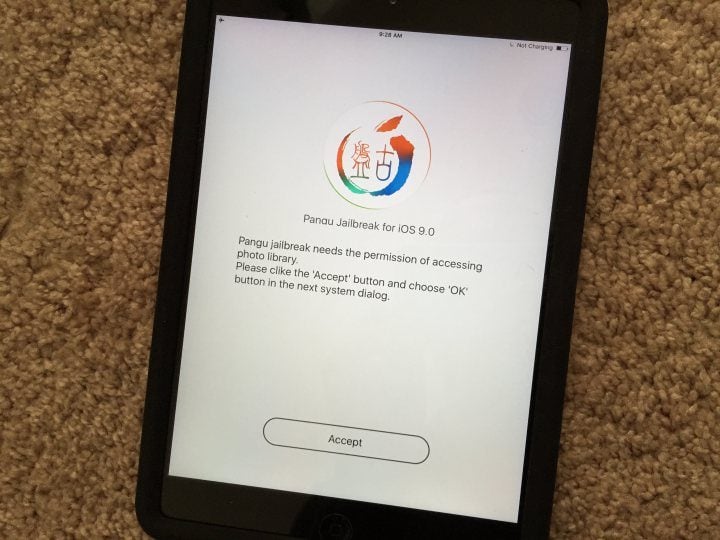 Next, you'll be asked to open up the Pangu app on your device, tap Accept, and then allow the app to access the Photos app.
From there, keep your device connected to your Mac and don't close out of the Pangu app on either your Mac or your iOS device. Eventually, the process will complete and your device will reboot for one last time. After that, you'll be good to go!