How to Keep the LG G4 Screen on Longer
The LG G4 has an impressively big and bright 5.5-inch Quad-HD display, but out of the box the screen doesn't stay on very long while in use, to preserve battery life. This quick guide will explain how to change the G4's settings in order to keep the screen on longer, also know as the screen timeout setting.
In April the new LG G4 was announced live in New York City, and eventually arrived on all carriers in the United States during the first week of June. Now that the flagship phone has been available for over a month and millions of buyers have one, we're getting a lot of questions from eager users.
Read: 30 LG G4 Tips & Tricks
Screen timeout is the period from when you stop interacting with the LG G4 to when the screen actually dims, and eventually shuts off to save battery life. With the LG G4 the default "Screen timeout" option is set to 30 seconds, which isn't enough for many, myself included. Here we'll explain how to quickly change this setting.
Even though the LG G4 has an awesome double-tap the screen to wake feature, it can still be frustrating to constantly have to turn the screen back on with taps or the power button on back, when instead users can simply change a setting that will keep it on longer.
This will impact battery life, and potentially cause the phone to run out of juice a little faster than it did before, but the tradeoff is more than worth it for many.
We've all been there. Busy using the phone but stop paying attention for 30 seconds or a minute to answer a question or grab something, then you go back to the device and it's off. Here you have to fondle the power button again, often times put in your password or security patten, then continue. It gets frustrating.
Read: How to Change the LG G4 Keyboard
Thankfully this is a setting that can easily be changed. In fact, users can change it to 15 seconds which is the opposite of what we want here, but it could improve battery life. That said, read on for the simple instructions to allow the LG G4 screen to stay on for one minute, five minutes, or even permanently if you'd like.
Instructions
Changing the screen on duration or "timeout" setting allows the LG G4 screen to stay on even when a user doesn't interact with it. By default it will dim within a few seconds of not being used, and shut off completely after 30 seconds. This is to save battery as we said above, but many users will want to change this to something a little longer for ease of use.
To start users need to head into the settings menu. This can be found by navigating to the app tray and finding the settings icon, or pull down the notification bar and tap the gear-shaped settings button near the top right. Once in settings select the 3rd column called "Display" and scroll down to "Screen timeout".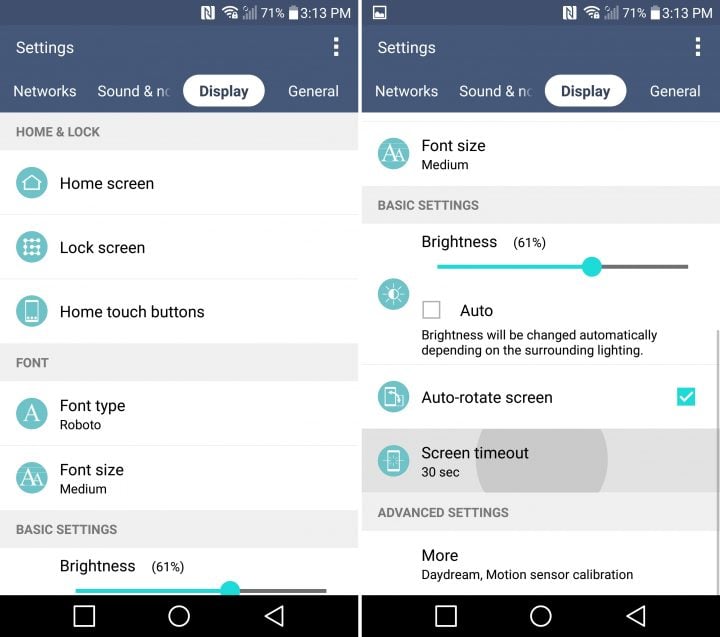 From here simply select screen timeout and choose a time that is right for you. Some may use 15 seconds to save battery life, leave it at 30 seconds for a good middle ground, but LG offers one minute, two, five, 10, 15, and even a "keep screen turned on" option where it won't turn off at all unless the user hits the on/off button. The last one isn't recommended, but then again, everyone has different wants or needs.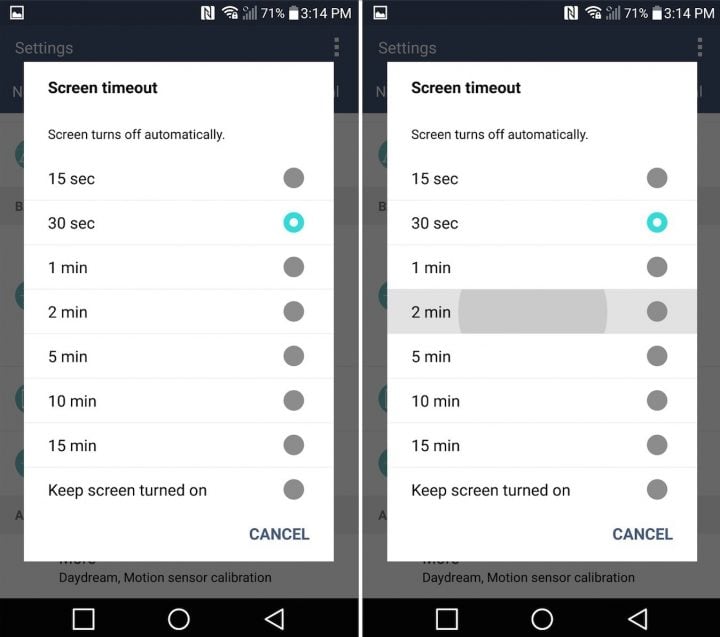 I've gone ahead and set mine for two minutes, which I feel is a good middle ground. It isn't on long enough to cause significant battery drain, but won't shut off so fast that I'll always have to turn it back on and enter a password or PIN.
That's all there is too it, just a quick tap of a few settings and the LG G4 will now stay on much longer before the screen dims and eventually turns off. If users notice a big drop in battery life you can always revert to 30 seconds, or just remember to tap the screen off button whenever you're done using the phone.

As an Amazon Associate I earn from qualifying purchases.