How to Keep Your iPhone Safe at the Beach
As the summer is slowly coming to a close, many people are making their way to the beach before it's too late, and if you're taking your iPhone with you, here's how to keep it safe from the sand and water.
While the beach is all about soaking in the sun and having some fun without your iPhone, you may still want it with you so that you can play music on a Bluetooth speaker or take pictures with it so you have something to remember the trip by.
This is why keeping your iPhone in your car or at home may not always be something that beach goers do, so if you take your iPhone with you to the beach, there's an increased risk of damaging it by exposing it to the sand or the water, which isn't good as you might already know. One drop into the sand and it'll probably make its way into the ports before you can even pick it up.
Of course, you can keep it in a bag to protect it, but once you get it out to take pictures, it's at risk of being exposed to damaging things. However, there are ways to protect your iPhone when you're at the beach so that you don't have any accidents.
Here are a few things you can do to protect your iPhone from the sand and water.
Get a Waterproof Case
The best way to protect your iPhone while you're at the beach is a good waterproof case. Personally, we're big fans of the Lifeproof fre iPhone case, which completely protects every inch of the iPhone and even comes with a built-in screen protector.
The case costs around $60 on Amazon, which is a bit pricey for an iPhone case, but certainly not a lot for a waterproof case. It allows your iPhone to be submerged in water down to 6.5-feet for up to one hour without any damage, which is pretty impressive.
The ports and speaker are also covered with flaps to prevent any sand from getting inside, so you don't have to worry about any of that when you use your iPhone on the beach.
Get a Waterproof Pouch
Of course, the one downside of getting a waterproof case is spending that $60 to buy one, and if you'll only use it while you're at the beach, that cost might not be worth it. However, there's a cheaper alternative available.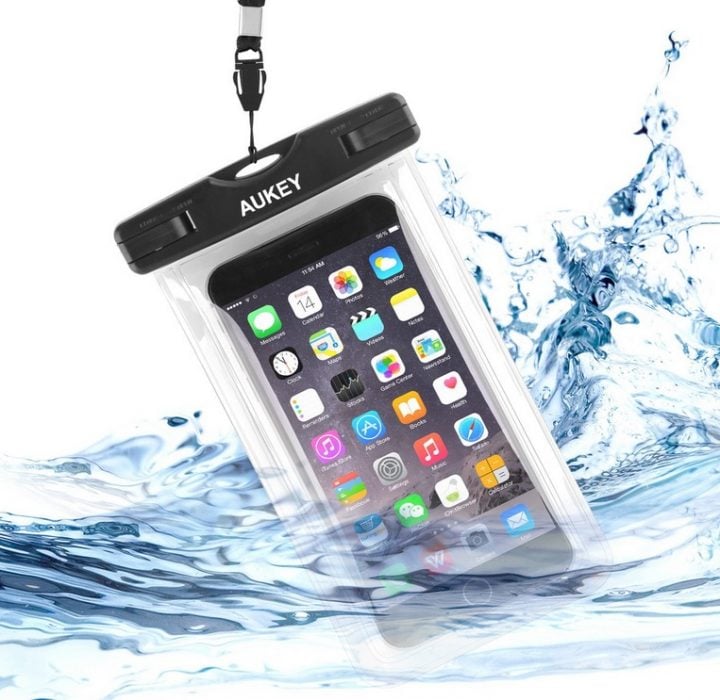 Many companies make waterproof pouches that are simply just glorified plastic pouches that you can slide your iPhone into and protect it from anything at the beach.
This waterproof pouch from Aukey is only $10 and protects your phone from water, sand, and pretty much anything else. It has a plastic clasp at the top that snaps closed and provides a tight waterproof seal so that no water can get inside. It even comes with a lanyard, although you'd look a bit dorky walking around with it around your neck.
Keep it Out of Direct Sunlight
Not only do you need to protect your iPhone from sand and water, but you also don't want it to overheat.
Your iPhone will automatically shut off when it detects that it's getting to hot, so you won't damage or break it per se, but overheating isn't a good thing, period. At the beach, you have a greater risk of overheating your iPhone, so you want to be careful here.
According to Apple, the iPhone has a max operating temperature of 95 degrees Fahrenheit, and depending on where you're at, the outside temperature alone can reach that, and leaving your iPhone in direct sunlight can make it worse.
Instead, leave your iPhone in a bag or cover it with a towel to keep it away from the sun. It'll still be hot, but it likely won't get hot enough to overheat.

This article may contain affiliate links. Click here for more details.