How to Listen to Adele 25 on Apple Music & Spotify
It's recently been announced that the new Adele 25 album will not be available on streaming services such as Apple Music and Spotify, but here's a quick workaround so that you can listen to the new album on these streaming services.
Adele released her first album since 2011 and it's safe to say that many music lovers have been eagerly awaiting the release of 25 for quite some time, even before the album was announced last month.
However, there's some bad news bundled with the release of the album, as Adele 25 won't be available to stream on music streaming services currently, so if you're interested in listening to the new album, you'll have to buy it at the store or buy it through iTunes, Google Play, Amazon, etc. Taylor Swift did the same thing with her 1989 album.
The good news is that you can still listen to Adele's new album on Apple Music or Spotify with a bit of a workaround, so if you're willing to put in a bit of elbow grease to be able to listen to Adele 25 inside of a streaming music service, you can make it happen.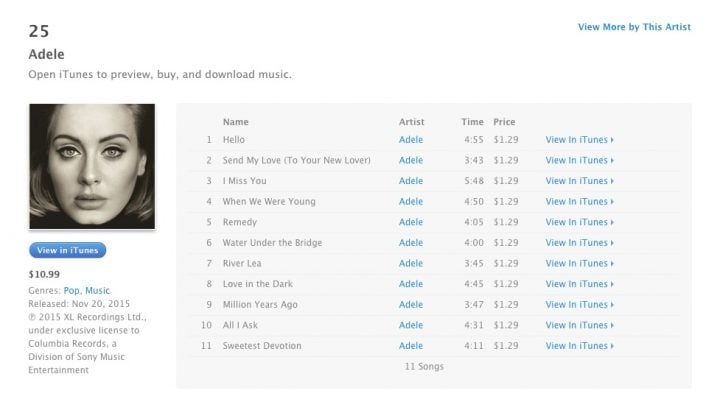 Of course, you'll have to buy the album first, which is the big caveat, even if you already pay a monthly fee for Apple Music or Spotify, but it's a small price to pay to have the new album imported into these services when you normally wouldn't be able to do it otherwise.
Without further ado, here's how to listen to the Adele 25 album on Apple Music and Spotify.
How to Listen to Adele 25 on Apple Music & Spotify
Obviously, the first thing you'll need to make this all happen is Adele's new 25 album, which can be purchased either in store if you want a physical copy of the CD, or you can purchase and download the album from a variety of music services like iTunes, Google Play, and Amazon Music. The album costs just $10.99, which is a small price to pay to have some great music.
Now that you have bought the album and downloaded it to your computer, it's time for the fun stuff. Here's how to get the music on Apple Music and Spotify.
Apple Music
To get the Adele 25 album on Apple Music, it's really just a matter of syncing your iTunes library with your iPhone or iPad, since Apple Music is integrated with your iTunes library anyway, so it definitely makes it easier.
In any case, open up iTunes on your computer and click on My Music. You should see the new Adele album in your list of songs that are in your library.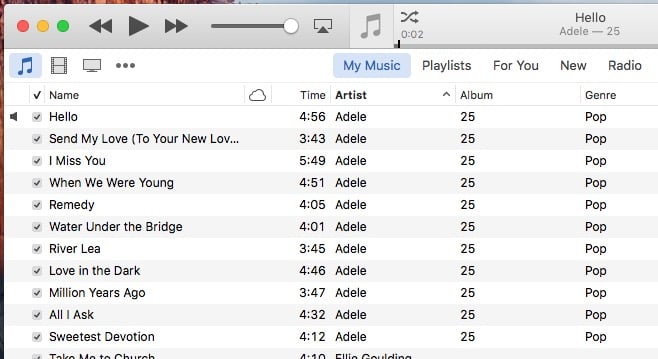 Next, plug in your iPhone or iPad into your computer and click on your device in iTunes to go to the device summary. In the sidebar, click on Music and then place a checkmark next to Sync Music if there isn't one already. From there, you can choose to sync your entire music library or just specific songs that you want to sync. When you're all set, click Apply in the lower-right corner to start syncing.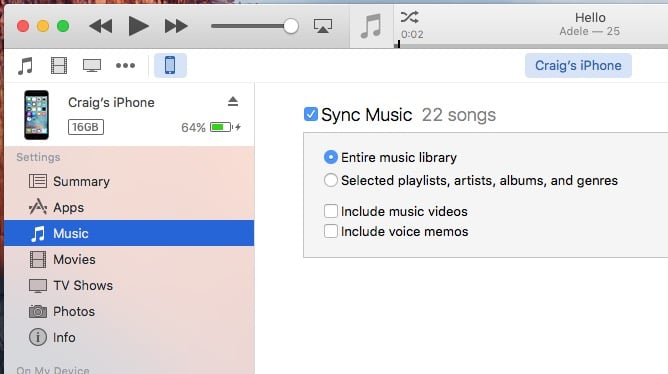 Now, on your iPhone open up the Music app and then select the My Music tab at the bottom. You should now see the Adele 25 album listed and ready to listen to.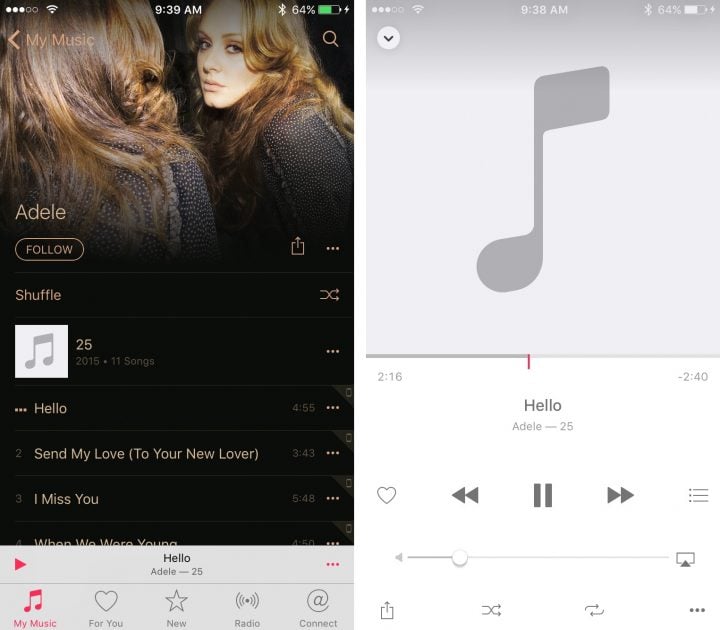 Again, this is nothing more than simply just syncing music to your iPhone or iPad, but since your iTunes library is integrated within Apple Music, it works out pretty well and it's essentially like you're listening to the album through Apple Music.
Spotify
To listen to Adele 25 in Spotify, it's bit more elbow grease to get done, but still fairly easy to do.
The first thing you'll need to do is open up the Spotify app on your computer. If you don't have it, go ahead and download it since it's required to make all of this happen.
Once in the app, click on Local Files on the left-hand sidebar and you'll see a list of all of your music that you have stored on your computer. Adele's 25 album should appear in this list.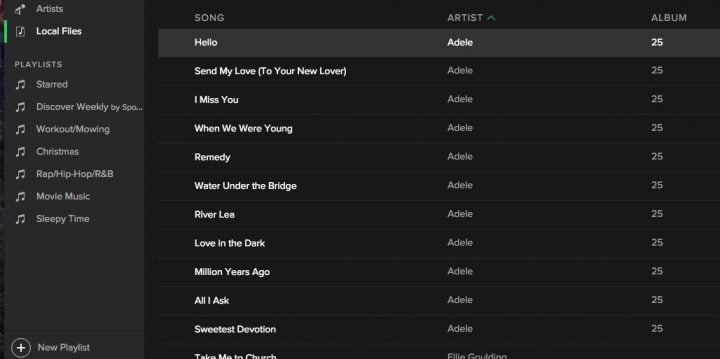 Next, create a new playlist in Spotify and name it whatever you want (I just chose Adele 25). From there, select all of the songs in the album, right click, choose Add to Playlist and then select the playlist that you just created.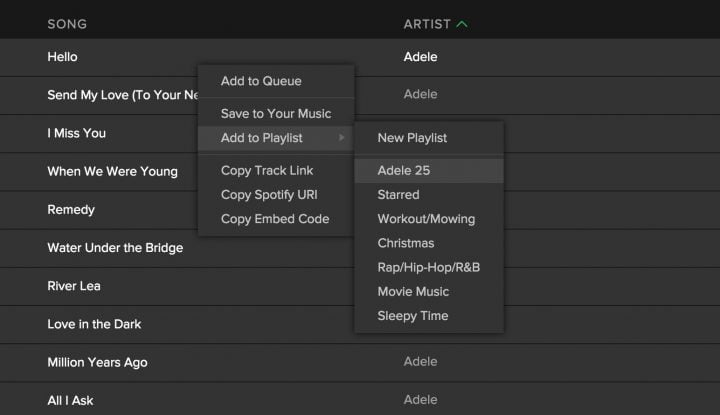 Now, make sure your iPhone or other device is connected to the same WiFi network as your computer and you should then see that new playlist appear on your smartphone or tablet in the Spotify app.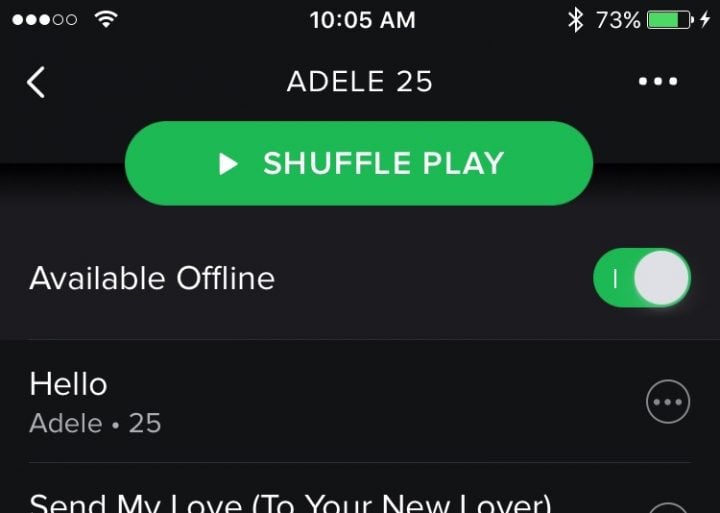 Open up the playlist and then enable Available Offline at the top by tapping on the toggle switch so that it turns green. This will download the songs and make them available offline to listen to within the Spotify app. From here, you can add the songs to any other playlist that you want.