How to Listen to Music for Free on Windows 8.1
Microsoft's Windows 8 operating system sometimes doesn't get the respect it deserves. Sure, there are a ton of changes to be found on devices with Windows 8 installed on it, but there are also advantages and features that completely change a user's experience: like Xbox Music.
One of those changes is in how Microsoft approaches music and video. Though users can still access Windows Media Player in Windows 8.1 and download the now half-working Zune software client, Microsoft has put its eggs in two new baskets, called Xbox Music and Xbox Video. It's Xbox Music that'll define the audio experience going forward.
Xbox Music isn't as robust as the software it replaces. Users can't edit individual songs' metadata and they can't automatically create playlists. The now playing screen isn't as attractive as it once was and there's no way to rate individual songs. If you're able to get past those issues, though, Xbox Music does do something very important, something that Windows Media Player and Zune never did: Xbox Music allows Windows 8 users to listen to music for free.
Here's how to listen to music for free on Windows 8 using the new Xbox Music client.
Before we begin its important that you have the latest version of both Windows 8 and the Xbox Music app on your device. The latest version of Windows is Windows 8.1 and it includes a completely revamped Xbox Music client. Most devices should have already updated themselves without your help, but just in case it's a good idea to go into the Windows Store and look for the "update to Windows 8.1 banner." If you don't see it than you're all set. If you do see the banner, then it's a good idea to start the update when you have some free time and a decent internet connection. Typically, the update takes about an hour. Following the update your device's apps will update automatically.
You'll also need to have signed up for a Microsoft Account or logged in with a Microsoft Account when setting up your device. Typically, Microsoft Accounts end in email addresses with an Outlook, MSN, Hotmail or Live address.
Read: Windows 8.1 Review
Go to the Start Screen by pressing the Windows key on your keyboard or the Windows button near your device's touchscreen display. On most tablets it's located just below the display but some smaller devices have it on the side.
On the Start Screen look for the Xbox Music tile. It's orange and labeled just "Music." Tap or click on it to open the app.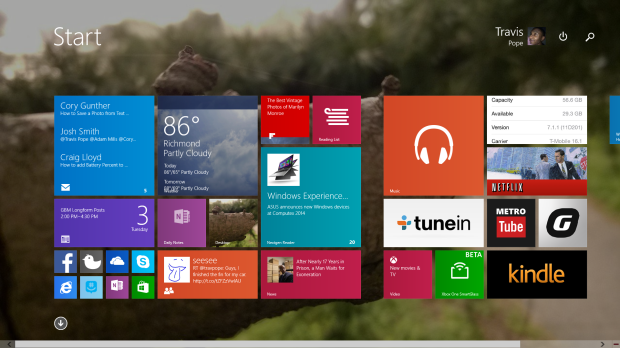 Now wait a few seconds for the app to catch up to you. During this time it's searching for the Microsoft Account associated with your device. If you have an Xbox Music Pass already, which costs $9.99 a month, it'll now let you play anything from the Xbox Music Store. If you've already created any playlists or started a collection on a Windows Phone using Xbox Music, it'll recognize that too.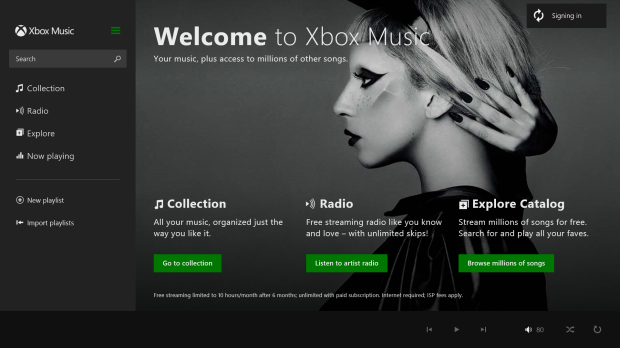 Tap, or click, on the Explore tab to reveal the Xbox Music catalog. Now double tap, or double-click with your mouse, to start choosing songs to play. Xbox Music streaming is free on devices running Windows 8 and online at Music.Xbox.com. Users who do stream through Xbox Music for free will find that advertisements are automatically inserted into their playlists, just like with Spotify.
Just like Spotify, after so many hours of listening to music those advertisements will start to get familiar. You aren't restricted to just playing individual songs either, users can create automatically generated playlists by tapping on the radio buttons located under the profile of different artists and albums. Typically, these playlists last a few hours, not as long as Spotify, but long enough to enjoy where it takes you just the same.
Read: Spotify: What to Know Before Signing Up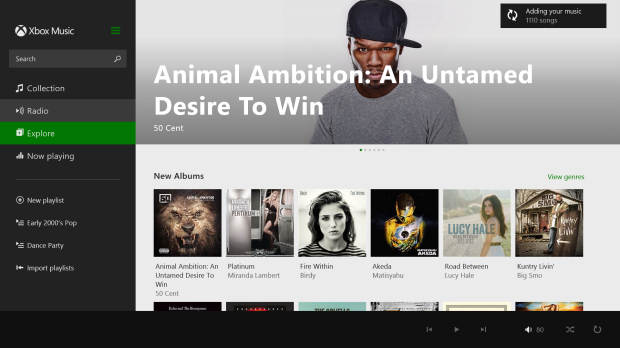 Building a collection on either version of Xbox Music will make those songs available in your collection on other platforms as long as you turn on the Cloud Collection in the Xbox Music App's Settings area.
Xbox Music also includes some other goodies as well. For example, users can configure Xbox Music to identify the songs they have on their device and then make them available to stream on other devices. Essentially, Microsoft is trying to make sure that users don't have to manually transfer files between devices. It is great for users who can usually find a pretty decent internet connection to stream music over. Of course, that feature requires an Xbox Music Pass subscription.
Today, Xbox Music for iPhone, Xbox Music for Android and Xbox Music on Xbox One and Xbox 360 are only available to users who have an Xbox Music Pass too.
There is a version of Xbox Music available for those with devices running Windows Phone. Unfortunately, it too requires that user have an Xbox Music Pass. 

As an Amazon Associate I earn from qualifying purchases.