How to Listen to Podcasts in Windows 10
Microsoft's Windows 10 operating system takes some huge strides towards copying the success of Apple's iTunes and iTunes Store. Microsoft has finally mashed its different stores and media services into one app and one area for Windows 10 users. Purchasing an album, renting a movie and giving an app a try are all things you can do through the Windows Store. Strangely, Microsoft remains aloof when it comes to podcasts in Windows 10.
The company has an app that it made specifically for Windows Phones years ago. Theoretically, it only needs to update that app and list podcasts in the Windows Store. Why it hasn't done that yet is unclear. Luckily, there are ways to get around this little issue. Web apps and downloads available in the Windows Store make listening to podcast in Windows 10 very, very easy.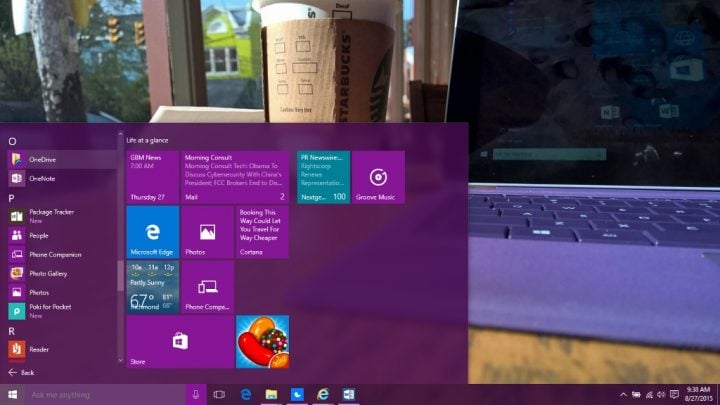 Review: Windows 10 – A Love Affair
Here's how to listen to podcasts in Windows 10, whether you have a notebook, tablet, desktop or Windows 2-in-1.
Apps
Listening to podcasts in Windows 10 starts with apps and programs. Microsoft doesn't have any native podcast apps of its own available yet, that means you'll have to turn to third-party alternatives available in the Windows Store and the web. When you're looking for a podcast experience, keep an eye out for cloud syncing of your progress for shows you've already started and a way to listen away from your Windows 10 device.
TuneIn
TuneIn is perhaps most known for delivering the best internet radio experience available anywhere. The company has apps available on iPhones, iPads, Android and Windows. The Windows Store app hasn't been updated specifically for the free Windows 10 upgrade yet, but it already has support for streaming podcasts.
Download the TuneIn app for free from the Windows Store. There you can listen to a collection of curated podcasts all streamed from the web. Since TuneIn has companion apps on most devices and the web, you can take your podcast selection with you effortlessly.
iHeartRadio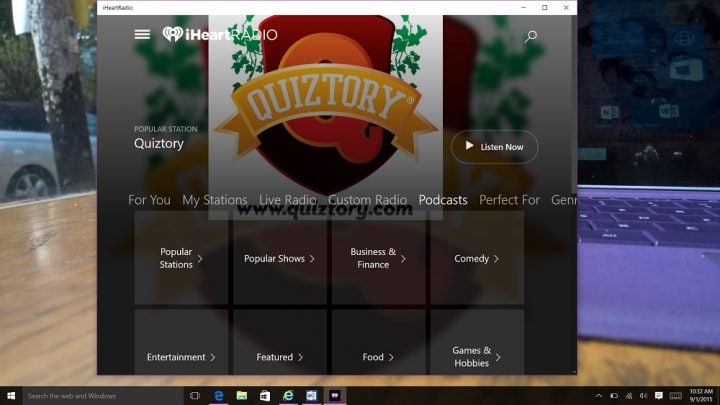 The new iHeartRadio app picks up podcast and podcast syncing with its official update in Windows 10. iHeartRadio made a name for itself with extensive access to traditional radio stations across the United states.
iTunes
Until Microsoft gets its act together, the best way to play podcasts in Windows 10 overall is still Apple's iTunes and the iTunes Store. iTunes has curated lists of podcasts along with the option to download podcasts locally for when you're no where near an internet connection. iTunes also supports both video and audio podcasts, something most other apps absolutely don't do a good job of. You'll need to download iTunes from Apple's website here. If you are an iPhone or iPad user already, iTunes is the best choice for listening to podcast in Windows 10 since your selection will sync back to your device.
The Windows Store has a limited amount of others podcasting app. Podcasts! And SlapDash are among them. None of the podcast apps in the Windows Store are particularly well done. As such, I'd suggest skipping the Windows Store entirely for this if you aren't comfortable with TuneIn.
Web Apps
iTunes isn't perfect for every situation. Listening to podcasts in Windows 10 using iTunes can suck up precious battery life. iTunes isn't exactly optimized for Windows 10 with touch either. If you're always connected to the internet with your Windows 10 device, it's a good idea to try out some web apps available through the Microsoft Edge browser on your device. You can pin web apps in Windows 10 to your Start Screen/Start Menu.
Stitcher
Stitcher is one of the premiere providers of online podcasts. Like iTunes, the company curates podcasts, giving users a better idea of which shows they'll like. It also connects with social network Facebook to share your listening habits with other people. Users can create their own playlists filled with audio podcasts too.
The Stitcher app is available for free on the web and has companion apps on iPhone and Android.
Pocket Casts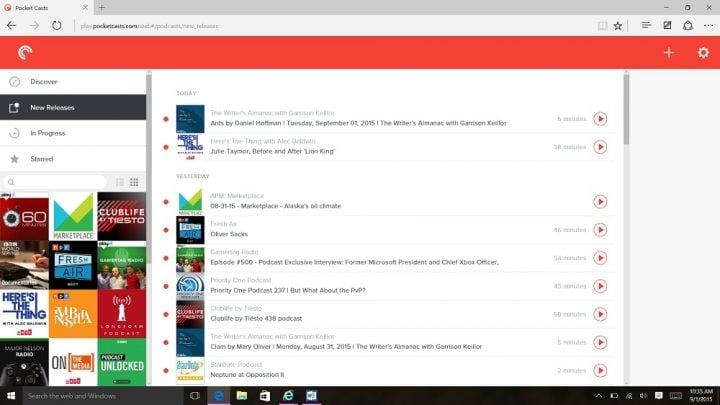 Pocket Casts is the gold standard of podcasting apps. It's iPhone and Android apps are featured backed and developer Shifty Jelly recently released Podcasts Casts for Windows Phone. Sadly, there's no native app from the company that allows you to listen to podcasts in Windows 10, but there is a web app.
The web version of Pocket Casts features cloud syncing to the companies other apps and support for video, a rarity these days. Be warned, Pocket Casts for the web isn't cheap at $9, but it is worth the price of admission. Pocket Casts is the best option for iPhone, Android and Windows Phone users since there are companion apps available on those platforms already. Keep in mind that those apps are separate purchases from the web version of Pocket Casts.
Good luck listening to podcasts in Windows 10. Hopefully, Microsoft's new operating system upgrade and the Windows Store will have some fresh options for podcast lovers in the not too distant future. The free Windows 10 upgrade is available to anyone running Windows 7 or Windows 8.