How to Listen to Spotify on Windows 10
Every day, millions of people stream music. A decade ago, that'd have been a pipe dream. Some people were still buying CDs. Those that weren't turned to digital stores like iTunes to purchase songs instead of entire albums. Spotify, now the world's largest streaming music service, changed how the music industry worked before and how we as listeners enjoy our favorite artists, albums and songs. Spotify has apps on the iPhone, iPad, set-top boxes and Android devices. Unfortunately, the service is missing an app for Microsoft's Windows Store, leaving millions to wonder how to listen to Spotify on their Windows 10 device.
Read: 31 Spotify Tips & Tricks
Don't fret, there are three great ways to listen to Spotify on Windows 10, even though there's no official app built specifically for the operating system yet. Here's a run down of all three methods.
Before We Begin
Before we get started, here's a breakdown on how Spotify works. Consisting of both free and paid tiers, Spotify lets users stream albums, playlists and songs from its library. The free tier sticks to albums and playlists in random order, with users only able to skip a limited number of songs each day. Spotify Premium, the service's paid tier, unlocks unlimited skipping in playlists and the ability to stream whatever song you want. There are some enhanced features for paying customers, like the ability to set audio quality.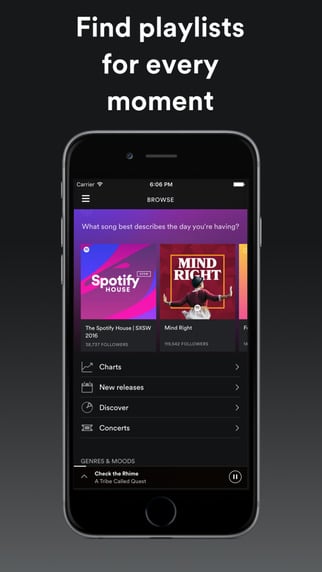 Spotify Premium costs as little as $9.99 a month.
Read: How to Download Music from Spotify on the iPhone & iPad
Which tier you have is crucial to your experience, depending on what method you're using. Besides music streaming, the service recently picked up video streaming and support for podcasts. If you're one of the people using theses features, you'll want to make sure that they're supported by whatever experience you use. They're still new and not everyone has been added them.
Listen to Spotify on Windows 10 with Spotify for the Web
Spotify wouldn't be a legitimate service if it didn't offer a way for you to interact with your collection on the web. That's where the Spotify for Web client comes in. Using it, you can listen to Spotify on Windows 10 without installing a single thing.
You simply log into the client with the same username and password that you do the smartphone versions. Once logged in, you can see all of the playlists you've saved to the service, plus get access to playlists, albums and songs that you've bookmarked. Of course, it being a website means that you can't access it without an internet connection.
It also lacks support for the podcasts and video content that Spotify added recently. Members of the free and paid tiers can enjoy Spotify for Web on their Windows 10 device.
Listen to Spotify on Windows 10 with Spotify Desktop App
The premiere way to experience Spotify on Windows 10 is through the dedicated Spotify Desktop app. Download it from the company's website to experience nearly everything that Spotify has to offer.
The PC app includes playback for the files stored on your Windows 10 device, station streaming, and a better experience for browsing all curated content. It also does a decent job at letting you see what your friends and family are listening to, if they and you signed up for the service through Facebook.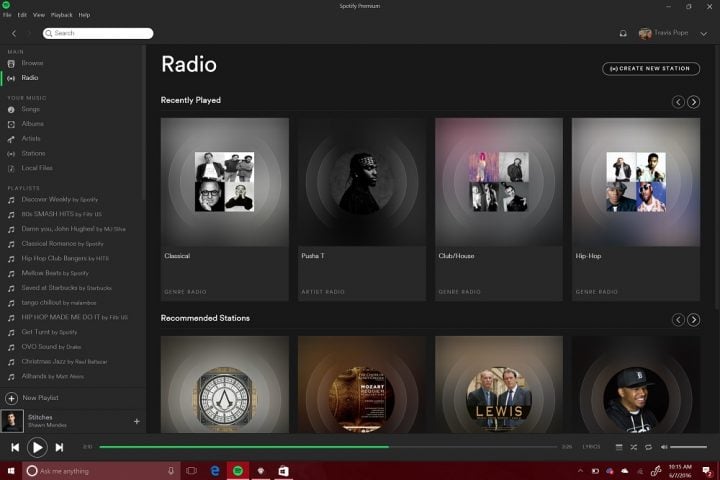 Read: 10 Common Spotify Problems & Fixes
Unfortunately, it too lacks some of the latest feature additions to Spotify. High-quality music streaming is supported, but podcast and video playback are missing. It can import files from your download folders, Windows Media Player or any other source that out tell it too. Only the enhanced streaming quality is exclusive to Premium members.
Listen to Spotify on Windows 10 with Spotify Apps in the Windows Store
Finally, the third way to listen to Spotify on Windows 10 is through a third-party application. These apps are made by developers and not Spotify, but they do connect to the service.
Windows 10 doesn't have an official Spotify app in the Windows Store, but it does have a pretty decent unofficial Spotify app for users. That app is called Spoticast for Spotify, and it's $4.99. It can't store downloads, but does provide you with a native, easy way to access Spotify playlists and streaming without going to the website. It also boasts support for music video streaming and casting songs to set-top boxes and devices around your home. Spoticast does have a free trial option.
The app works on devices running Windows 10 or the Windows 10 Mobile operating system for small tablets and smartphones.
Good luck listening to Spotify on Windows 10. Hopefully, Microsoft and Spotify work together to enhance the existing Spotify app that's available on Microsoft's Windows Phone operating system already. Until they do, certainly these alternatives should get you through.