How to Use Logitech Keyboards & Mice with OS X Yosemite
OS X Yosemite was just recently released, and tons of Mac users are flocking to the Mac App Store to download the latest version, especially since it's free. However, as with any new piece of software, it's not compatible with everything yet. For example, Logitech's software for its keyboards and mice don't yet have full support for OS X Yosemite, but fortunately, you can get it to work.
Logitech's Mac software comes in the form of what's called Control Center, a utility that's used to configure your Logitech mice and keyboards. Seeing as how Logitech is one of the most popular accessory manufacturers around, we're guessing a lot of OS X Yosemite users are using Logitech equipment, but they'll soon come to find out that Control Center doesn't install on Yosemite. Here's how to fix that.
When downloading the Logitech Control Center software and installing it, you'll get an error that says the software isn't compatible with your OS X version, and it'll fail to install. However, there's a neat little loophole that allows you to install the Logitech software on OS X Yosemite without a problem.
UPDATE: When visiting Logitech's website to download Control Center, you'll see two download links: One says "Logitech Control Center" and the other says "Logitech Control Center for Macintosh OS X". Be sure to choose the first option, as that will give you the latest version which works with OS X Yosemite (3.9.1) and you'll be able to skip the workaround, while the second link will give you the older version (3.5.1) that will require the workaround.
Installing Logitech Control Center on OS X Yosemite
In order to get the installer to bypass that pesky incompatibility message, there's just a quick detour you'll have to take to get the software working on Apple's latest operating system.
Instead of double-clicking on the installer that you downloaded from Logitech's website, simply just right-click on it and select Show Package Contents. This will open up a folder with a single Contents folder inside. Open that folder up and then open the Resources folder.
Find the file that's labeled LogitechControlCenter.mpkg and double click it to install the software. It should install without a problem and you'll be guided through the normal setup process for the Logitech Control Center.
After it's installed, open up the System Preferences app and an icon for Logitech's Control Center should show up down at the bottom. Click on that to open it up and configure your Logitech devices.
We're not sure why this works, and Logitech's website doesn't say that it's compatible with OS X Yosemite (only OS X 10.6.x through 10.9.x), but either way, this workaround works like a charm, and you can continue to use your Logitech peripherals without a problem.
We're also not sure when Logitech will begin officially supporting OS X Yosemite, but hopefully it shouldn't be too long until we see actual support. Until then, Control Center works just fine on OS X Yosemite using this quick workaround and I haven't found any major bugs yet, although I discovered that unplugging and plugging back in the USB receiver will reset all keyboard and mouse settings in Logitech Control Center, so that's something you should be aware of for sure.
What's New in OS X Yosemite
OS X Yosemite was first announced back in June during Apple's annual WWDC developers conference and it has spent the summer in beta form for developers to test out and report any bugs. The OS has seen multiple beta releases over the past few months and was finally released to the public late last week.
This new version of OS X comes with some pretty sweet features, including an all-new look and feel that finally puts OS X on par with iOS 7, thanks to the translucent windows and menus, as well as a flatter design overall, with redesigned icons that mimic iOS 7 icons, but still include some depth so that there's still a bit of that classic OS X feel.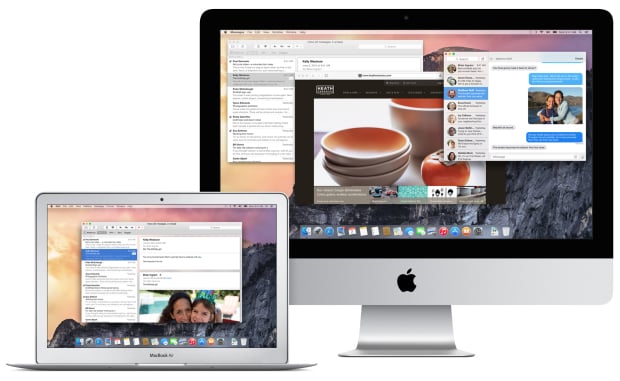 Furthermore, OS X 10.10 Yosemite also comes improvements made to Messages, including the ability to send and receive SMS text messages (rather than just iMessages), as well as make and receive phone calls as long as your iPhone is nearby and can connect to your Mac.
OS X Yosemite also includes Handoff, which is a feature of AirDrop that finally adds cross-platform support between iOS and OS X, allowing users to send files through AirDrop to either iOS or Mac computers.
One of the first things that Apple touted on stage with the new OS X 10.10 Yosemite was the look of the new icons. They've obviously been iOS-ified and include a flatter design that we've seen on the iPhone and iPad, but they still have a bit of depth in order to keep the design from going completely iOS.
Windows are also a lot flatter and less bubbly than we've seen with past versions of OS X, and navigation menus (as well as title bars of applications) are also a been transparent, similar to different elements in iOS 7, like bringing up Control Center.
If you haven't yet installed OS X Yosemite, here's a thorough guide on performing a clean install on your Mac machine.

As an Amazon Associate I earn from qualifying purchases.