How to Make Text and Apps Larger in Windows 8.1 
The high-resolution displays that Microsoft's Windows 8.1 operating system allowed laptop, desktop and tablet makers to include in their machines is spectacular. Today, users can pick up a device with amazing displays that even use 4K technology. Unfortunately, doing so might mean that you're not able to actually see small text on your screen, leaving users to strain their eyes just to check their email or read a document. Thankfully, Windows 8.1 allows users to make text and apps larger so that they can actually be read comfortably on these larger displays.
When this problem comes to mind, many users of past versions of Windows automatically assume that to correct the problem users should change what's called their Screen Resolution. That's not what you want to do here. Changing your Screen Resolution changes how your laptop, desktop or tablet outputs everything. As such, videos will adhere to that new resolution, making your videos look strange.
Go to the Start Screen on your Windows 8.1 laptop, desktop or tablet by pressing the Windows key on your device's keyboard, or the Windows button below or near its display.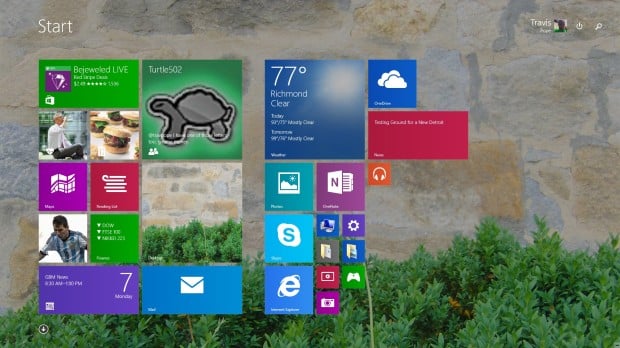 Now you'll need to open the Desktop, or what you probably have considered to be Windows in the past. It allows you to run applications like iTunes and includes a taskbar that's usually left at the bottom of your screen. In our example its represented by the tile with a picture of a stone wall and a few trees that says Desktop. Tap or click on it.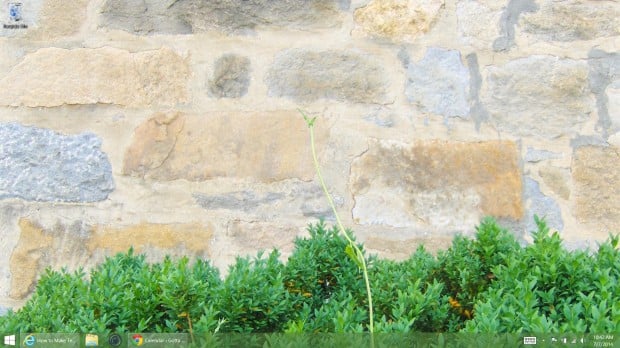 Once inside the Desktop, mouse users should right-click just about anywhere to bring up a small menu of new options. Tablet users should place their finger anywhere and leave it there until that same menu appears. To be clear, a menu should appear, but it may not have all the option you see here.
Tap or click on Screen Resolution.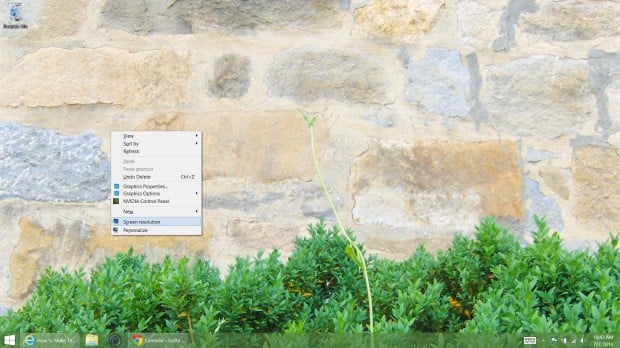 Don't change your display resolution using the drop down menus. Instead, tap or click on Make text and other items larger or smaller. It's the middle option at the bottom of the window.
Inside the Display screen you'll see a couple of different options. In the middle there's a slider that allows you to adjust the size of elements on your screen. Moving it to the right will make Desktop apps bigger, making them easier to see and saving you from a bit of eye strain. Moving it to the left will make elements smaller. This option will increase the size of apps and folders universally.
Change only the text size allows you to keep apps and windows at the size they are now but make the text inside them easier to read. If you decide to do this instead, be aware that you'll have the change the font size for each part of your screen. By default the font size is set to 11. The higher the number, the bigger words on your desktop app will be.
Once you've made some changes tap or click on the Apply button to make sure those changes are saved. The on-screen elements of the Desktop, again, that area that allows you to run apps like iTunes, should immediately change to the new settings.
Really, the Make text and other items larger or smaller option, is the most effective way of dealing with text too small to see. Again, it's all about making changes without messing with your device's screen resolution too much. That's important since you want your screen set at the resolution it was made for. Not having it set there would be to waste of a good display.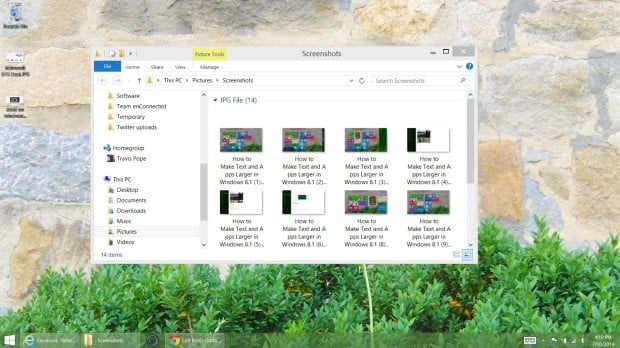 If there's one drawback to this, changing this option does nothing for Start Screen apps and applications. Modifying it is a second setting.
Go to the Start Screen by pressing the Windows key on your keyboard or the Windows button near your device's display.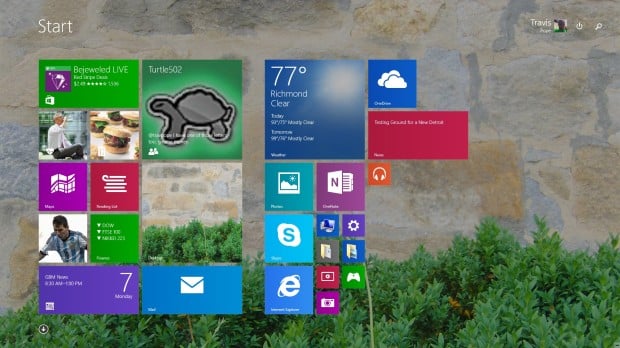 Mouse users should put their pointer in the top-right corner of their display to open the Charms menu. Tablet users should place their finger on the right edge of their display and swipe from the right edge to the left edge of their display. Tap or click on the Settings Charm.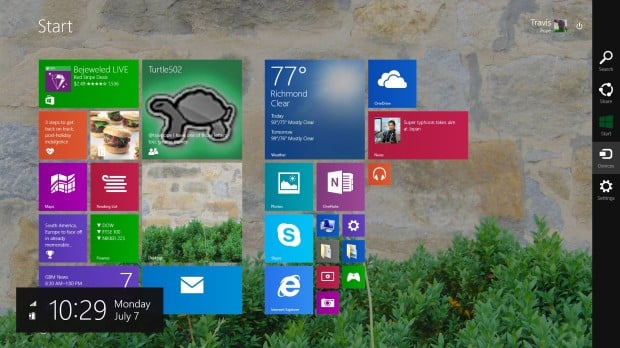 Tap or click on Change PC Settings.
Once inside the Settings app, tap or click on PC & Devices from the menu in the top-left menu.
Tap or click on Display.
Now look for the heading More Options. Underneath is a drop down menu that'll allow you to adjust the size of on-screen elements in the Start Screen and its apps. Tap or click on it and change  it to Larger if you're looking for bigger on-screen elements or Default if you think they're too big already.
Now press the Windows key on your keyboard or the Windows button near your device's display again. Immediately, you'll find that the on-screen elements you were looking at are bigger.
After making these changes text should be much easier for you to read. They should also make the Start Screen feel a little more comfortable on devices with large high-definition displays.

This article may contain affiliate links. Click here for more details.