How to Make Your iPhone Secure with Touch ID and Passcode
Here is a guide on how to understand and use the security features of Touch ID and Passcode. With our iPhones and iPads becoming a frequent tool in our work and personal lives, security is extremely valuable. There are multiple apps now that contain personal information such as credit card info, personal addresses and more.
With the usage of this personal information being so necessary, security is one of Apple's highest priorities. With the release of the iPhone 5S, Apple introduced Touch ID and its new way of ensuring device security.
Handling iPhone Security With Touch ID and Passcode
Here are the steps to enable Touch ID and Passcode options and the ways we use them within iOS.
Watch the above video for more information on how to use Touch ID and a Passcode to ensure your personal information is safe.
Using Touch ID and Passcode
Touch ID is part of the home button on your iPhone and will allow you to record your fingerprint in order to secure your device. Many users do not want to have a passcode lock on their iPhone for whatever reason, yet Touch ID is a very useful alternative to having to input your code in every time you unlock.
In order to set up Touch ID after setup or add additional fingerprints, you can navigate to Settings and then Touch ID and Passcode. You will be prompted for your passcode (if you have one enabled) and then you can unlock the settings for Touch ID.
You will see options on what you can use the Touch ID for on your device. The most common is to unlock your iPhone yet you can also use it for Apple Pay and iTunes and App Store purchases. As mentioned above, Touch ID is important for security due to the fingerprint authentication. You can add up to five fingerprints on your device so adding additional fingerprints can be done at any time within this window. This is also a great way for parents to monitor purchases from their account by requiring physical authentication to proceed.
Tapping Add Fingerprint, will allow you to add another map of your print or that of a friend or spouse that you want to give access to. Adding additional fingerprints of the same finger will actually decrease the Touch ID read time and unlock faster.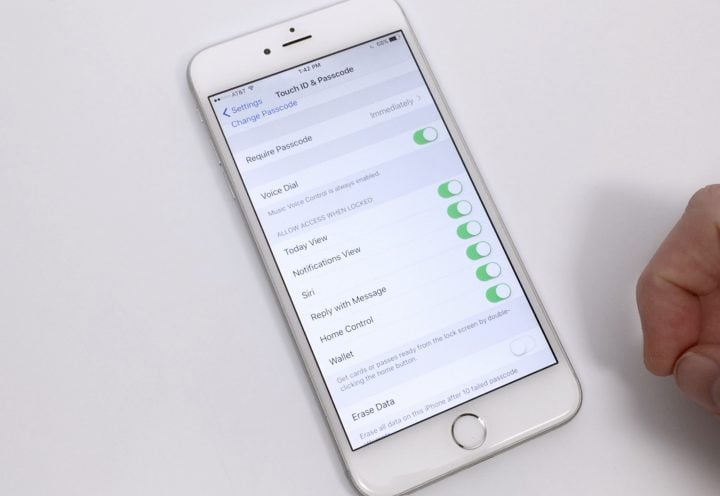 You can disable the Passcode if you would like yet this is definitely not a recommended behavior especially if you do use your iPhone in public places. You can also designate how quickly your phone requires your passcode. If you have your Touch ID set to Unlock your Device, you will only have the option for Immediately.
The last sections within this settings tab are regarding Allowing Access When Locked. There are certain behaviors from iOS that you can limit if your iPhone screen is locked such as Today View, Notifications View, Siri and more. You may want to limit these depending on how much security you want on your data. If you tend to leave your phone laying around your office and are not nearby, you may not want your private messages appearing on the lock screen and have someone be able to reply. You can change any of the sliders to limit what is available when the iPhone is locked. This is also a great setting to adjust if you have small children using your iPhone and don't want them to interact with your important data if it is locked.
Your fingerprint data is stored locally on your device so it is not able to be recovered from a server anywhere. This is an integral part of why Touch ID is an effective security measure. If your phone falls into the wrong hands, they will not be able to access your data without your passcode or fingerprint. You can also lastly add an option to Erase all data on the phone after ten failed attempts. This is a great security measure for a phone that is lost or stolen yet is a feature that should only be used if you have a current backup.
Touch ID and Passcode are essential parts of iOS to ensure the security of your data and it is always recommended to use at least a passcode for your iPhone as you go out into the world. Using these features will give you peace of mind that your iPhone is secure on a device level and that your personal information is kept locked tight without your fingerprint.

As an Amazon Associate I earn from qualifying purchases.