How to Open & Edit a PowerPoint Presentation Online Free
There are usually two kinds of people. Historically, you are either someone who frequently creates and edits presentations in Microsoft's PowerPoint app or you aren't. For years, Microsoft has offered Desktop versions of PowerPoint in standalone packages for $129. In addition to that, buying a copy of Microsoft Office Home & Student for $139 also includes PowerPoint. No matter the price, having to buy PowerPoint has always been a necessity for anyone in school or works at an office.
A third group of people who don't fit into those earlier categories has cropped up in the last few years. They sometimes need to look at PowerPoint presentations that they're sent. Every so often, they're asked to speak and need a visual aid to go along with their topics. It's hard to convince these users to purchase a piece of $129 software that they're rarely going to use. For these people Microsoft created the PowerPoint Online app for Office Online.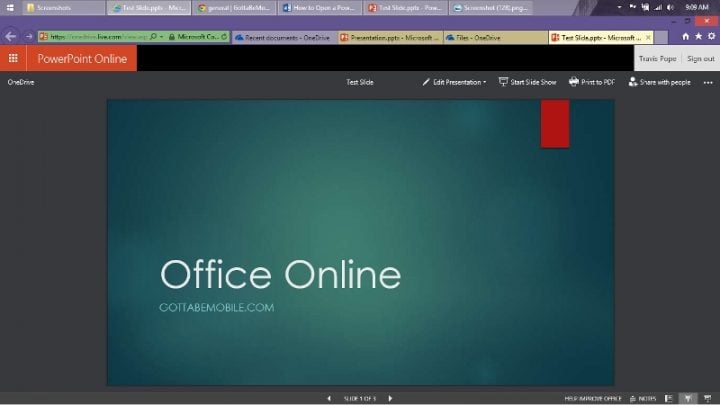 Office Online isn't like anything else you've seen from the company before. There are no charges to use PowerPoint in Office Online. You sign into the web app with a compatible browser and your Microsoft Account,
Here's how to open, create and edit a PowerPoint Presentation for free using Office Online.
Start by opening your web browser. Since it's a web app, Office Online lives inside your browser just like websites and email clients. In this example we're using Microsoft's own Internet Explorer, but don't feel limited. Office Online works in Google's Chrome Web Browser, Apple's Safari Web Browser and Mozilla's Firefox Web Browser.
Navigate to OfficeOnline.com
Office Online has web versions of Outlook, Word, OneNote and Excel. All of these different pieces are connected by OneDrive, Microsoft's cloud storage utility. OneDrive acts as a storage area for your documents, notebooks, spreadsheets and presentations by default if you have Microsoft Office 2013. Chances are you don't, but that's ok for reasons we'll get more into OneDrive in just a bit. Click on the PowerPoint Online app.
Welcome to PowerPoint Online. Now click on the Sign in with a Microsoft Account button if you have one. These are the accounts created for you with the Xbox One, Xbox 360, Outlook.com, Hotmail, Windows Phone and Windows 8. You'll want to use the same Microsoft Account you use on any other Microsoft products you own. If you don't have an Outlook account, that's ok. Simply sign up for one using the link below the buttons before continuing.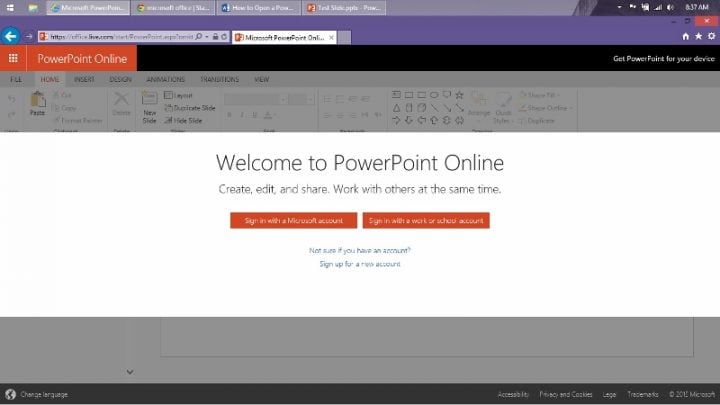 On the right of your screen you can immediately begin creating a new PowerPoint presentation online. There's dozens of templates to choose from, each with their own personality and customization options. You can choose any template you want and it'll render in PowerPoint 2013 just fine. Getting PowerPoint presentations create in newer apps to work in older apps is always a pain, but also pretty doable too. Look out for any errors after you download your new presentation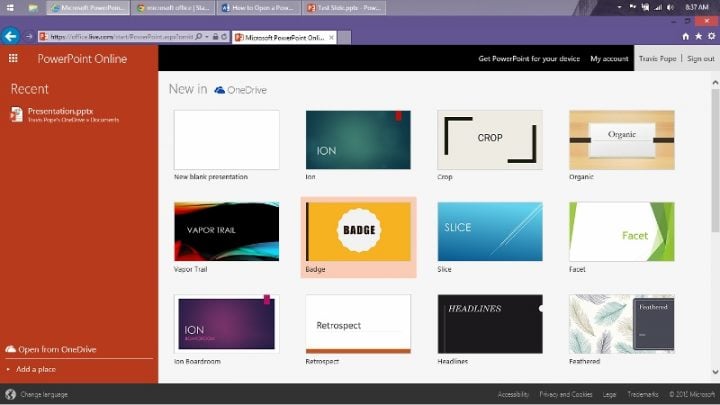 Rename your presentation by clicking on its name in the title bar.
Saving Your Presentation from PowerPoint Online
PowerPoint Online doesn't have a Save button because it's always saving for you in the background. To download your presentation once it's done click on the File option.
Click on Save As. Then click Download. Again, PowerPoint Online has saved a copy of your presentation to your OneDrive storage folder in case of emergency. There you can open it and edit it anywhere with a web browser or a copy of Office 2013. Additionally, there are free PowerPoint apps on Android, Windows Phone, iPad and iPhone.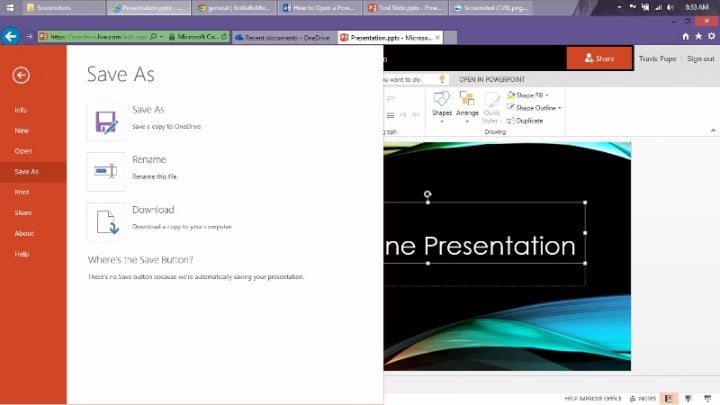 Opening A Presentation in PowerPoint Online
Most of PowerPoint Online is pretty obvious and easy to use. What's not immediately evident is that the Office Online apps rely a bit too heavily on OneDrive.
Simply put, there's no way to directly upload a PowerPoint Presentation to Office Online. Instead, you're stuck loading your previously made PowerPoint presentation to OneDrive before it can be opened. Here's how to open a presentation you already created in PowerPoint Online.
Click on the File button in the top-left corner of your screen. Now click on Open.
Recent Documents shows any presentations that you might have already uploaded to OneDrive. Ignore that if your presentation isn't already on the service. Instead tap or click on More on OneDrive.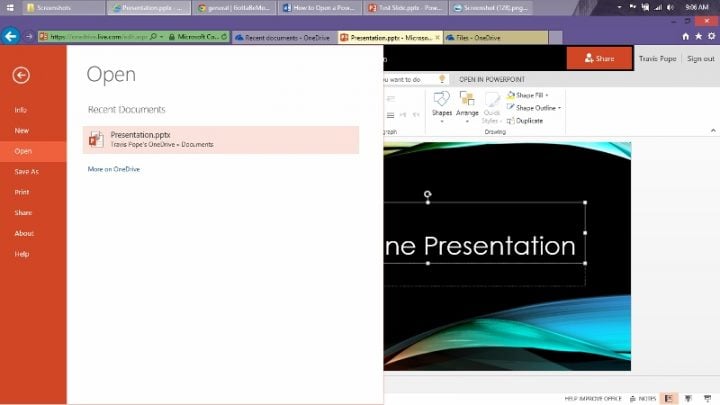 Welcome to OneDrive. Don't worry, PowerPoint Online is still available in a second tab. Click on the Upload button along the top of OneDrive or simply drag your document from your Desktop into the window.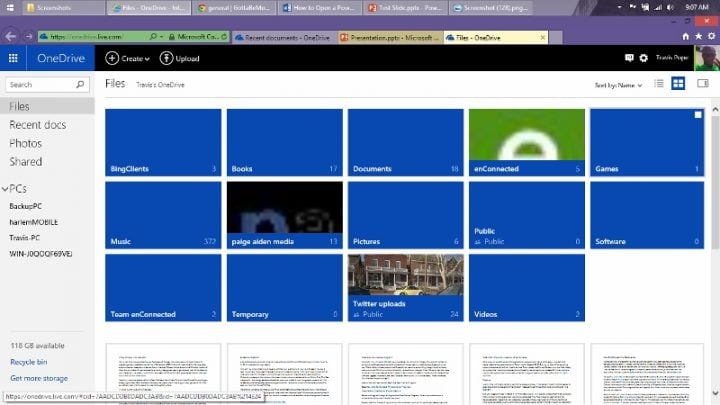 Wait for the upload to finish.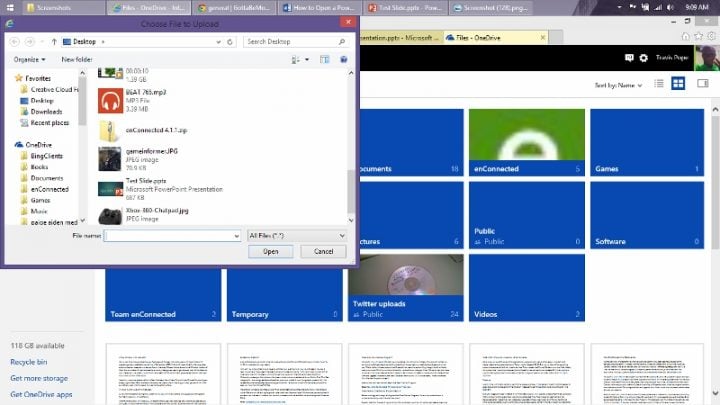 Scroll down to where the document is and double-click to open it.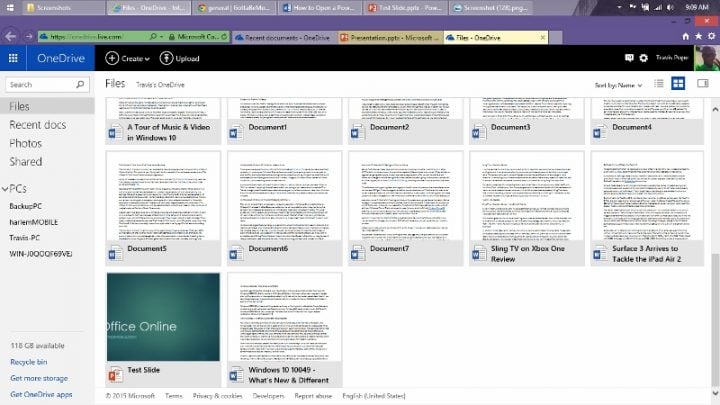 Again the same rules apply for opening previously made presentations in PowerPoint Online. If it's a very old presentation some of your formatting might not translate over or you may notice some areas. Be sure to look over your presentation after opening it.
Good luck with Office Online and PowerPoint Online.