How to Play from Spotify on Windows 8.1
Today, there's no bigger music streaming service in the world than Spotify. Launched in Europe, the service allows millions of users to stream themed playlists compiled by other users absolutely free. Users who choose to pay for Spotify get unlimited access to the company's millions of songs. Downloading is allowed for offline playback, there are ridiculously easy ways to find new songs that you've never heard of before. Spotify itself is a terrific service; but when you mix Spotify streaming and Windows 8.1 you likely have a problem.
Depending on what type of Windows 8.1 device you having, playing music from Spotify can be a giant pain. Worse, in some situations you're left without access to Spotify if you have certain Windows 8.1 tablets.
Read: Spotify Review – What to Know Before Signing Up
Here's how to play from Spotify on Windows 8.1.
Play from Spotify on Windows 8.1 with a Desktop App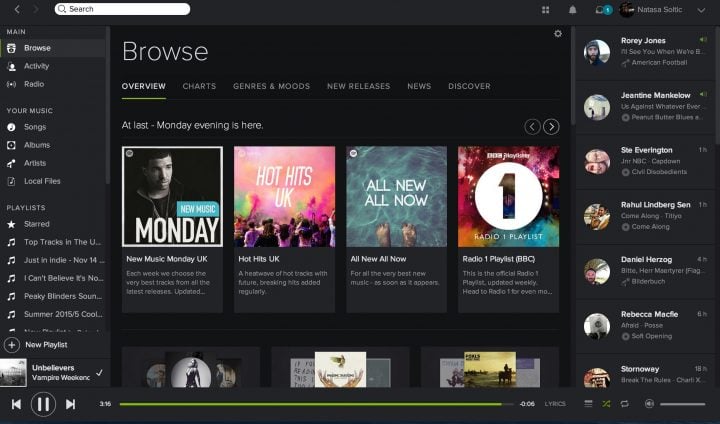 Microsoft's Windows 8.1 operating system was originally intended to render Desktop apps moot. Microsoft hoped that developers who made their apps available online would create new versions for Windows 8.1 notebooks, desktops, tablets and 2-in-1s. That's not exactly what happened though.
Instead of creating new apps from scratch, most companies — including Spotify – opted to not make Windows Store apps at all. It's for this reason that playing from Spotify on Windows 8.1 is best done with the Desktop app.
You can download the Spotify Desktop app to your notebook, tablet or 2-in-1 from Spotify's website here. The app itself is free, but for some reason Spotify does require that users either create an account or login with the account credentials they already have before they can download it. Besides letting Windows 8.1 users play from Spotify's streaming catalog, the app also features unlimited skips. This is true even if you don't have a premium account. That's a sharp contrast to Spotify on the iPhone, Windows Phone and Android, which limit users to just 6 skips.
Because this version of Spotify is a Desktop app, it's not terrific to use with a touchscreen or really small display. Devices running Windows 8.1 RT aren't allowed to install Desktop apps at all. As such, Surface 2 and Surface RT users can't use this app.
Play from Spotify on Windows 8.1 with a Web App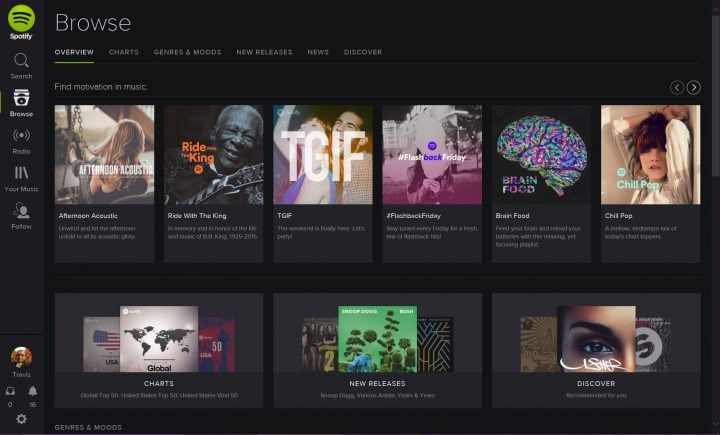 Thankfully for Windows 8.1 RT users and anyone that isn't comfortable installing Desktop apps on their system, there's what Spotify call the Spotify Web Player.
The Spotify Web Player allows anyone with a modern web browser to play from Spotify's collection free of charge or play any of the albums and songs they've added to library with a premium subscription. Skips aren't limited on the Spotify Web Player.
The Spotify Web Player is perfect for situations in which you don't want or necessarily need the full power of the Spotify Desktop app. Logins are required to use the Web Player too, but the service makes this easy with built-in Facebook integration.
Play from Spotify on Windows 8.1 with a Windows Store App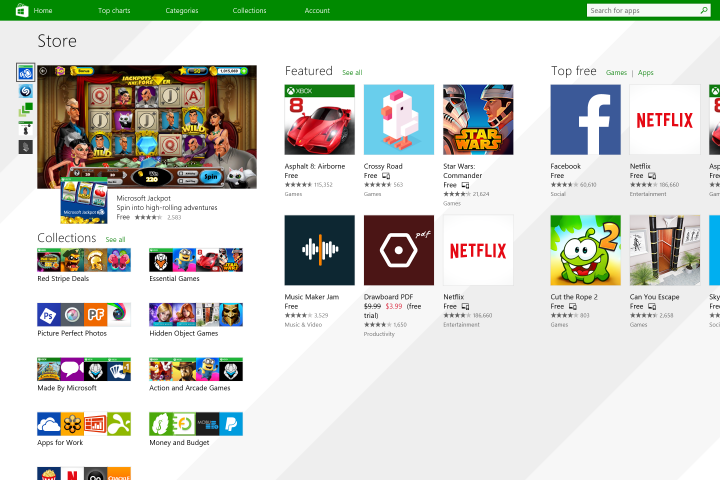 Both the Web Player and Desktop Spotify experiences address specific use cases. To round out everything you really need a Spotify Windows Store app. In theory, this app would allow Windows 8.1 devices to stream music when connected to the internet, store songs for playback later and manage their subscription. Ideally, this Spotify Windows 8.1 app would work well for devices with touch and those with a mouse and keyboard. Unfortunately, such a Spotify Windows 8.1 app doesn't exist just yet.
The company itself has yet to release a dedicated Spotify Windows 8.1 app, and with Microsoft changing how apps work for its Windows 10 release this summer, that's likely never going to happen. Windows 10 will unite both the Windows and Windows Phone Stores, letting users download or purchase a single app and work on their notebook, desktop, tablet and smartphone. It's for his reason that there is hope. Windows Phone 8.1 does have a Windows Store app today.
Read: What is Windows 10?
For now, there's nothing Windows 8.1 users can do about this problem. In the case of most services with missing apps, third-party developers step in to provide an app with basic functionality. There was such an app for Spotify in the Windows Store, but its gone now and unlikely to return. What's worse, the Surface 2 and Surface RT tablets won't be getting Windows 10 upgrades, meaning its very unlikely they'll ever see a native Spotify app for users to stream with.
Good luck trying to play from Spotify on Windows 8.1. If you're really having a hard time streaming from Spotify it might be time for you to investigate other streaming subscription services that better support Windows 8.1 Rhapsody has a dedicated Windows 8.1 app. So too does Xbox Music, Microsoft's own subscription music service. Both also have companion experiences on iPhone and Android.