How to Play Games with Friends on Xbox One
For decades, users that owned a gaming console played by themselves. Until the debut of the original Xbox, playing console video games online with a friend was a dream. Microsoft's Xbox Live service changed the state of multiplayer gaming forever. How did you play games with friends after it launched? You connected your console to a high-speed internet connection and signed up for an Xbox Live subscription.
Since Microsoft began beta testing Xbox Live, lots of things have evolved. The original Xbox Live wasn't nearly as robust as Xbox 360's version. The same is true when you compare Xbox Live from the Xbox 360 to Microsoft's Xbox One. Things are very different.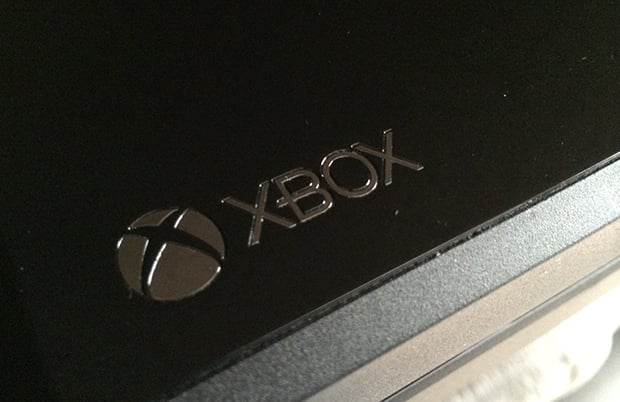 Here's what you need to know about playing games with friends on Xbox Live.
Before We Begin
Before we begin, there's some important things to note. First, many of the tips here aren't for just the Xbox One, but Xbox Live in general. This means that they apply for the Xbox 360 and Xbox on Windows. Thanks to Microsoft's latest set of initiatives, Xbox Live truly is available everywhere.
Second, and this is very, very important, playing games with friends on Xbox One isn't free. Microsoft decided to stop charging for access to the apps and entertainment features of Xbox Live back in 2014, but has kept multiplayer exclusive to only those that are willing to pay for it. You shouldn't bother switching consoles to get online multiplayer for free either, Sony's PS4 requires that users pay for PlayStation Plus, a membership roughly identical to Xbox Live Gold.
Playing Games with Friends on Xbox One: What You Need
Your quest to play games with friends on Xbox One starts with that aforementioned subscription to Xbox Live Gold. The service costs $9.99 or $59.99 a year. For the best savings, obviously you want to go with the year-long option. If you're just anxious to see how you'll like online multiplayer, go ahead and stick with the month-long subscription.
The easiest way to pay for Xbox Live is to add your credit card to the Microsoft Account that you use on the Xbox One. Pre-paid cards for Xbox Live are available at department stores, general retailers, electronics stores and even convenience stores.
Read: Is Xbox Live Worth Buying?
Once you have Xbox Live Gold, you'll want to look at a headset. These headsets are used to communicate with friends and partners over Xbox Live with voice instead of just text messaging. They make team-based games and just communicating with a friend effortless.
Early on, Xbox One consoles came with a free chat headset included. You can still purchase the Xbox Live Chat Headset for $29.99 at GameStop. You can also use any 3.5mm headphones that support mics thanks to the headset jack on the bottom of your Xbox One Wireless Controller.
Playing Games with Friends on Xbox One: How to Send Invites & More
When at the Home screen or anywhere else, double tap the Xbox logo on your controller to bring up the Xbox Guide. Added with the New Xbox One Experience, this guide provides you with the details you need to know before and after you start playing games with friends on Xbox One.
The first thing that you should see is a list of all of your friends and what they're playing on Xbox Live. You can send them an invite by pressing the A button on their name.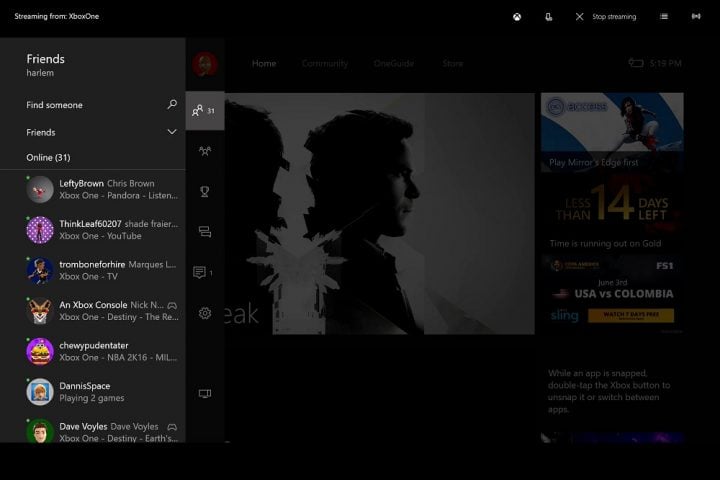 The same goes for the Party Chat area, where you can select their name and send a message. Remember that just because you're playing a game together doesn't mean you're in a Party Chat together.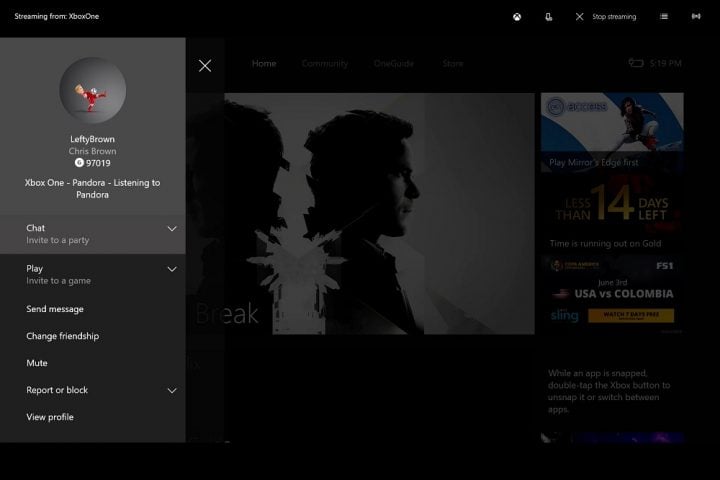 Join Game allows you to drop what you're doing quickly and enter the multiplayer mode for the game that your friend is playing. Note that this option is only useful if you have that game sitting in your Xbox One's Blu-ray drive or own it digitally.
Microsoft leaves parts of the multiplayer experience to game developers. Game developers then simply hook into Xbox Live. As such, different games offer different ways of grouping together with friends and playing online one you are inside them. For example, Ubisoft's The Division forces you into the game's menu after you've already loaded your character. Online games have matchmaking so that you can find other people to play with easily when your friends are way.
Playing Games with Friends on Xbox One: Quick Tips
When looking for someone to play with, always look in the Activity Area to see what they're playing before you see the invite. There's nothing that some users find more rude than getting an invite for a game they don't own or aren't playing. If possible, send a message before the game invite.
If your internet connection is stable over Wi-Fi, try plugging into your wireless router for the best results with online play.
You don't have to play using voice chat. You can leave your mic disabled if you'd like to play online, but don't feel like talking to anyone.
Every Xbox One user has a community rank that Microsoft has given them. The lower that rank, the worse they've behaved in games with others. Try to stay away from random people who have low ranks unless you know them and are willing to tolerate them. You can see this rank on their individual profile.
Finally, be sure to check out Microsoft's Code of Conduct for Xbox Live. Xbox Live's police force, the Xbox Live Enforcement Team, looks into reports of cheating, foul language and violations of the Code of Conduct.
Good luck playing games with friends on Xbox One.

As an Amazon Associate I earn from qualifying purchases.